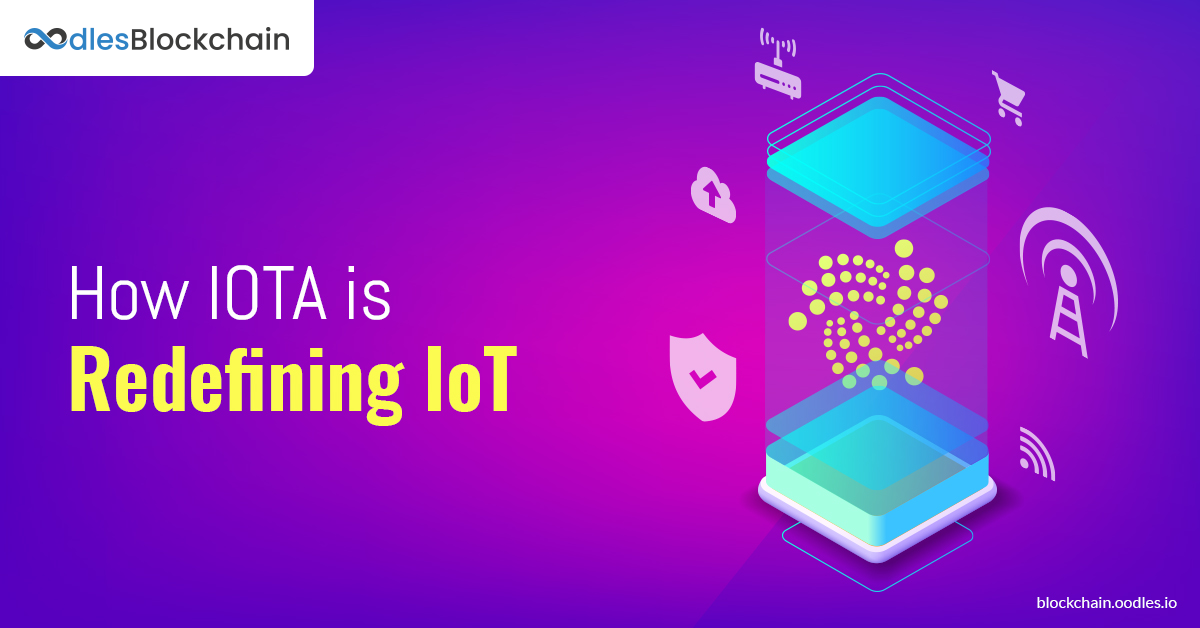 IOTA is an open source distributed ledger, a more or less advanced form of blockchain technology. It has already bagged projects with three established companies- Bosch, Fujitsu, and Volkswagen. Now, it is aiming to expand its capabilities to redefine the world of IoT (Internet of Things), including drive-less cars.
Recently, eToro, a social trading network have added support for IOTA on its platform. However, the prime focus and the most attracting thing is its successful partnership with giant manufacturers around the world.
In the year 2018, IOTA highlighted numerous technologies which VItalik Buterin will surely appreciate, including more real-life applications of blockchain and cryptocurrencies.
IOTA to revolutionize  the Internet of Things with its 'Tangle' technology.
For instance, in the last months of the year 2017, Bosch launched its new sensor Cross Development Kit or XDK. It's a programmable sensor device and a prototyping platform for any IoT use case one can imagine. The kit incorporates the use of IOTA Masked Authenticated Messaging.
German Cars and Technology:
Recently, Volkswagen, part of the German multinational automotive manufacturing company Volkswagen group, headquartered in Germany, has come together with IOTA has showcased a new PoC (Proof-of-Concept) at the CEBIT 2018. The giant automotive manufacturer now aims to incorporate the use of IOTA's Tangle technology into its products. It is to ensure that the cars come equipped with the necessary data for running updates. It's a step toward ensuring that the future of technology is advancing, for instance, the drive-less cars properly function when they hit the road.
Japanese Efficiency:
The Japanese company Fujitsu is also not behind in reaping the advantages of IoT and the IOTA technology. Thus, it's willing to incorporate the Tangle in its manufacturing processes to make them more efficient. The company is preparing to offer the IOTA test project to its users in the automotive and manufacturing industries.
Moreover, the Program Manager of Fujitsu's Industry 4.0 Competence Center, Leopold Sternberg, has declared that the company is well-ready to introduce IOTA as the new protocol standard.
It's interesting to see that Fujitsu already considers IOTA as the new protocol standard. It firmly believes that it will play a vital role in Industry 4.0. To conclude this, Dr.Rolf Werner used the instance of Fujitsu Live Show Case at the HMI 2018. Here, he explained how smart factories work and what advantages IOTA offers. Two mini robots demonstrated how "the tangle that creates the basis of a distributed ledger- helps in identifying and self-evicting product manipulation."
He also praised the technology by saying that there are numerous ways of incorporating decentralized and secure applications based on the IOTA's Tangle as DLT (distributed ledger technology). He emphasized that all of them are highly applicable in real-life use cases. For instance, with Tangle, it's conceivable to ensure protected monitoring of supply chains and secure identity management.
While the progressive cooperation of IOTA with industry leaders is promising and has earned the trust of Oyster Pearl (PRL), a cryptocurrency project is eyeing to become the future of website monetization and distributed ledgblockchain consulting serviceser. Currently, it's coin MIOTA is being traded solely at 0.54%.
We are a leading blockchain application development company having experience of more than a decade. Our development team also has expertise in working with IOTA's tangle technology to develop innovative IoT projects. If you are looking to invest in IoT space, our blockchain consulting services may drive you in the right direction.