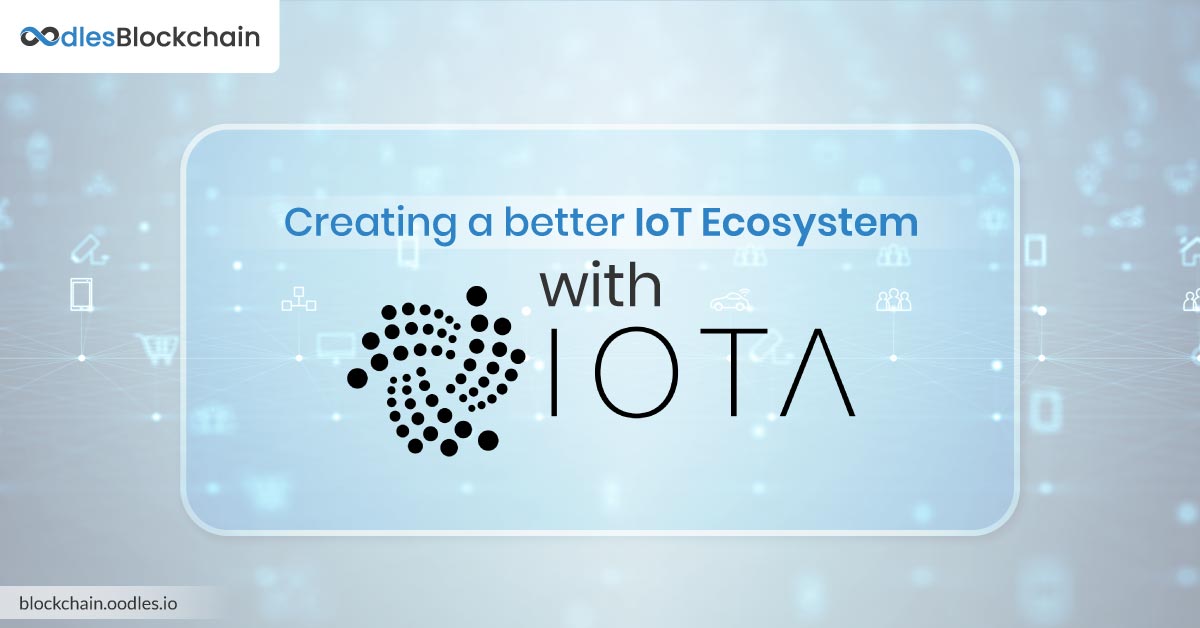 Several leading companies have undertaken blockchain initiatives and demonstrated the technology's ability to streamline processes and save costs. The fact that fortune 500 companies have invested in blockchain technology is a sign that its acceptance is growing. The development and deployment of enterprise-level distributed trust networks with blockchain are one of several advantages it offers to industries. 
However, initial blockchain-based applications have met with problems like low speed and high cost of transactions in different use cases. Keeping that in mind, IOTA's founders established a standard protocol to extend blockchain capabilities, especially in IoT.
What is IOTA?
IOTA is an open-source distributed ledger that does not use a blockchain. Instead, it employs a newly invented model of distributed ledger protocol called the Tangle. This new quantum-proof protocol enables IOTA to deliver advantages like secure, low-cost and fast machine-to-machine transactions, micro/nano-payments, value and data transfers, and other applications.
The role of Tangle
Tangle is the driving force behind IOTA, which is a directed acyclic graph (DAG) based ledger. In DAG-based technologies, there is no requirement for blocks and chains. Instead, one or more previous transactions (tangle requires two-parent transactions) are required to confirm transactions. A direct graph with no directed cycles represents the structure of the network and nodes. It makes a structure that resembles a never-ending tree. (graphic)
How transaction verification occurs?
Instead of assigning a portion of the network the responsibility for overall consensus, be it miners in Proof-of-Work or stakes in Proof-of-Stake, IOTA's every active node participates in deciding the consensus and transaction validation. As a result, everyone gets an equal say in the network regarding the transaction execution process. 
The transaction process follows three steps: first a user signs a transaction using his private key, then MCMC (Markov chain Monte Carlo) algorithm chooses two unconfirmed transactions and verifies if they are conflicting, and finally, the node must solve cryptographic encryption. It means that similar to blockchain, it also employs some Proof-of-Work. Upon completion of the three steps, the transaction gets stored on the network. 
Tangle Advantages
By maintaining features of blockchain-like peer-to-peer transactions, and developing on the original DAG technology, Tangle becomes more efficient. Transactions are faster and increasingly reliable because of the multiple confirmations of transactions with the aforementioned mechanisms. Further, as more transactions are made, the network becomes increasingly more secure and scalable. Considering that it requires no blocks, there is no mining as well. Eventually,  it provides benefits like feeless transactions, no centralization of control, and no high resources and hardware use.
What does it aim to solve 
There will be around 20 billion devices connected by 2020. IOTA wants to maximize the opportunity created by the IoT revolution. The volume of internet-connected devices is increasing every day of the year. Many desktop computers are online 24/7 but do not operate at full capacity. People use these devices to operate relatively menial tasks such as sending and receiving mail, checking online banking, and web browsing. They do not use their machines to their full potential.
This is a key factor in IOTA's invention. IOTA's founders believe that its infrastructure can become an efficient platform for owners of connected devices to generate extra revenue by lending other people their unused resources. 
In terms of how IOTA works, the long-term strategy is to create machine-to-machine transactions that can communicate with each other beyond desktops. Its founders' plan is to create a new era of a sharing economy that interacts with a myriad of 'smart' devices in use around the world today.
IOTA Applications 
IOTA continues to push the boundaries with real-world applications and use cases. Below is a sampling of its use cases that are coming to realization. 
Smart City- Taipei
In January 2018, Taipei signed an agreement with IOTA to test its Tangle technology to transform the capital into a smart city. The tests also included TangleID verification and air pollution level monitoring. The authorities opted IOTA to maintain data integrity and increase the trust of users in public services and their government. 
Smart Energy
After the IoT ecosystem, IOTA finds its prominent use cases in the energy sector. As Tangle focuses on creating a machine to machine economy, IOTA's distributed ledger can decentralize power grids and provide efficient energy throughput. For instance, IOTA based smart charging can connect cars and stations and enable them to independently charge themselves. 
eHealth
Medical and health records are being digitized rapidly to increase transparency and efficiency for more effective and urgent care, research, and ease of use. Unfortunately, there are concerns about privacy and abuse of data institutions and consumers alike.
IOTA can enable secure data integrity with a distributed ledger of immutable records. It can provide service providers with a platform to make sound decisions using reliable data. 
Mobility
Sharing data will create new economies in the transportation industry as technology develops. Cars and other vehicles can act as a digital medium for communicating and  transmitting data with other devices, vehicles, and stations 
With integrated wallets, cars will pay automatically for parking, tolls, charging stations, and other services. Vehicles might also be used for receiving payment for activities like deliveries, and ride-sharing.
IDOT
The Identity of Things is another major focus and overall vision of IOTA. IOTA applications will 'tag' and identify things using unique identifiers and store their information on Tangle's immutable ledger. 
Eventually, it will create a reputation system for anomaly detection in sensors or nodes. It is one of the important projects that is mentioned in the development roadmap of the IOTA Foundation. 
Relevant  Reads: IOTA's Tangle Is Empowering Palm Scanning Identity Verification Technology
Conclusion
IOTA's team is trying to accomplish future plans and overcome the limitations in its widespread adoption. If the team succeeds, we may witness a technology that advances in parallel with blockchain. Certainly, Tangle has come in as a strong competitor of blockchain technology by extending its capabilities. However, a winner is yet to be decided. Currently, Tangle has not proven itself on a mass adoption scale and remains largely speculative. Traditional blockchains, on the other hand, have a head start in terms of attention and adoption.