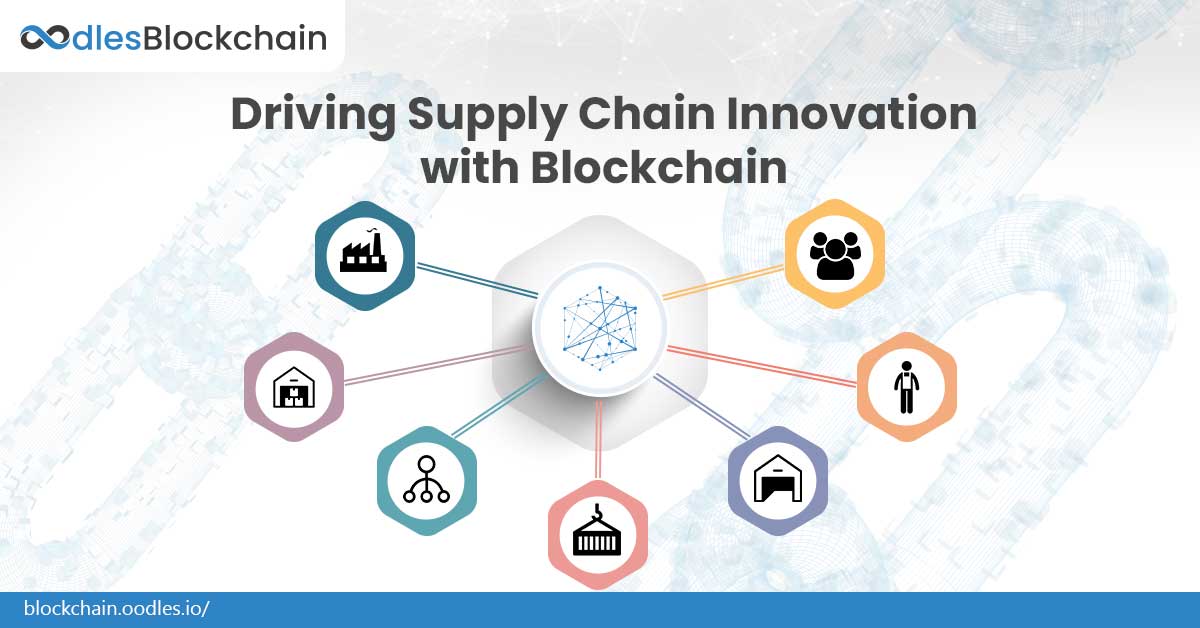 A supply chain is a crucial business growth driver for any industry. Now, with multiple checkpoints, intermediaries, and paperwork involved at each stage of a process, have become increasingly complex and unstreamlined. Blockchain is an emerging technology that is gaining significant traction across industries due to its feature-rich characteristic. It establishes authenticated and verified data communication between each stakeholder in a supply chain without depending on a centralized authority. With blockchain supply chain solutions development, supply chain managers can achieve transparency across a supply chain by verifying and storing data in a shared, distributed manner, in real-time. 
Blockchain Technology | A Rundown
Blockchain is "a technology that enables people who don't know each other to trust a shared record of events," according to Bank of England. Let's take a look at the essential aspects of the technology. 
Characteristics 
Inherently Traceable

Time-stamped

Censorship resistant

Distributed ledger

 Near real-time 
Potential value drivers
Transparency and material traceability

Lower administrative costs

Reduced risk of fraud and gray-market trading

Enhanced control of outsourced contract manufacturing 
Scope  
Connects each stakeholder in the supply chain for secure, transparent, and efficient information exchange 
Additional Technology Support 
Technology function and characteristics 
Essentially, Blockchain is a digitally distributed ledger or database of records, transactions, or executed events, shared across the participating parties. A consensus of participants in the system timestamps and verifies each transaction in this system. 
The technology follows the distributed transaction verification method that promotes data integrity and transparency. This concept dubs it as an enabler of "trustless trust." It means that parties in a network without trusting each other can participate in exchanges of value with absolute assurance. 
Also, unlike centralized systems, Blockchain has no central point of failure as all participants get a copy of the state of the ledger. It makes the business applications and solutions built using it more durable than a centralized system. 
Additionally, we can program Blockchain with embedded instructions like if-else and if-then statements for executing actions when parties in a transaction meet certain. These instructions are essentially programmed smart contracts solutions. A smart contract solution can link any information in a blockchain to consequences like transfer penalty fees when parties fail to meet agreed terms. 
Blockchain Supply chain Solutions
Implementation of blockchain solutions in the supply chain can facilitate participants to securely record and share various details like price, date, location, quality, certification, and other relevant information using a single system. The availability of this information within a unified platform powered by blockchain establishes the traceability of material supply chain, reduce losses from counterfeiting and gray market, enhances visibility and compliance of outsourced contract manufacturing, and significantly boost an organization's, regardless of the industry, position as a leader in responsible supply chain management. 
Benefits of Blockchain for Supply Chain Solutions
Blockchain solutions can enable stakeholders to increase transparency, as well as reduce cost and risk across the management of the supply chain. 
Increased traceability of material supply chain to ensure corporate standards are met

Lowered losses from counterfeit/gray market trading 

Improved visibility and compliance over outsourced contract manufacturing

Reduce paperwork and administrative costs
End-to-end transparency and accurate tracking
With blockchain, it is possible to digitize physical assets and create a decentralized, immutable record of all transactions. Further, it enables supply chain management with enhanced end-to-end transparency and accurate tracking of every transaction and asset in the network. Additionally, with IoT and RFID, it enables tracking of the asset from production to delivery to an end-user while providing access to product history and transparency. This promotes more visibility and transparency to both businesses and consumers into the products they consume. 
Also, Read | Advantages of Using Blockchain and IoT for Supply Chain Management
Alleviate fraud and counterfeiting
Blockchain's transparency can also alleviate fraud for high-value goods like diamonds and pharmaceutical drugs. It can enable stakeholders to assess how ingredients and manufactured goods pass through each subcontractor. It reduces or eliminates the impact of counterfeit products. As a result, it reduces profit losses from counterfeiting and gray market trading, as well as establishes confidence across end-market users.
Greater control over outsourced contract manufacturing
Furthermore, blockchain solutions can enable businesses to gain more control over outsourced contract manufacturing, an important aspect of supply chain management. It does so by enabling all parties within a respective supply chain to access the same information. It potentially reduces communication or transfers data errors. Also, then there is no need to spend more time validating data. Contract managers can spend that time on either improving quality, reducing cost, or both.
Efficient audit system of supply chain data
Finally, blockchain can enable an effective audit system of supply chain data that will result in streamlined administrative processes and reduce costs. It can accelerate processes involving time-consuming manual checks for compliance purposes through a distributed ledger of all relevant information. However, notably, implementing blockchain solutions in the supply chain requires cooperation and support from all stakeholders.
Blockchain Case Studies
Blockchain-based shipping logistics 
To manage freight tracking, providing buyers, sellers, and officials with a mechanism to track goods shipped globally, a shipping company used a blockchain-powered system. 
In a general scenario, when products travel across borders, it requires review and approvals from up to 30 parties before arrival. Consequently, it creates heavy paperwork and opens vulnerability for fraud at multiple points in the process. By collaborating with customs and other necessary authorities, the company streamlined the approvals process. It created a secure record of transactions and approvals, which reduced the time needed to transport goods. 
Blockchain has the potential to reduce administrative and logistics timelines in shipping from more weeks to less than one day.
Also, Read |  Making Logistics Processes Efficient with Blockchain Applications
Blockchain in food production 
A startup has started using a blockchain solution to increase supply chain transparency in the second-largest traded commodity, coffee beans. It uses a shared, decentralized blockchain protocol for enabling real-time mobile transactions, storing transaction information, and facilitating all parties to access payment records at any time. The system promises to boost transparency across the supply chain for coffee beans shipment while ensuring that farmers get appropriate fair-trade payments. 
Also, Read | Analyzing the Food Traceability System Developed by Walmart with Hyperledger Fabric
Blockchain in pharmaceuticals
Last but not the least, another potential application of blockchain solutions is provenance tracking of assets across a supply chain within the pharma industry. Currently, it is difficult to track active pharmaceutical ingredients during the manufacturing process. Also, pharma companies face challenges from counterfeit drug operations around the globe. Blockchain's characteristics like immutability and transparency provide a foundation for establishing traceability of drugs from manufacturing to end consumers.
Also, Read | Fixing Fragmented Healthcare Supply Chain with Blockchain
For achieving greater transparency and efficiency across the supply chain with our blockchain solutions connect with our blockchain experts.