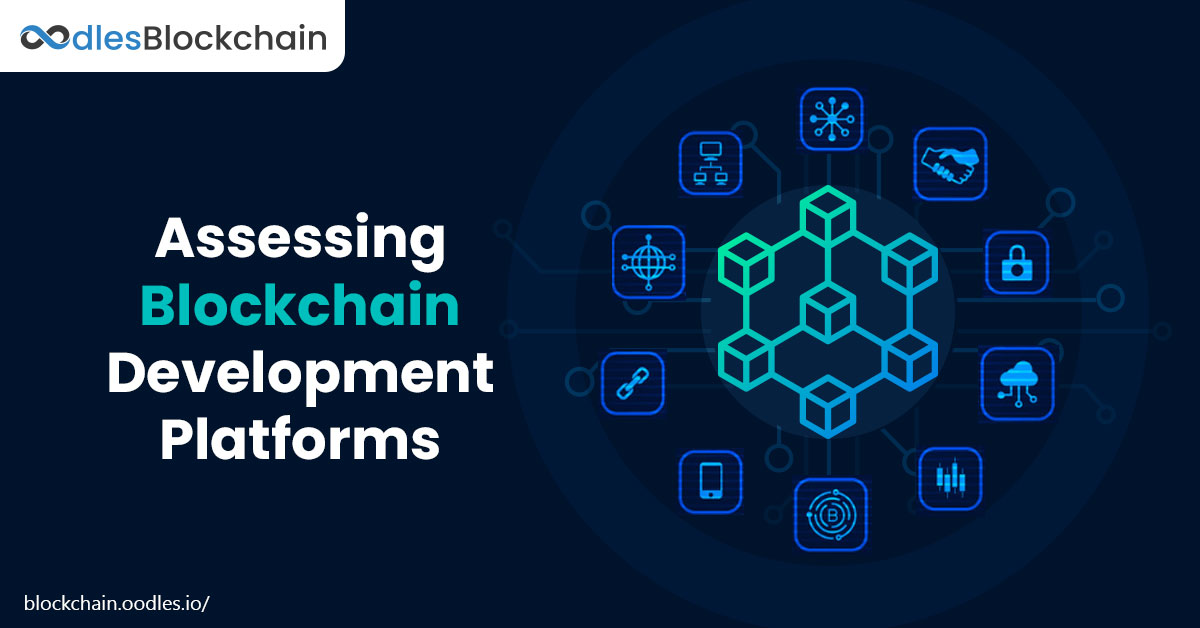 The blockchain app development from scratch requires more than a great idea. You need to have a dedicated team, a right set of expertise and skills, and sufficient resources for efficient blockchain app development. Having worked on more than 20+ blockchain projects, at Oodles, we understand that it is necessary to choose the right blockchain technology development platform for definite success. In this blog, take a look into several aspects around the selection of blockchain platforms for blockchain app development. However, let us answer one of the most critical questions first.
Do You Need Blockchain Technology Integration 
In the list of trendy technology topics, blockchain is making a constant appearance year after year. Its potential to transform businesses with attributes like transparency and interoperability cannot be ignored. However, there is also a grim picture among a range of benefits, which is blockchain POCs failing. In the ode to be in-trend, businesses end up incorporating blockchain technology in their processes and offerings without knowing whether or not it will address their business purpose. Thus, it is necessary to decide whether or not you require blockchain integration in your project. Deciding to select the best blockchain development platform comes much later. Connect with us for a detailed discussion over which the blockchain platform will be the best for your next big project.
Blockchain App Development Platforms | Benefits 
It is sort of a utopian state for many businesses trying to develop the best blockchain framework and network from scratch with a lot of difficulties. It gives birth to diverse blockchain platforms that enable businesses to take advantage of existing software, infrastructure, and service related to blockchain technology. Those promising blockchain-based platforms for app development come with multiple benefits:
Essentials in one place
A blockchain technology-based platform serves as a database that is distributed and managed by individuals across the network. It ensures the storage and management of all transactions in a structured and secure manner. The way it achieves this is through the Blockchain platforms.
Efficiency
A Blockchain technology platform is devised to be efficient as it can enable key stakeholders to directly interact with consumers. As a result, they can get rid of the inclusion of intermediaries.
Fraud Prevention
With distributed ledger working as the underlying technology, Blockchain platforms can prevent any type of modification of information. Simply put, it is almost impossible to misuse information by altering it to meet their needs.
Establishes Auditability
Due to being transparently distributed, blockchain platforms establish accountability for the entire Blockchain network. Stakeholders of that Blockchain system can know who is responsible for what. Thus, upon finding something illicit, they can hold them accountable.
Blockchain App Development Platforms  | Types
Essentially, there are three main types of blockchain platforms or frameworks for solutions development: public networks, permissioned networks, and private networks.
Public Blockchain 
Anyone can participate in these decentralized networks at any level. They can perform various activities like running full nodes, trading tokens, mining cryptocurrency, etc.
They are not generally considered as a must-have blockchain platform for startups.
Permissioned Blockchain 
These permissioned networks are visible to anyone, however, with controlled participation. Generally, they are fast, have low latency, and provide high storage capacity compared to public counterparts.
Private Networks
This type of network is shared between only trusted parties within an organization or a group of enterprises. They are not made open for the public and thus, enable fast transactions with zero latency. Interestingly, most private networks do not use cryptocurrency. But, they do offer the same security and immutability advantages of decentralized networks.
Let's dissect various blockchain frameworks at the crux level.
List of Most Efficient Blockchain App Development Platforms  
Ethereum
It is the platform that introduced revolutionary smart contracts. A majority of blockchain developers prefer Ethereum blockchain app development developing decentralized applications. Ethereum blockchain development's core team along with huge community support continues to improve the platform.
Hyperledger 
An open-source permissioned blockchain, Hyperledger comprises various blockchain platforms that are inclined towards developing high-performing DLT with cross-industry collaborations. It consists of six frameworks and seven tools to enable businesses to adopt Blockchain at the enterprise level.
EOS
It is a smart-contract powered Blockchain technology development platform. We use it to deploy and execute diverse types of decentralized apps. Due to being a public network platform, anyone can use it for developing EOS accounts and submit transactions to the network.
It reaches consensus through the delegation of who will produce each block. It gets decided as per a vote by token-holders out of a large list of approved candidates.
R3 Corda
It is an efficient and performant enterprise open-source Blockchain platform of a consortium made of more than 300 firms in collaboration with Corda. Corda can host enterprise distributed apps in sectors such as healthcare, insurance, digital assets, and finance. Corda offers a high level of integration with existing business infrastructures. It is written in Kotlin programming language.
Also, Read |  Open Source Blockchain Platforms for DApps: The Rise of Decentralization
Choosing the Righ Blockchain App Development Platform for Your Business
Application's Privacy Requirements
As we know, Blockchain has two parts. One is the centralized network, where a single central authority has control and access to the network and the information. Another is a decentralized network, where the data is shared across the complete network. So, if your solution deals with private sensitive information like names, documents, and addresses, etc., a private network is preferred to be used which is not decentralized. On the other hand, if your solution has to promote business trustlessness and transparency, putting data on the public Blockchain development framework is advised.
Scalability Challenges
Blockchain technology platforms must also grow and adapt to the growth of the network as transactions and participants increase. Scalability issues are like bottlenecks in Blockchain projects. We know that the transaction speed of a few platforms like Ethereum is still not as high as PayPal or Ripple, etc. If your dApp is not transaction-intensive and can work well with a simple escrow agreement powered by smart contract solutions, a permissioned or private network is suitable for quality, cost, and ease-of-use. However, if your dApp requires extensive transactions, examining side-chain implication for liability/security and assessing network transaction fees for efficiency.
Know more about blockchain platforms specially designed for smart contract solutions, here.
In addition to these two primal factors, there are other significant contributing factors that a Blockchain development company like Oodles consider while choosing the Blockchain framework, like the availability of skills, community support, multi-functionality, security needs, etc.