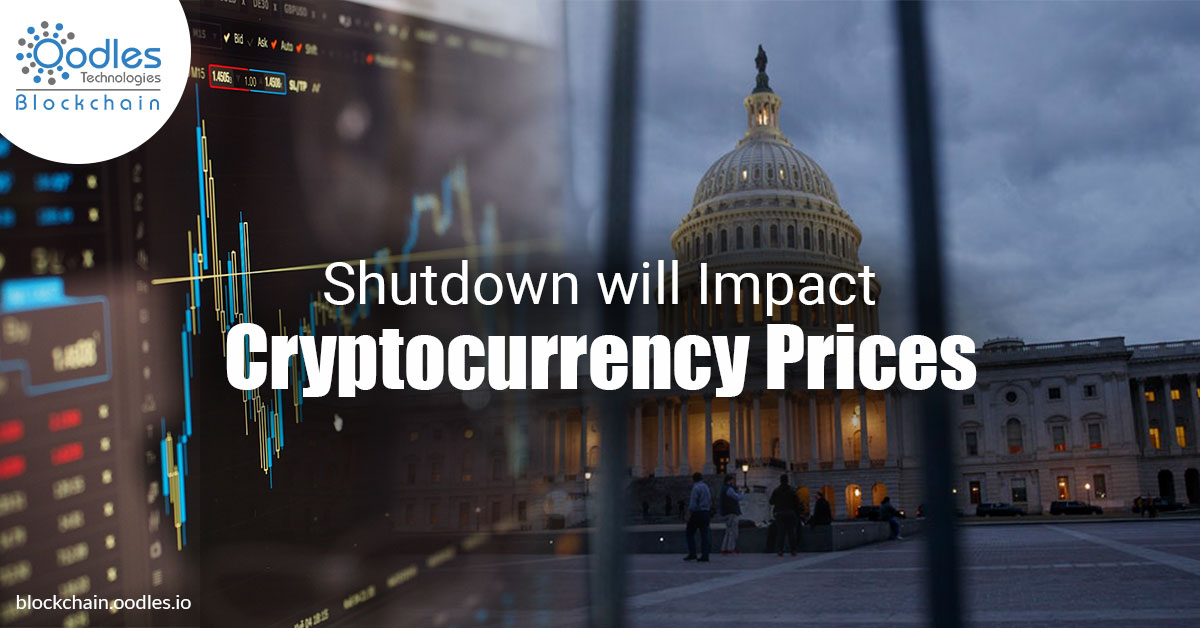 Government Shutdowns in the US is not new. The Federal Government has shut down a number of times when either the Congress or the President hit lackadaisical appropriations. Such shutdowns have a direct impact on the public, as employees are not paid and government services stop all in a while. Currently, the US government is facing stringent rifts with frequent funding gaps in the administration. There is a possibility of a partial government shutdown after this week. In these circumstances, with other businesses, the blockchain application development company ecosystem will have an impact. Meanwhile, its effect on cryptocurrency prices is quite clear.
The Transportation, Security, and Justice Department are heading towards a possible shutdown. A CNN report cited that a majority of Department of Homeland Security would be subjected to work without pay. Also, many employees of NASA, National Park Service and Department of Housing and Urban Development might be placed on furlough. However, there is also a strong possibility that the situation will find a solution while averting the possible shutdown.
Recent Breakthroughs:
Government Shutdown Looming Over US
Although the possible shutdown is not expected to impact directly on industries like software and IT services, they will have an indirect impact. The current state of cryptocurrency investment is not that positive in the market, but Blockchain technologies are gaining a gradual ground in the enterprises as well as in the public sector. The Blockchain Application development company landscape is gaining relevance over cryptocurrencies, integrating with sectors such as FinTech, Health, and even Public Administration. As the government shutdown has direct implications on public finance, it has strong relevance in investments, business, and trading. The probable government shutdown will have a subtle impact on cryptocurrency prices.
How will it Impact Cryptocurrency Prices
Cryptocurrency Prices and Government Shutdown seems unrelated. But there is a strong connection between capital, finance, and industry with the state of governance and public funding. The US is a hub of cryptocurrency investors and blockchain innovations; any major government decision will impact these specific technology verticals. The top cryptocurrencies are through a troubled time in the US. There have been major dips in the prices, while returns on investments are going haywire. The US administration put up strong market regulations on cryptocurrency lately, which had a strong impact on prices. The current state of the government will slow down the market further. While, Blockchain Application Development Company and enterprise sector are expected to grow, but with a slow pace.
Impact on Blockchain Application Development Company Landscape
Any Blockchain application development company is associated with services related to technologies related to the blockchain, cryptocurrencies, Distributed Ledgers, and others. As this technology is gaining a good popularity with a gradual increase in adoption, blockchain development services is growing to grab a good market share. Against this backdrop, the current possibilities of the government shutdown will not have a substantial impact in the vertical. However, projects related to cryptocurrencies, such as exchange development, wallet development, and ICO launch is expected to slow.
Blockchain development is now more oriented towards a low investment ecosystem as the technology helps in cost reduction. Government agencies and departments are also finding a positive prospect of blockchain adoption. The US heading for a possible shutdown will impact cryptocurrency prices creating further constraints in the market. It is because investments are through a rough prospect. However, it would have a little impact on Blockchain technology development. Such condition, rather, is expected to impact the industry positively, as more enterprises, as well as government sectors, will look towards enterprise-grade blockchain solutions to cut their expenses.
Explore Industry Use Cases of Blockchain
Donation        FinTech          Insurance          Healthcare        Tourism