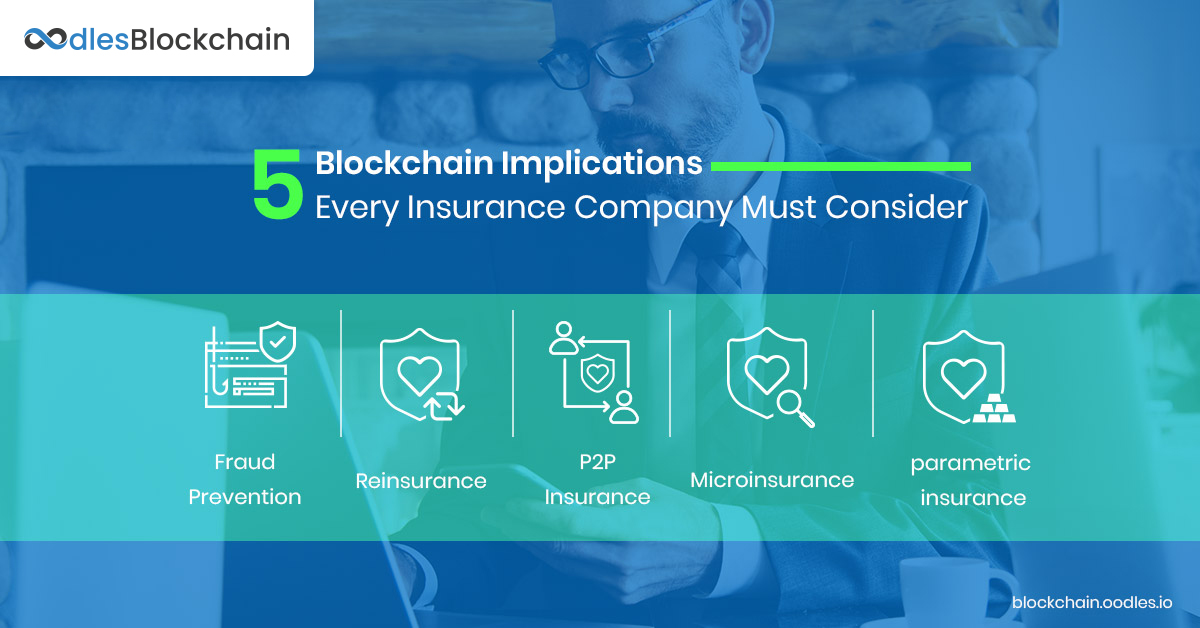 Developing Blockchain Applications in Insurance
We explore the potential of distributed ledger technology (DLT) like Blockchain to simplify industries and their processes. We strive to expedite the use of blockchain in Insurance globally to form an improved value chain of all stakeholders. Our development experts develop blockchain applications for insurance markets using our different blockchain platforms. It provides better outcomes and new business opportunities with improved efficiency.
Eventually, we provide stakeholders assistance in developing a network of insurance services designed "by the market, for the market."
Why is Blockchain the Answer?
Transparency, immutability, and security, some of these worlds have become synonymous with blockchain. The revolutionary tech is finding its applications in almost every business niche. Today, we'll be exploring blockchain applications in Insurance.
Surprisingly, the amalgamation of blockchain and insurance is not only a discussion topic. It has also a high point of conversation among technology providers, insurance providers, and investors.
Blockchain time-stamps transactions with cryptography. Consequently, making it easy for everyone in the network to trace the origin and destination. Also, Blockchain forms as the underlying technology for various applications aimed at benefitting the public. Its features are endless which makes it a trending technology. It is the reason blockchain is finding its use cases in numerous industries. As a result, the demand has gradually surpassed the supply of blockchain developers.
When it comes to the insurance sector, the database is the key. However, technology enthusiasts add up to the confusion by saying that blockchain is a substitute for the database. Instead, it is an internet-based smart database that is more efficient and secure than what we have today.
The fundamental features of blockchain provide a series of benefits to the insurance firms, the likes of which are:
Customer identity and AML

Underwriting

Distribution

Innovative products

Claims handling

Reinsurance

Capital markets
Benefits of Blockchain Applications In Insurance
Blockchain can streamline, modernize, and enhance the siloed infrastructure of the Insurance sector using a shared ledger of common information.
Simplified Operations: Reduces human intervention required to perform reconciliation and fix disputes.
Enhanced Regulatory Efficiency: Allows real-time tracking of the financial activity of regulated entities by regulators.
Reduced Counterparty Risk: Eliminates the need to rely on counterparties to achieve obligations through Smart Contracts.
Reduced Clearing and Settlement time: No need for third parties for verification/validation. Thus, expediting settlements.
Minimized Frauds: Enables complete transaction history and asset provenance maintenance within a single source of truth.
How Blockchain Addresses the Pain Points in the Insurance Sector
Identity Theft
Industry leaders accuse that false claims, fraud detection, and time-consumption in application verification are the issues that hinder flawless operations. Here, blockchain based insurance applications might come as a solution. Blockchain could form a distributed database having both internal and external customer data. Post the successful system implementation and information filling, the platform would automatically verify the various type of documents. Not only would it expedite the entire processes but also aid in reducing human intervention. Eventually, lowering the possibilities of errors.
Decentral Data Repository
Be it any business niche or industry, one of the primary concerns lie in data security. Various current data security systems, whether in banking, insurance, or healthcare, are vulnerable to threats and hacks. You might have also heard numerous cases of data hacks and breaches.
Here, blockchain can emerge as the solution. Unlike traditional systems, blockchains do not have central repositories that save data. Instead, a blockchain network of distributed nodes accommodates it. It means anyone on the chain can view the transactions. Also, making any alterations to data require changing all previous blocks of information or the majority of the network consensus. Thus, making the system safe and secure. Furthermore, blockchain uses the means of military-grade security mechanisms to encrypt information. Thus, advancing the anonymity factor.
Cost-Effective Opportunities
A report by PwC emphasizes that blockchain, with its unique attributes, can make data processing more efficient and reduce fraud. Overall, it could remove 15-20% of overheads incurred during the insurance process and save around $5-10 billion.
Also Read:
The Blockchain Revolution In Insurance Industry
Blockchain Applications in Insurance Verticals
Initially, we focussed on the overall blockchain's benefits in the insurance sector. Now, let's understand how does blockchain enhances other domains of insurance.
As we know, it is quite messy and a cumbersome process to get the insurance claim. To streamline this, we require an efficient, interconnected system. Here, blockchain based insurance applications can help catalyze the complete process of the insurance sector. Here's how it is possible:
Healthcare Insurance
Blockchain aims to address the shortcomings of contemporary data management systems of the healthcare sector. Blockchain based healthcare solutions improve the level of patient-care by interconnecting all the medical facilities, insurers, physicians, patients, etc.  Additionally, they also streamline the complex processes by saving all the data in a central repository.
Automotive
Blockchain can be beneficial for the automotive industry in two ways. First, it can form an interconnected ecosystem of all the users and service providers. With the help of a shared ledger, all the information can get readily available. Thus, helping auto insurers in lowering risks and frauds. Second, using blockchain smart contracts, insurers can fasten the claim processing.
Life Insurance Sector
Although life insurance seems easy and simplified, the process of getting a claim is a daunting task.
During the process, applicants face numerous questions, innumerable paperwork, and money drainage. However, with blockchain based insurance applications, agencies can make things straightforward. By forming a consortium of government agencies, medical facilities, etc. blockchain can make all information available at the disposal. Additionally, insurance firms can choose to develop smart contracts to automate payouts to respective beneficiaries.