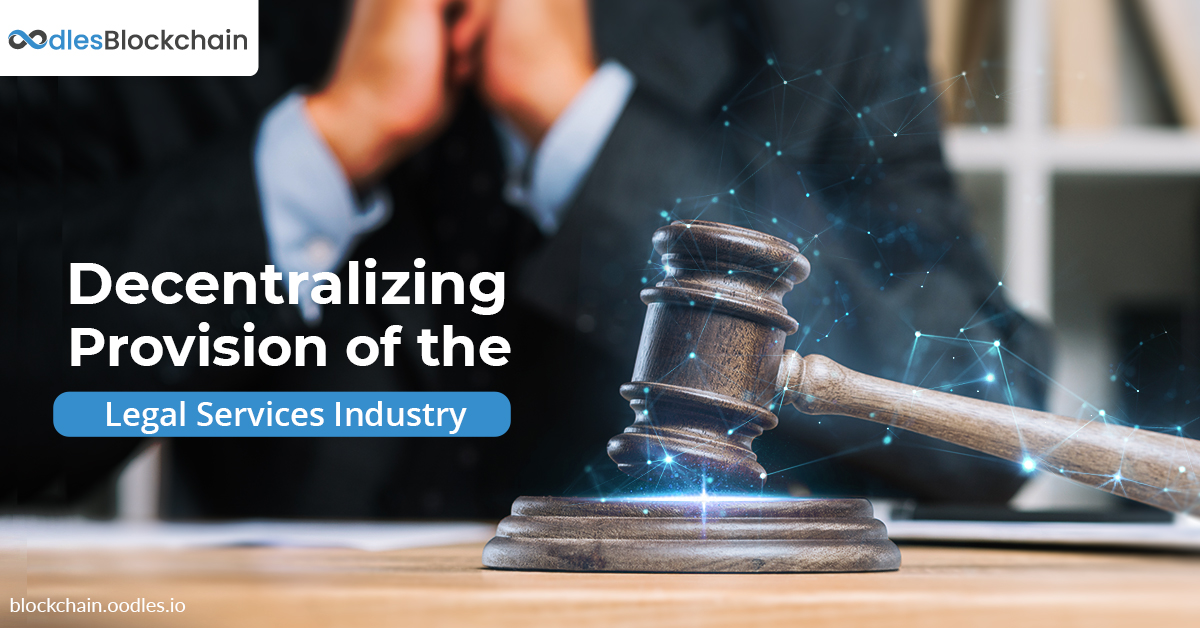 Blockchain technology is ready to transform different industrial sectors with operations and processes involving data management, intermediaries, contracts, etc. It is widely known for its capabilities to bring transformation with its distributed, transparent, and immutable ledger. It enables businesses of different sizes to achieve a higher level of accuracy in their complex legacy processes. The legal services industry is also looking to revolutionize its processes with attributes of the distributed ledger technology and blockchain app development.
Blockchain Applications in the Legal Services Industry
With secure storage and validation of transaction records, legal institutions can maintain an accurate chain of custody of any contract on the blockchain legitimately. Keeping track of excessive paperwork like historical records of cases is always challenging for lawyers and legal advisors alike. According to a PwC survey in 2017, 70% of law firms were ready to use smart contracts for transactional legal services. Additionally, 41% of them were exploring blockchain for transactional legal services, 31% for enabling high-value legal services, and 21% for establishing business support. 
Essentially, transparency, immutability, and security powered by blockchain's ledger can enable the legal services industry to record and resolve legal issues instantly and effectively. 
The use of blockchain's ledger can transform several legal services like property records, intellectual property rights, chains of custody, UCC fillings, funds transfers, legal opinions, contracts, and litigation and settlements.
Take a look at the following information to understand the impact of the blockchain in the legal services industry. Also, visit our Corda blockchain development services to explore blockchain's potential in the legal services industry. 
Smart Contracts
Presently, legal institutions resort to physical signatures to write legal contracts. The process warrants a significant amount of time and effort for legally binding contracts. Additionally, due to manual processing, legal documentation becomes vulnerable to human-errors. Blockchain provides a distributed, immutable ledger that brings every participant on a single platform and makes legal documentation accessible and transparent. Further, the integration of smart contracts reduces the cost and friction of creating and securing legal agreements. A smart contract is a set of predefined business rules coded in a digital contract. It can automatically execute actions between two or more parties upon meeting specific requirements. 
Litigation and Settlements
Litigation describes the proceedings of defending or imposing legal rights between two or more opposing parties. To settle a legal issue, either the parties agree, or a judge or jury in the court decides it. Legal issues that come under litigation vary from frauds, banking transactions, contracts to regulatory mechanisms, and mergers and acquisitions. There are certain activities in litigation that require completion beforehand, during and after a lawsuit to impose or oppose a legal right. Those activities may include pre-suit negotiations, arbitrations, appeals, and facilitation. Like other legal services' processes, the litigation is also time-hungry and requires excessive paperwork. Moving the litigation processes to a blockchain-based platform can reduce time significantly and make the system more transparent.
Chain of Custody
Appropriate validation of the findings and proper documentation is always essential in any investigation process, especially in cases pending for many years. Pieces of evidence gathered at the beginning of a case become critical in its later stages. If legal authorities collect and document the chain of custody diligently and regularly, it can be easy to discover vital information whenever necessary. Not only collecting the evidence is essential, but who gathered the information and when it was documented with other details are also necessary. On the one hand, storing electronic evidence in centralized databases increases the security concern. On the other hand, maintaining paper trails of documentation for a chain of custody is also cumbersome and prone to human errors and modifications. In a nutshell, It becomes a challenge to securely store and preserve evidence collected many years ago.
Here, blockchain's attributes come into play to bring traceability, immutability, and auditability to the system with time-stamping and cryptographic records. 
Conclusion
The implementation of blockchain solutions with regulatory requirements in the legal services industries indicates significant potential for process optimization. Using blockchain smart contracts, legal organizations can emphasize on drafting complex agreements with automated execution of rules embedded in them. Additionally, they can make the enforcement of law and compliance more efficient and effective with smart contracts. 
At Oodles, we have a blockchain team that can give you an in-depth consultation on how the blockchain brings transformation in the legal industry.