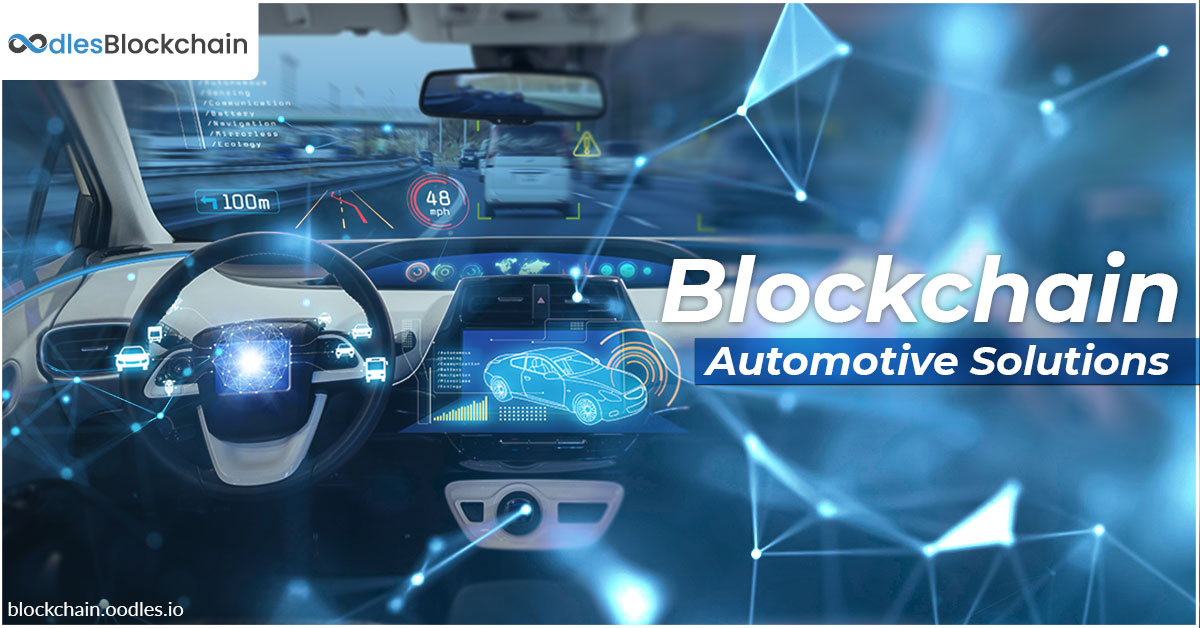 The blog features the uses blockchain has in the automotive industry and how it improves drivers' daily lives. Let's dive deep into how blockchain works and explore its potential applications that can enhance the mobility of the future.
When people hear the term blockchain, they link it with cryptocurrency. Cryptocurrency development is one of the best-known examples of blockchain applications. However, blockchain solutions are being adopted across a range of industries. Blockchain applications in the automotive sector can make life easier for motorists, for instance, when they buy a second-hand car.
"Blockchain technology itself is not the end-all solution," explains Dr. Andre Luckow, Head of Distributed Ledger and Emerging Technologies at the BMW Group. "What it does is give us the technical foundation we need to create helpful and effective solutions."
Dr. Luckow leads the IT team in the BMW Group. He works with specialist departments to build blockchain solutions and use cases that can shape mobility's future. Let's explore those use cases.
Blockchain Technology Explained
Blockchain is one of the innovative forms of digital databases. It can store transactions in unalterable and shared blocks, such as transfers, deliveries, and purchases. Blockchain's attributes essentially derive from the following principles.
A blockchain ledger remains decentralized. All participants agree to what information will go into the blockchain. Put simply, they agree on the rules of cooperation with blockchain smart contracts. Then, they make all transactions on the blockchain to monitor them. Blockchain establishes a no single point failure system due to being distributed across the network. So, if anyone attempts to change the state of data, they will have to do so by manipulating more than half of the participants.
Each block in the chain contains a digital fingerprint called "hash." Each block also contains the hash of the previous block, thus, making the content encoded. It means that all blocks are chain one after another. So, if someone tries to change the data in a block, it will immediately alert others in the network. It is because the content of blocks and digital signature won't match.
Secure Digital Vehicle Passport | Blockchain Automotive Solutions
When someone goes to buy a second-hand car, they come up with a long list of questions. They ask questions like-
The mileage of the car
Any accidental history
Regular checkups and maintenance
Car owners do answers these questions but without authenticity and concrete proof. Thus and so, buyers were not able to get definite answers.
With a blockchain automotive solution, both stakeholders can get a cure to this problem. The solution can enable users to track and validate the entire vehicle history, including maintenance and checkups. They can also share the data, such as the milage, with third parties. The same solution can also facilitate a conversation between the seller and the buyer. The potential buyer can use the app on their smartphone and scan the QR code provided by the seller's app. Then, a green check-mark can tell the buyer that the used car's data is authentic, plausible, and verified.
More Secure than a Workshop Stamp in a Logbook
The digital blockchain automotive solution is more secure against fraud and forgery than conventional proofs of a vehicle's mileage. In other words, someone can forge a stamp for checkbooks, however, on a blockchain, they cannot manipulate data record. Additionally, blockchain can also have records of accidents or previous owners' details with the risk of falsification.
Automated E-Charging | Blockchain Automotive Solutions
Plug-in hybrids and electric car drivers can relate to this challenge. For instance, they reach a charging vehicle only to know that they don't have an appropriate customer card.
Blockchain provides a solution to address this challenge too through a decentralized charging ecosystem and smart contracts. A smart contract solution is essentially a virtual contract. It is the blockchain technology that guarantees its execution and compliance.
In a hypothetical scenario, customers plug-in their electric vehicle into a charging station and do not have to ponder over anything. Blockchain can take care of the provider, identification, and even the cheapest available charging tariffs at a particular station. In this use case, we can assess the biggest strengths of a blockchain based solution. They include machine-based verification and secure settlement of transactions without requiring a middleman. For instance, charging station providers or electricity companies do not require a bank to manage monetary transactions. They can do it with a blockchain-based payment solution.
And blockchain will be the technology in the background making all of this possible.