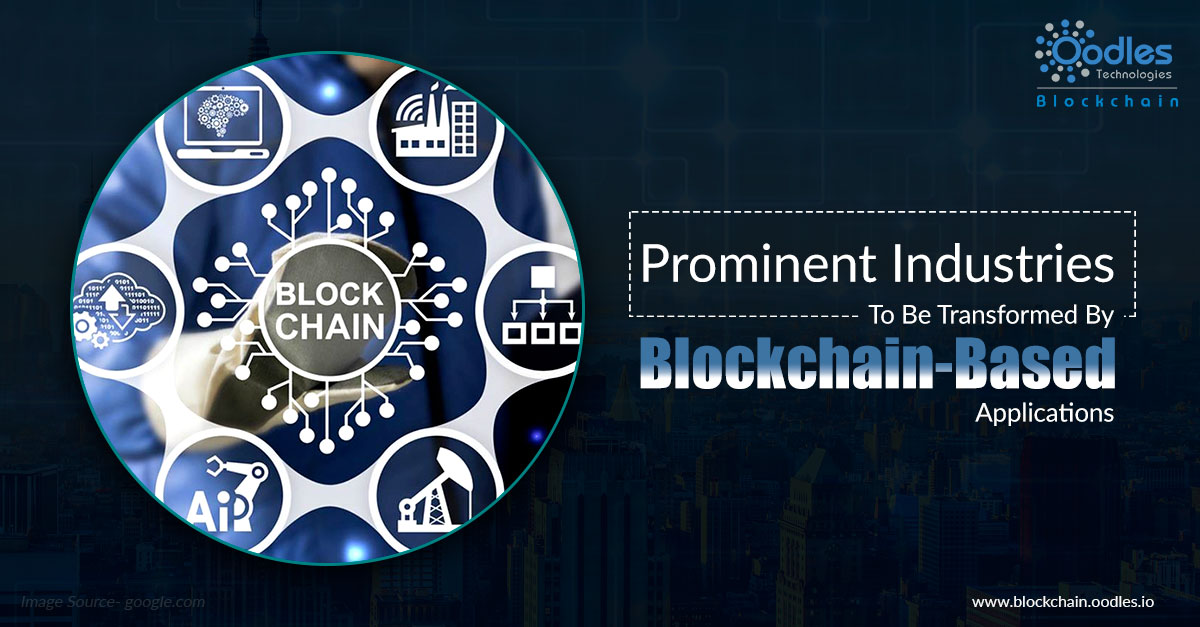 Frauds and hacking have become more problematic than ever, they have become difficult to track and prevent because of a large portion of the world population have shifted more of their lives online. However, a couple of innovations such as blockchain, promises to crack down on insecure transactions, contractual breaches, and even unintended computer and human errors. Let's understand how Blockchain-Based Applications can revitalize following industries.
Blockchain refers to a distributed ledger technology (digital ledger platform) that validates identities and transactions using a protected digital network of records. It's secure and protected because it produces multiple records and stores them in a decentralized manner.
Breeze through the mentioned use cases for a more thorough context of what the Blockchain-Based Applications can do to reinvent mentioned industries in this article.
Blockchain and Governments:
A couple of governments have started to adopt and test blockchain-based applications. Because the technology has shown immense potential to reform certain activities of governments. It can revolutionize management system, malpractice in voting, transparency on revenue monitoring and taxes.
Here are a few governments that have already planned to use blockchain technology (blockchain-based applications), such as UAE, Estonia,  United States, and Gibraltar.
The government of Dubai has begun implementing 'Dubai Blockchain Strategy.' It proposes to be the complete blockchain-powered government in the next five years.
Blockchain in Healthcare:
Blockchain can transform the healthcare industry drastically. It can place the patient at the core of the healthcare ecosystem and tighten the security, improve privacy, and enable interoperability of patient data. The technology can bring potential changes and provide a new healthcare model for health information exchanges (HIE) by enabling digital medical records in a more efficient, disinter-mediated,  and secure way. Although it's not a panacea, the rapidly growing landscape of healthcare offers fertile ground for investment, experimentation, and proof-of-concept testing.
IoT (Internet of Things):
While IoT devices are increasing rapidly, they often don't have the authentication standard required to keep user data safe. If hackers penetrate through the array of IoT devices, critical infrastructure can be damaged. Thus, to ensure trust and security, standardization and authentication across all aspects of IoT are vital for its widespread acceptance. Here are a few ways the distributed architecture of the blockchain technology can help get rid of challenges related to trust and security.
Blockchain-based applications can come in use to monitor and track sensor data measurements and stop duplication of it with any other faulty data.

Deployment of IoT devices is complex, a distributed ledger can prove to be beneficial in providing IoT devices with identification, seamless data transferring, and authentication.

I

nstead of having an intermediary or a third-party for developing trust, IoT sensors can use a blockchain to exchange data.

A distributed ledger like blockchain can eliminate even a single source of failure existing within the ecosystem.

Blockchain allows device autonomy (smart contract), the integrity of data, individual identity, as well as, supports

P2P communication

by eliminating technical bottlenecks and deficiencies.

Operational and deployment spending of IoT devices can be decreased using Blockchain given the fact that there is no intermediary.
The first blockchain-based real operation was conducted on September 24, 2017. The founder of the renowned US tech website TechCrunch Michael Arrington bought an apartment in Kiev. It was settled on smart contracts in Ethereum-based cryptocurrency.
Presently, commercial real estate brokers, buyers, owners, and sellers use web services. However, with blockchain, seeking, renting, buying and performing real estate operations can be done easily, and in a more effective and transparent way.
It can provide you with endless benefits like bettering property search, smooth cash flow management, transparency in information, and offering an efficient process of payments.
Conclusion:
These were some of the technical and non-technical areas where Blockchain-based applications can prove to be potential methods to streamline cumbersome business processes.
Countless possibilities and opportunities have come up with the advent of this innovative technology. Although this is just the beginning, the crucial test of this technology will be when it will present itself as the new internet, and when every country will be embracing it.