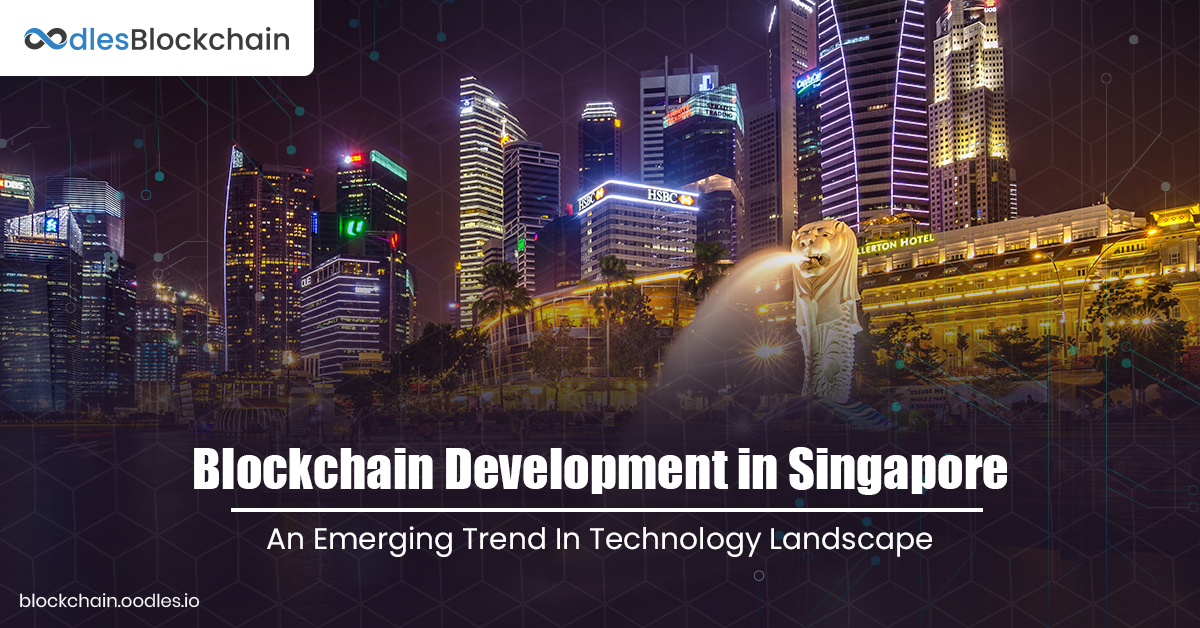 Blockchain, the underlying technology of cryptocurrencies, is now in every industry.
Companies representing different industries are adopting blockchain development services to achieve transparency, security, and trust in the ecosystem.
With Australia and Canada, Singapore is also becoming one of the leading countries for blockchain app development services. 
According to the PWC report, 82% of executives participated in the survey reported that blockchain development in Singapore is expediting. Also, the rest 13% of them said that they have already opened their initiatives to the market.
So, read on to know the prominent initiatives revolving around blockchain development in Singapore.
Blockchain Development in Singapore
Education
Blockchain applications are enabling employers and universities to verify the qualifications of students or employees using smart contracts.
A public institution for higher learning in Singapore called Ngee Ann Polytechnic (NP) uses blockchain to authenticate the NP's diplomas. It is the first educational institute in Singapore using blockchain to enhance their processes.
With such a transformation, employers can request a student to show the Blockchain ID. They can use this blockchain ID to retrieve students immutable academic records and education history stored on the blockchain.
National University Singapore is providing classes on the blockchain technology to the students and has partnered with IBM. All this is being done to get a curriculum about the distributed ledger technologies.
Airline Industry
Singapore is among those countries which are exploring the potential of blockchain in the airline industry. The reason for this rapid adoption is quite significant. The blockchain is enabling stakeholders involved in air travel to access up-to-date and authentic details regarding departures, delays, and arrivals.
Krishflyer is a Singaporean Airlines. It has switched its loyalty and payment program to the blockchain. Now, it uses its digital wallet for transactions.
Government/ Public Sector
From voting to health record management, taxation to welfare payments, governments around the globe are thinking about blockchain. The countries are exploring ways to integrate it with their administration to revamp various operations.
Soon, we can see Singapore walking in the footsteps of countries like Estonia or Georgia.
As per reports, the Public Service Division has stated that the Singapore government could use blockchain for numerous things. It would use it; to verify a vendor's track record on Gebiz (A one-stop e-procurement portal of Singapore Government), track public officers' activities, and enhance or even change the auditing processes.
The customs authority in Singapore has developed a national trade platform (NTP) using the blockchain technology. This platform would connect community systems, platforms, businesses, and government systems.
This blockchain based trading platform might replace the existing TradeNet and TradeXchange platforms used for logistics and trading.
Another project is Project Ubin. It is in its second phase. Launched by the Monetary Authority of Singapore (MAS), the project conjuncts various financial institutions and technology partners.
Using the DLT, the project has piloted interbank payments. Currently, under the project, the evaluation is underway to find out how to use crypto-tokens as virtual Singapore dollars.
If blockchain and cryptocurrency payments solutions experience widespread adoption, it could simplify settlements in financial services, such as for cross-border trading and payments.
We are a blockchain development company having expertise in custom blockchain solutions, smart contracts, and other blockchain development services.