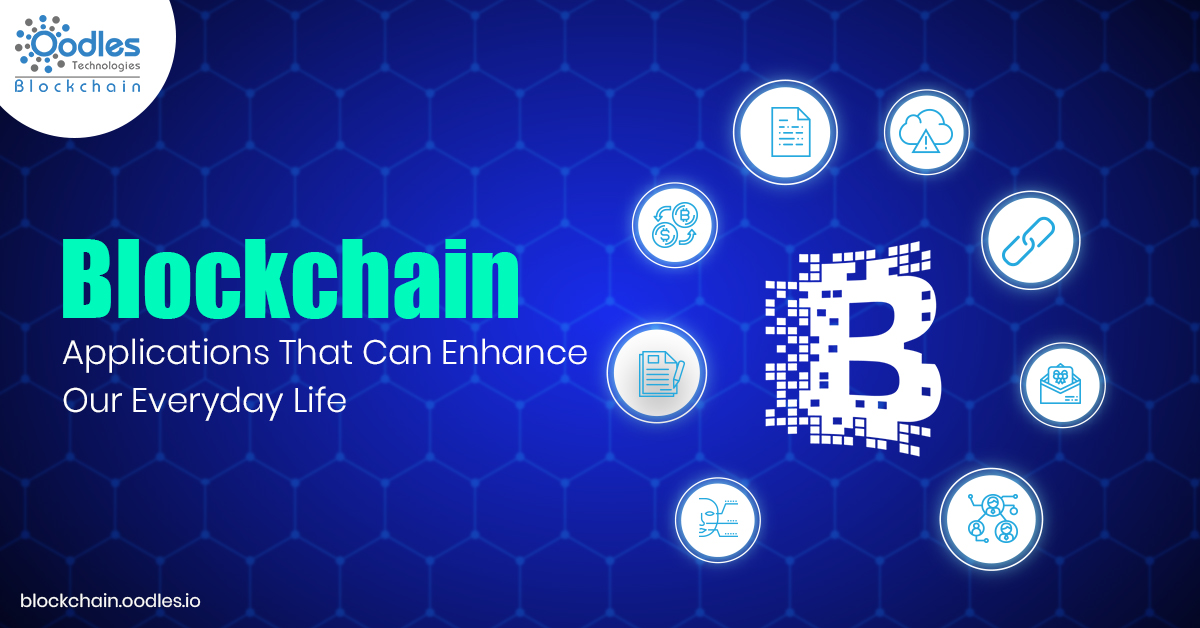 Blockchain gained traction when the pseudonym Satoshi Nakamoto created the first Bitcoin back in 2009.
Since then, this decentralized technology has been viewed by many as quite complex as well as complicated.
However, when one starts to explore it and tries to find how it works, the concept becomes quite intriguing. Although the technology is in its infancy, it has become useful in various sectors where securing data is a must, without involving a third-party.
Therefore, industries like banks, insurance, food supply, property registration, etc. are utilizing its efficiency and reliability. And thus, blockchain experts believe that technology will experience spikes in its use in our everyday life.
Here's a brief overview of what is this technology, and how we can use Blockchain in everyday life. 
The Blockchain technology:
Blockchain refers to as a decentralized chain of blocks connected using complex computer algorithms. These blocks are nothing but our standard computer (also referred to as nodes). Continuously, these connected nodes pass information to the next node which verifies the data sent to it.
It's the miners who manage these nodes and confirm and verify data sent by blockchain users through complex computer cryptographic algorithms.
Moreover, cryptographers study cryptography to write and decipher computer codes generated on a given platform.
The main advantage of using blockchain technology is that it proposes the idea of decentralization, thus, eliminating the need of an intermediary. A peer-to-peer system manages everything recorded on the blockchain. It means that whoever is using the platform can easily see the stored data. In addition to it, each transaction stored on it is permanent and has with it a high degree of certainty that it cannot be altered or changed.
Using Blockchain in Everyday Life:
Companies are finding ways to implement blockchain in everyday life. They are looking for ways to use blockchain in daily lives, such as in industries like government, identification, mobile payments, waste management, energy, and the food industry. Expert Blockchain Development Companies are exploring and refining it every day to help engage more investors for such a transforming technology.
So, here are some intriguing projects based on the blockchain in everyday life that entrepreneurs are inventing or already in the process of implementing them.
Blockchain In Everyday Life:
To transfer money overseas securely:
Alibaba, a Chinese internet giant, has developed a system for their Filipino employees to enable quick, safe and secure money transfer to their families residing in the Philippines. The money will pass through the blockchain which will waver any transaction fees charged to the clients. With this system, the company aims to eliminate the bureaucracy behind sending money overseas as required by banks.
Also Read: How Blockchain Is Revamping The Cross-Border Payments
You only need a specific mobile application connected to a blockchain platform to make transactions easily. Also, you can make payments in cryptocurrency.
Since cryptocurrencies are virtual currencies, you can exchange them to Fiat currencies (such as Dollars, Euros, etc.) depending on the requirement of the recipient.
To allow new identities to refugees:
Nowadays, many people are moving from one country to another in the quest for a better life, especially many traveling to western countries with no valid documentation. Most refugees are from war-zone countries or subjected to other misfortunes, and they do not have proofs which can verify who they are.
Blockchain has come up with an answer to this question.
A Finnish immigration service now offers to prepay their Mastercard. Being developed by Helsinki-based Startup called MONI, it will ensure that all refugees have their digital identities, by using a set of records of financial transactions stored on a blockchain.
Not only this, the government in Moldova is working on to use blockchain for digital identity management using blockchain, to help identify children living in rural areas. The government will be using this system to prevent traffickers from smuggling these children across borders.
To pay for parking tickets:
A New York City councilman, Mark Levine submitted a bill to the council committee to start accepting cryptocurrencies as a mode of payments for fines and parking tickets. The concept came in light when they observed that a lot of Americans have access to digital wallets filled with cryptocurrencies (a digital currency (Altcoins), accessed through a blockchain). One can trade these cryptocurrencies on a blockchain-based crypto exchange platform to earn more and use them as payments.
So, if such an alternative payment system gets launched, people violating road rules will have the option to either pay in cryptocurrencies, or in FIAT currencies issued by the government.
Online stores accepting cryptocurrencies as a means of payment:
Blockchain has seen its most widespread use as a means of payments. And, with time, companies have started understanding its potential and value, and hence, accepting cryptocurrencies as a means of payments. Famous online stores like Microsoft, PayPal, Expedia, and Shopify have started accepting altcoins. It could not only hugely reduce the use of traditional methods of payments but also provide an opportunity to those people who want to pay in cryptocurrencies.
To establish a secure supply chain:
Food contamination or mislead purchase of products has become usual these days. Over the internet, every day we can read about new scams and scandals by food companies, such as selling food containing harmful chemicals or misleading customers to buying horse meat instead of beef. It's a situation created by opaque supply chains. An end-user doesn't know a thing about the products he's buying, that how was it created, what were the materials used, who were handling the transportation or how has it been transported and numerous similar unanswered questions.
To tackle this situation, blockchain has a solution, that's blockchain based supply chain solutions. Various companies are looking to develop decentralized supply chains to validate products being sold in the market. A company based in the UK has developed a system in which it created full profiles of companies it works with, including information like their sold products, history of the company and ownership. Using this information, clients purchasing the product will have a complete view of the history of the product as well as the company that manufactured it.
Conclusion:
With the above examples of using Blockchain in everyday life, it becomes significant that it's ready to invade our daily living patterns and things around them.
Though the tech is still evolving, cryptographers, blockchain developers, and IT specialists are leaving no stone untouched to ensure that it grows steadily and exponentially.
Now, it's the society that needs to step forward and learn more about what this technology offer.
To know more about blockchain, its applications, market insight, and use cases, you can visit our website.
Do share your views on this blog as well as the technology in comments.