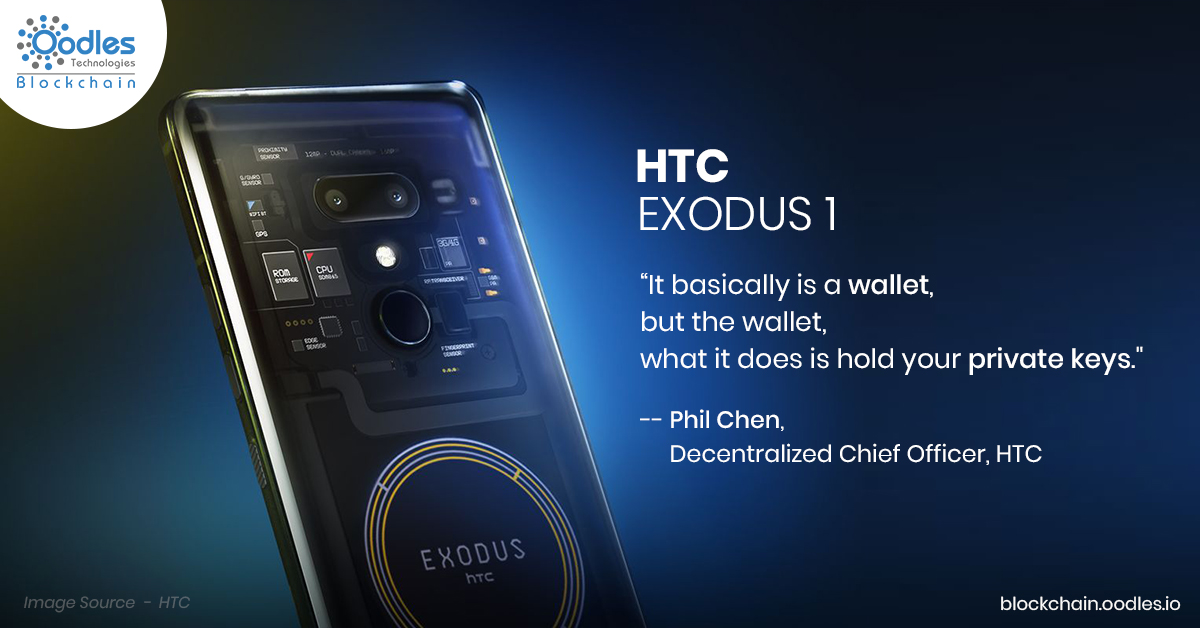 Finally, blockchain is ready to disrupt the smartphone industry. In later months of 2017, a couple of new smartphones emerged with considerable deviation in their underlying concept. Along with BitVault, which is dubbed as the "World's first blockchain smartphones", Finney debuted the market. Finney devices from Sirin Labs runs on Shield OS. This phone is developed to "inherently support" any application based on blockchain.
Another contender in October 2017, Pundi X, emerged with its own ecosystem of device, cryptocurrency and blockchain network. The Indonesia based company made the world's first blockchain based voice call from its device, which they called the XPhone. This smartphone runs only on Function V, which is their own blockchain.
Even if micro-players in smartphone industry compared to tech giants like Apple or Samsung, these devices were enough to trigger a whole new trend. And this fact is now substantiated with HTC's Exodus 1. HTC stepped further announcing its flagship product Exodus 1 as "Blockchain Smartphone". Interestingly, in a bid to clarify the stance, HTC made it accessible to consumer strictly via cryptocurrencies. It was tagged with a price of 0.15 Bitcoin. By October 2018, it was priced at 0.78 Bitcoins.
Phil Chen, Decentralized Chief Officer at HTC, stated the reason to use blockchain devices as the need "for everybody to own their own keys". Per Chen, when users start owning their own keys, it will enable them to own their own digital identity and thereby, owning their own data. This could be the Holy Grail to achieve marketing targets. Let's not forget the mayhem, which the need of 'Data Privacy' is creating in current times, dominated by Social Media. Although, user data protection in the backdrop of Social Media and the emerging trend of blockchain seems poles apart, the emerging ecosystem of blockchain in conjunction with data privacy is clearly apparent.
The current differentiators
Exodus 1 by HTC
So what makes blockchain based smartphones different? Exodus 1 is built to run DApps and it is based on Android Oreo 8.1 OS. This phone is specifically designed to be used as the primary transaction point for cryptocurrencies. In its initial phases, now, the phone's objective is projected towards protection of crypto-keys. It can be used to track user's Bitcoins and Ethereum. Thus, in plain words, Exodus 1 is only for users interested in cryptocurrencies and blockchain.
Finney from Sirin Labs
On the other hand, Shield OS developed by Sirin Labs is designed to support payments apps supported by SRN Token. Finney devices support any blockchain based application including P2P resource sharing, cold storage crypto wallet, encrypted communication, trading platforms, and secure exchange access.
BitVault by VVDN Technologies
While, BitVault developed by VVDN Technologies as based on a private blockchain network. This smartphone is based on third-party Independent Multilayer Security. Features like voice calling, messaging and document sharing is supported on a private network formed by connecting similar BitVault devices. It means, these phones will create their own secure networks, which is completely inaccessible to others. Users need biometric scanning to access these devices, hence their own secured networks. Currently, BitVault phones do not support any application other than their own.
XPhone by Pundi X
An XPhone behaves like a node of Function X ecosystem. Each device has a unique address and a private key. It allows complete decentralization within its network.
Are Blockchain Smartphones similar to Android devices?
Following the traces of the handful of blockchain based smartphones so far, we can categorize them into two types: Those that run on Android OS, and those that run on their own blockchain based OS. Devices that run on Android are backed with technology that supports blockchain. Capability to run DApps is what that differentiates them from other common smartphones. Currently, HTC Exodus 1 and Finney are such smartphones.
XPhone and BitVault are in the second category, based completely on blockchain OS. Their use is restricted only to users connected to similar networks. These phones are now primarily deemed to be used as special devices to use cryptocurrencies and DApps.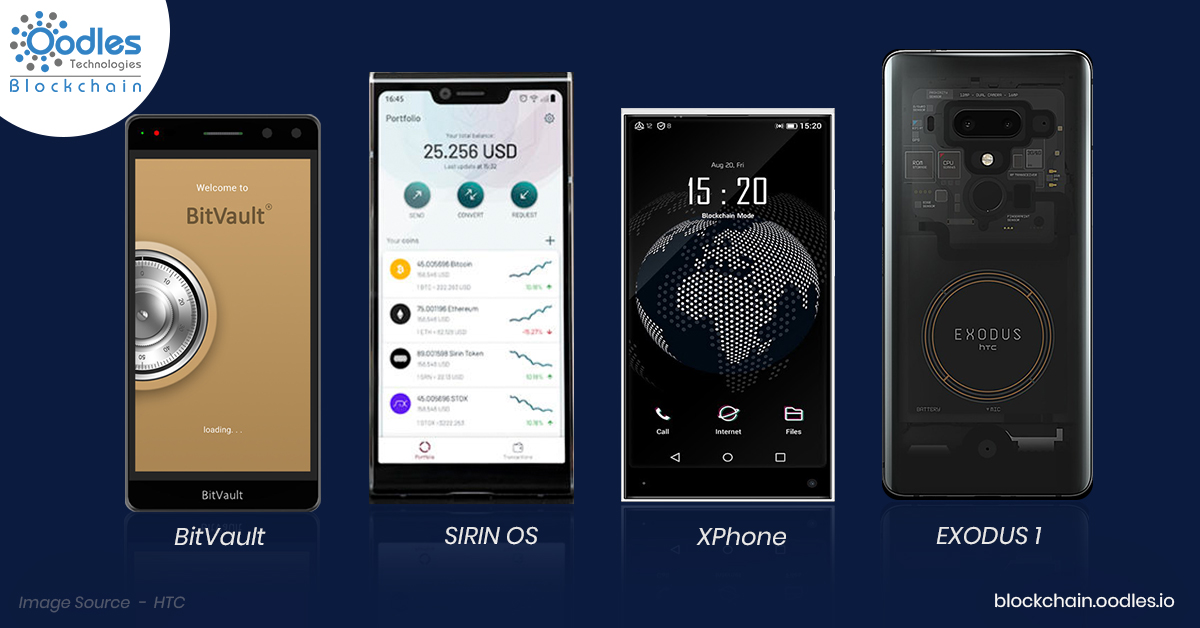 XPhone, BitVault, Finney & Exodus 1 are the top blockchain based smartphones introduced until now.
What is special about the prospects of Blockchain Smartphones?
Privacy, security and compatibility with DApps are the basic advantages of blockchain based smartphones. Of these, the first two aspects are spearheading the recent trend of these new devices. In verticals like business, DApps are emerging gradually as preferred options. The current ecosystem of mobile devices is getting messier with increasing threats of data thefts. On this backdrop, blockchain based smartphones seem to be the panacea. However, the scope is not that easy. It is because, blockchain, the underlying principle is massively different from how internet works.
Blockchain is a whole new ecosystem and smartphones have developed only as an extension of a new node. These smartphones will emerge as the interface or point of interaction for blockchain users. The development is at nascent stage and two of those pioneer devices specifically emerged as transaction points for cryptocurrencies. The latest entrant, Exodus 1 is also being claimed as the starting point of blockchain ecosystem for users. Therefore, blockchain smartphones are building the second foundation of the blockchain infrastructure. Developing as the next basis of blockchain ecosystem, smartphones might even create a parallel network to internet.
Blockchain Smartphones will augment and strengthen the usability of blockchain technology. Now the question is: Are completely blockchain based devices or OS necessary, if common Android based devices support DApps? This would be defined primarily again by the usage of blockchain based applications and adoption of this technology. Therefore, at this point, the prospects of blockchain Smartphones and blockchain technology are strongly interdependent.
Rest assured, blockchain Smartphones based on Android or other popular OS will be a good hit in the market, provided, manufacturers keep up the tandem with the current state blockchain. Certain reports claimed HTC Exodus 1 has already surpassed pre-order, even if it is almost equal to the new iPhone X, touching almost US $1000. This means, blockchain Smartphones are more than just the next big fad, it is a certain disruption in the industry.