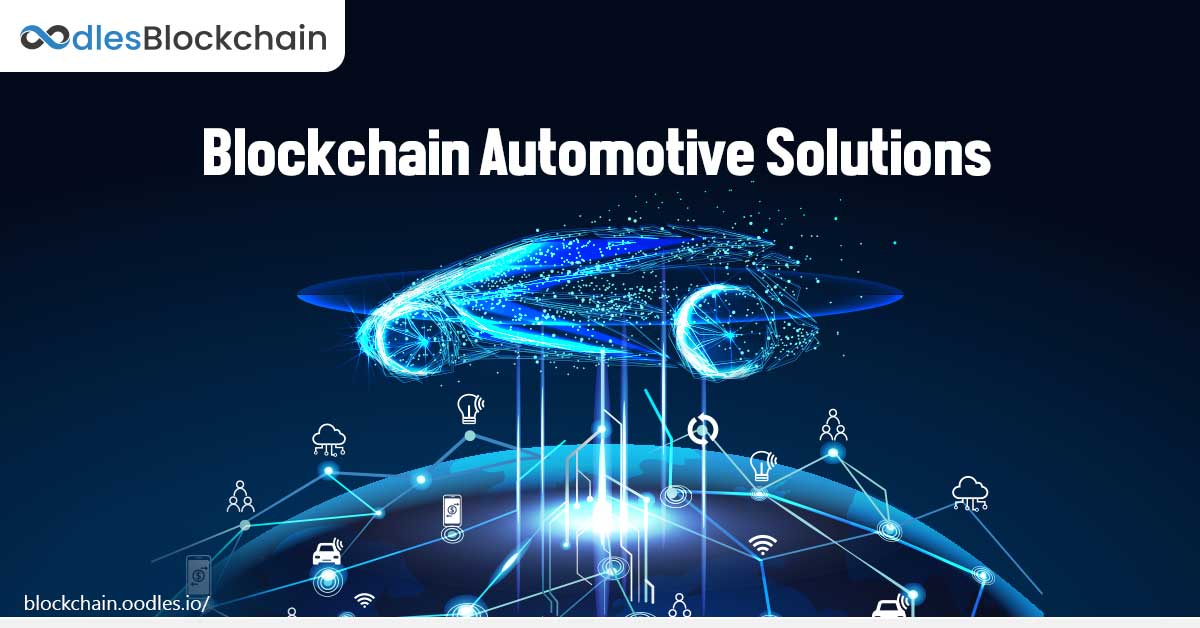 Given its unprecedented potential to revamp complex business operations, Blockchain is gaining significant traction across diverse industries. Now, key players are exploring blockchain to power the automotive industry with innovative solutions for use cases like ride-sharing, manufacturing, vehicle tracking, and more.
Key Challenges that the Automotive Industry Faces
Lately, there has been a rapid change in the business landscape of the automotive industry, including a profound shift in consumer behavior driven by technologies.
Changing consumer behavior and buying patterns
Increasing demand for electric vehicles
Centralized, fragmented, and siloed data management
Disintegrated support systems
Complex, opaque and slow supply chain operations
Efficient tracking and verification systems of vehicles and components
Cost pressure
Regulatory compliance
Benefits of Blockchain Technology in the Automotive Supply Chain
The automotive industry is changing rapidly. It is the blockchain technology that is playing an impactful part of that change. If we bring all participants in the automotive supply chain on a blockchain platform, it can address the above-mentioned challenges while increasing efficiency and growth.
Disrupting the Automotive Market
Blockchain eliminates existing inefficiencies, improves business processes, and opens unique opportunities within the industry with its feature-rich characteristics. If a unified blockchain-powered supply chain management is established, it can bring all stakeholders together.
Vehicle manufacturers to ensure data integrity of maintenance records and spare parts, reduction in warranty costs, and overall growth and efficiency.
Insurers can ensure policy costs optimization, reduction in claims management costs, optimized insurance offers for customers with better histories, and more.
The solution can facilitate vehicle owners to have increased trust and reputation in the used-car market, avail transparent car history, maximize resale value, and more.
Blockchain in the Automotive industry | Use Cases
The automotive industry has always been a complex ecosystem involving multiple parties involved on multiple levels. Those levels include design, manufacturing, distribution, tracking, marketing, compliance, selling, finance, and servicing of vehicles. Let's take a look at a few of the real-world blockchain use cases that the automotive industry can embrace for operational efficiency.
Efficient Automotive Interactions
Blockchain enables secure, permissioned interactions and transactions across the automotive supply chain. With a blockchain-powered supply chain solution, companies can share data instantly and safely across vehicle component distributors, dealers, service mechanics, insurance providers, and other ecosystem participants. It includes data about vehicle repair requests, replacing parts for assembly lines or aftercare stockists, or payment processing information.
Secure Vehicle Parts authentication
By generating unique timestamped IDs for every component, blockchain solves the issue of ensuring the genuineness of car parts. These unique timestamped IDs serve as an additional layer of authenticity protection. Car owners, manufacturers, and service centers can share it securely and instantly among themselves to track the history of parts changes and usage limits.
Automated Leasing and Finance Processes
Making auto leasing and finance easier is one of the most effective applications of blockchain for the automotive industry. A blockchain-powered system connects all parties involved in a secure environment. It guarantees transparent operations like KYC checks, storage of contracts, and automated payment.
Warranty Claims Management
Blockchain provides solutions to address challenges that the industry faces with the data integration for warranty claims handling. It reduces lead times, accelerates processing, and supports accurate, effective decision-making with transparency across multiple involved parties in a claim. With blockchain, companies can synchronize service schedules of vehicles with immutable records of actual usage. Notably, data in the blockchain database remains accurate, tamper-proof, and easy to track and trace.
Supply Chain Management
With the blockchain automotive supply chain, stakeholders can establish a smooth order/sell process, simplify documentation workflow, and make faster payments between parties.
Further, equipped IoT sensors can be used to measure all types of information and inform final settlements. It includes measurements like the condition of containers or if goods have been damaged.
Automated Vehicle Tracking
Blockchain solutions for vehicle tracking is a solution that increases in value as more parties opt-in. Blockchain-enabled collaborative efforts allow for advantages like improved enforcement of environmental laws. It also includes auditable tests and service logs proving compliance. Not only this, but it also enables manufacturer auditing as well as opportunities to sell value-added services to customers.
Autonomous Ride-sharing
With the blockchain automotive revolution, companies can implement systems and solutions that facilitate the management of ride-sharing and vehicle ownership, record and execute contracts, and process faster transactions while updating a user's record with a history of trips.
Smart Insurance Contracts
Blockchain based insurance solutions can modify and enhance various insurance processes in the automotive industry by generating custom smart contract solutions. The customization includes real car performance details while automating the payments. It also involves financial settlements of insurance claims, compliance, selling, finance, and servicing of vehicles.
Key Automotive Players that are Already Using Blockchain Automotive Solutions
BMW
BMW Group uses Blockchain to drive supply chain transparency.
Porche
Porche uses blockchain to trace the origin of materials.
Mercedes-Benz
Mercedes-Benz is piloting blockchain technology to track carbon emissions, ethical compliance, and product flows in its cobalt supply chain.
Toyota
Toyota has announced it is working on a blockchain style technology to allow for information to be transmitted securely between cars and road networks.
Renault
Groupe Renault is working on a prototype for a digital car maintenance book, by leveraging the power of Blockchain technology,
Concluding Thoughts
It is not yet possible to say whether and when the applications of blockchain automotive solutions described above will be implemented. But, the automotive industry is experiencing rapid changes. Emerging technologies like the Internet of Things (IoT), artificial intelligence (AI), and blockchain can lay the foundation for a way better ecosystem for automotive companies. Already, industry players like Toyota, BMW, Mercedes-Benz, Ford, and so on are exploring blockchain to make vehicles autonomous while increasing the efficiency of their supply chains.
Oodles is a blockchain app development company that employs emerging technologies to build solutions that can drive your company's success. We have a highly-skilled dev team, all our tech solutions are built by the in-house cross-functional team.