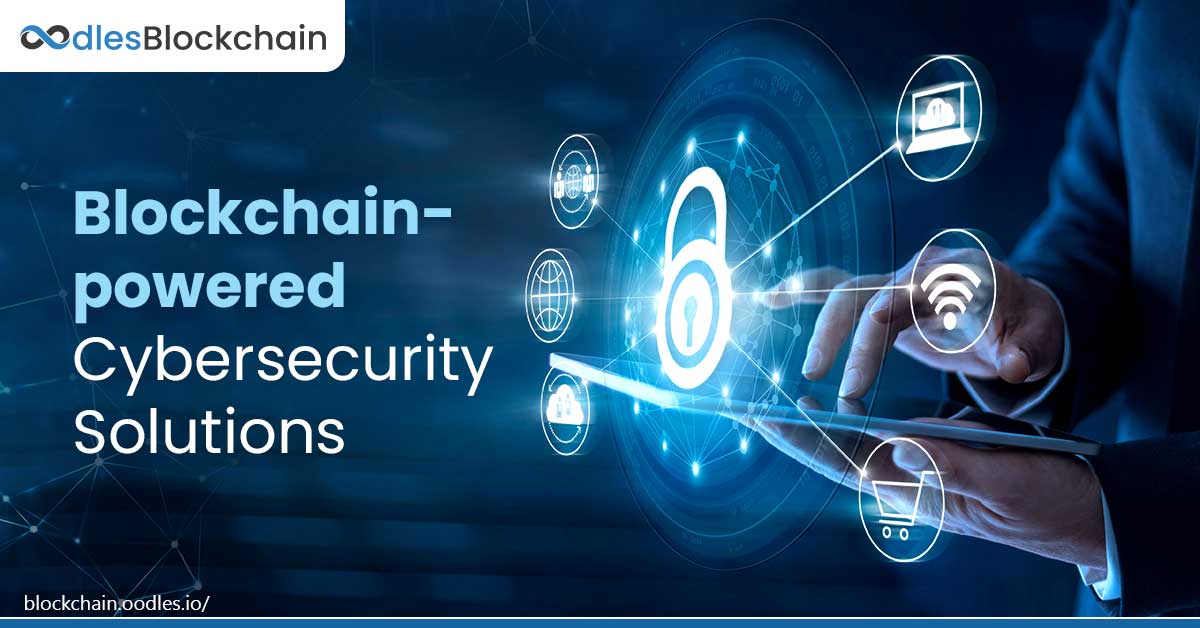 Earlier, blockchain came into light as an underlying technology that empowers cryptocurrencies. Crypto enthusiasts used it to store and transfer cryptocurrencies like Ethereum and Ripple. But, now it has evolved into an emerging technology that diverse industries are using to simplify and enhance business by integrating it into operations. The next paradigm shift blockchain solutions may bring is in the cybersecurity industry. Let's explore the potential of blockchain implementation strengthening cybersecurity solutions with security and efficiency.
Blockchain-Enabled Cybersecurity Solutions
Strengthened DDoS Protection
A DDoS attack is a cyberattack that hackers perform using several compromised computer systems to attack a target such as a server, website, or some network resources, It causes a denial of service for users of that targeted website or server. It is one of the increasingly alarming and troublesome security threats that compromise overall business security, including data and user privacy. Attackers use various ways to initiate an attack. It particularly includes sending junk requests to a website site and illicitly increasing traffic to it, so that it can no longer keep up with its operations. They continue doing so until the attack subjugates the website with unwanted requests. Recently, there has been a significant rise in the number of such attacks taking place. They have affected established companies like Twitter, Spotify, and SoundCloud.
Also, Read | Reinforcing Cybersecurity with Applications of Blockchain Technology
With blockchain technology implementation, the Domain Name System (DNS) becomes completely decentralized. Blockchain database's distributed nature distributes the contents to a large number of nodes. A hacker needs to compromise the entire network of nodes to make any change or false request in the network. Further, with smart contracts, it assigns and manages domain editing rights to only those who are permitted to maintain the network. Essentially, it reduces the risks of any unauthorized party accessing data to compromise it. Simply put, DNS service providers can embrace to revamp their DNS service distribution and protect and accelerate websites, apps, and teams.
Protection from Fraud and Identity Theft 
The theft of identities is becoming a major problem in the present day. Cybercriminals use identities to commit crimes. However, it can be avoided with the introduction of blockchain technology. The activities and transactions will be accessed from your device within the decentralized environment, using the blockchain based decentralized Identity App. This will keep records of any completed transaction, and everybody will have access to either approve or disapprove of it. If rejection exists, the transaction would not be lawful and appropriate.
IoT Security
IoT (Internet of Things) opens up new opportunities and provides businesses with a competitive advantage in new and existing markets. It traces all- not only the data, but also how, when, where, and why you collect it. The technologies that resulted in the Internet of Things do not change the internet but change the things connected to the internet instead. It includes machines and gateways at the edge of the network requesting services at certain rates without human intervention. With hackers getting better at hacking, by exploiting the weakness in edge devices, they often gain access to the systems.
Blockchain can be used to secure systems and methods from attacks. Blockchain technology can protect the exchanges of data that occur between IoT devices. It can also be used to gain secure data transmissions in real-time and ensure timely communication between devices located miles apart.
Secure Private Messaging Apps
Since conversational trade is becoming increasingly popular day by day, customers are getting a lot of metadata during social media exchanges. While several messaging systems use end-to-end encryption, others have started using blockchain to keep that information safe and secure.
Most messaging apps currently lack a standard set of security protocols along with a unified API framework that allows cross-messenger communications. The evolving protected blockchain communication ecosystems are faced with this problem and are working to create a unified interface. Blockchain technology is an excellent solution to this, it protects all data exchanges and allows connectivity between different messaging platforms. Additionally, new networks such as Bitcoin Cash promise to transmit more information per block, bringing us closer to a decentralized communication system.
Final Thoughts
It is clear from all of the above discussion that no industry is safe from hacker 's clutches. Since there is no foolproof method to curb hackers, blockchain technology can prevent getting data into the wrong hands. You can boost cybersecurity with the help of blockchain technology by carefully understanding the points mentioned above. You can connect with our team of blockchain development experts to know more about cybersecurity solutions.