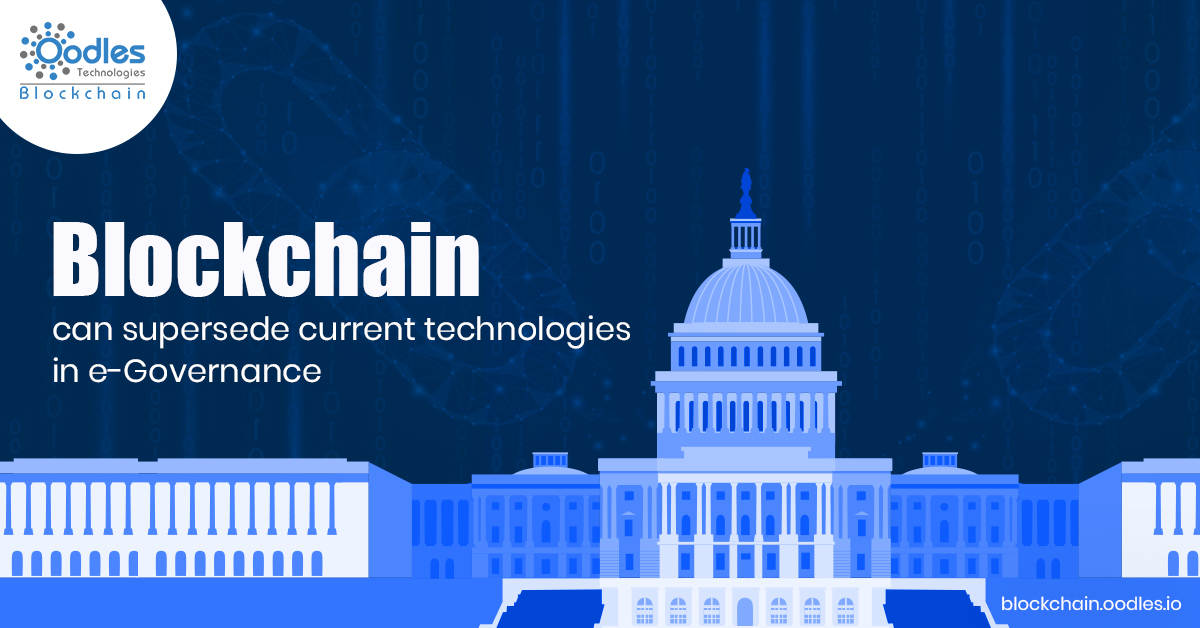 In any application for public governance, security and performance are the prior requirements. Blockchain Technology in governance can materialize stringently secured decentralized apps, but in performance parameter, the technology limits itself. Public ledger systems can supersede current IT infrastructures supporting governments apps and interfaces that act as touch points for public service distribution. In fact, the ingrained aspects of blockchain as shared, transparent, easily accessible and a highly secured network, makes it a practical tool for e-governance. Another important aspect is the low cost of maintenance, as this structure is self-sustaining and uncollapsible.
Several nations including China is aggressive in implementing blockchain technology as innovations in e-governance. Even if an evaluation of such systems would be a bit earlier, these infrastructures are posed to perform more effectively than previous systems. Several verticals of government operations like elections, tax-paying, land-registration, business registration, and others can undergo massive facelifts using blockchain based infrastructures.
Moreover, Blockchain technology in Governance can render substantial advantages over the current state of government service delivery. To deliver special services like pension, allowances, grants or subsidies, digital public ledgers can act as a transparent, reliable, and secure system.
Blockchain Technology in Governance will improve public service delivery
Digital governance is like an interface for public to access government services. In the current scenario, e-governance is based on websites and databases that make information accessible to public. Government portals support filling online forms, creating private profiles on centralized databases and share as well as access information.
But, the technology backing such systems are not scalable to offer enough participation of public in governance. Information is stored in databases, and the authority is centralized. This limits the sense of participation and hence a sense of responsibility in public. In the current ecosystem of e-Governance, portals are limited as information sharing platforms.
On this backdrop, blockchain technology in governance is emerging as a new empowerment for public as well as the administrations. This technology can run in synchronization with systems like SSN in the United States and ADHAAR in India. If each unique identification number is associated with a unique ledger, each citizen will be connected to a common grid or network. Interestingly, only blockchain technology has the right set of technical parameters that can implement such a network. This network could be nationwide, and at the same time, nation-specific. Also, smaller units such as states, provinces and even villages can implement private DApps programmed to integrate with to other similar grids.
Blockchain as a Public empowerment
Each citizen will have proper access to their own information as they will be stored in respective ledgers. Any Government department can access information with adequate transparency. This would empower citizens in the sense that has the proper information about department accessing their data and the reason behind it. In fact, blockchain will empower citizens such extent that departments would need consensus from owners to access data. The technology is a true empowerment in terms of data protection and privacy. Blockchain has the potential to eradicate possibilities of unauthorized spying completely.
Blockchain empowering Government
On the other hand, Blockchain technology will let Government have a proper account of each transaction related to each citizen. As records of each person are stored in their own ledgers, every information would be traceable and accessible with the permission of the user. This would organize information about citizens in a proper format across the system. Also, it would ensure that all information related to a person is on a particular, and unchangeable address. This aspect, in return, will make data collection, audits and survey more effective, easier and faster.
Blockchain technology has the potential to be the primary instrument of public governance. The need is only to realize and start implementing. Verticals like the healthcare industry, finance, and supply chain management are using this with optimal results. However, Blockchain does have its own limitations, which will require innovation in the concept or the strategy to implement. Administrations can start with small-scale decentralized apps for local use at village or municipality level. Such a network would grow integrating with similar applications. This will create macro-level networks with millions participating in governance with equal rights and opportunities.