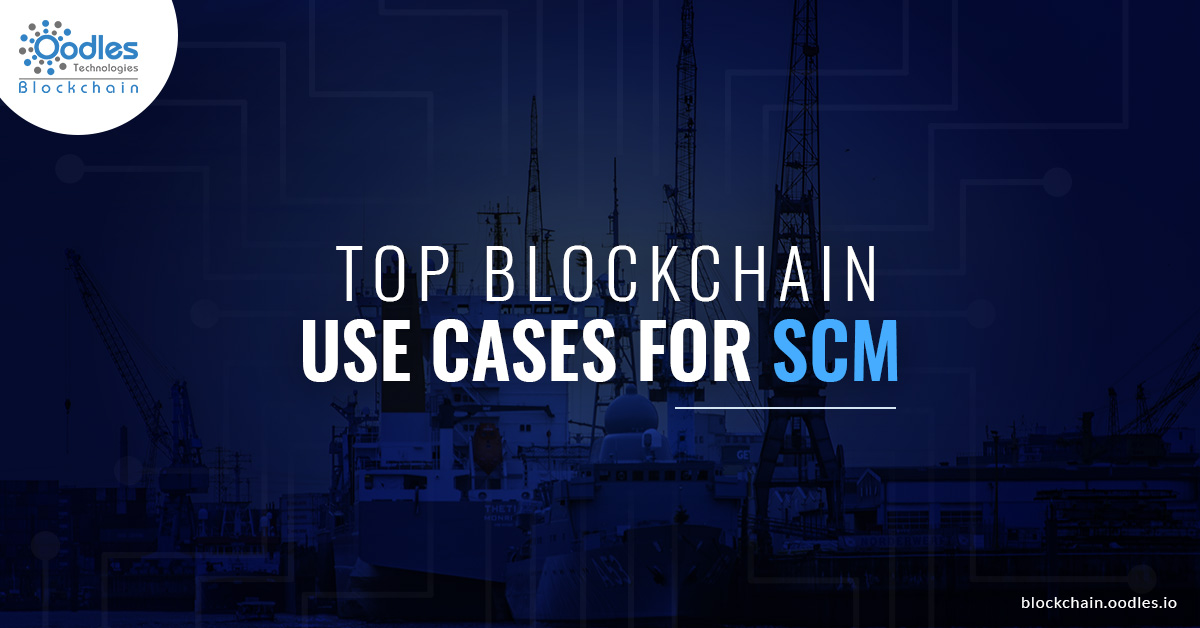 If you are an avid blockchain reader, you may think that the technology is going to reform almost every business area by next Monday. That's not going to happen. However, there are a few areas, such as financial services, Healthcare, Supply Chain, etc., that can certainly be enhanced.
Today, we're talking about blockchain use cases for supply chain management, which is one of the most vital areas for any business.
According to the shipping giant Maersk, a few problems within the supply chain processes need to be solved. For instance, one shipment of refrigerated good when is on the move from East Africa to Europe may pass through min. 30 people and organizations, along with involving more than 200 interaction among them.
Here, blockchain technology-based solutions can help ensure provenance and provide traceability across the entire supply chain. It will provide help in preventing counterfeits and ensure safety. Not only this but the technology will also allow manufacturers, suppliers, and end-users to gather data, analyze trends, and do predictive monitoring.
Here's a list of a few blockchain use cases for supply chain management.
Coffee Production:
The coffee supply chain is ready for reform. It's significant that coffee production is fragmented- mostly grown in developing or remote areas, prices are unpredictable, and climate change is another factor that threatens coffee-growing regions, as per the report by Inbound Logistics. Apart from this, the human rights organization have long brought abuses of laborers. Certainly, blockchain solutions can't solve all of these issues, but it can bring efficiency and transparency to the coffee supply chain.
For instance, Bext360 has incorporated blockchain technology to monitor every element of the global coffee trade- from farmers to consumers- and thus, boosting supply chain productivity, according to Bitcoin Magazine.
After tests in Uganda, California, and Ethiopia during 2017, it's in use for at least one coffee producer. Ireland's Moyee coffee serves specialty coffee to online subscribers, offices and independent retailers. It expects to make all coffee blockchain traceable by the end of 2018.
Significantly, it becomes one of the most prominent blockchain use cases for supply chain management.
Seafood Verification
It is unlikely that you haven' heard about mislabeled seafood. Despite all the news back in 2016, it's still going on. Blockchain technology can help in tracking fish and other seafood from provenance to market. For that, a few projects are underway. Let's have a quick look at two-
Pacific Tuna Project: The Blockchain Supply Chain Traceability Project aims to track down tuna from vessel to market.
The efforts, mainly focusing on the Pacific Islands' Tuna Industry, intends to eliminate illegal fishing and human right abuses.
Sawtooth's Plan: Originally developed by Intel, Hyperledger Sawtooth is a platform consisting of various blockchain modules. It's one of the most significant features is its consensus model- it allows users to reach consensus, even when the counterparties don't know each other.
In April 2017, Sawtooth demonstrated, how we can tag seafood with sensors to transmit time and location data to the blockchain, providing buyers with access to complete details of the food's provenance.
Food Safety Concerns:
Due to lack of data and traceability, many food concerns, such as cross-contamination, the spread of foodborne illness, as well as the economic overhead of recalls and unnecessary waste, get worse. Moreover, it can be quite tedious to track down the source of contamination – or the place where a product got contaminated.
In cooperation with Dole, Golden State Foods, Driscoll's, Kroger, McCormick and Company, Mclane Company, Nestle, Tyson Foods, Walmart, and Unilever, IBM has joined a consortium in which they will determine how the worldwide global supply chain can benefit from blockchain.
Pharmaceuticals:
Drugs: Many medications – mainly biologics- need to be kept in a particular temperature zone.
Certain medications, when being shipped from a manufacturer to the warehouse to another warehouse, require to be kept in a fixed temperature zone and range.
With blockchain solutions for the healthcare industry, we can programme it, and it will trigger an alert when the temperature gets too high or too low.
Blockchain can do way more than monitoring and verification. It can help look after medications from provenance to consumers. And, as all the processes and checkpoints will be on the blockchain, the manufacturer or the shipper can identify and fix troubling spots.
Fraud Elimination: Blockchain will not only bring transparency, but it will also help in reducing frauds for pharmaceuticals, as per the report by Deloitte. That's for sure huge: The counterfeit drug market size all over the world is around $75-200 billion, reported by blockchain analyst Prableen Bajpai. The current state- a complex and opaque supply chain- is exacerbating the problem. The immutability feature of the blockchain technology offers a basis for traceability of drugs from manufacturers to end-users. It can also identify from where the supply chain is breaking down.
Blockchain use cases for supply chain management: Disrupting and transforming:
These blockchain use cases for supply chain management in various industries are only the surface we've scratched.
In a nutshell, the blockchain-based supply chain solutions have the potential to rebuild the supply chain and transform the way we grow, produce, market, buy and use goods. Overall, the increased transparency, traceability, and security to the supply chain processes can lay the foundation for a better future. It can make our economies safer and reliable by supporting authenticity and credibility, and prevent the use of unethical practices.