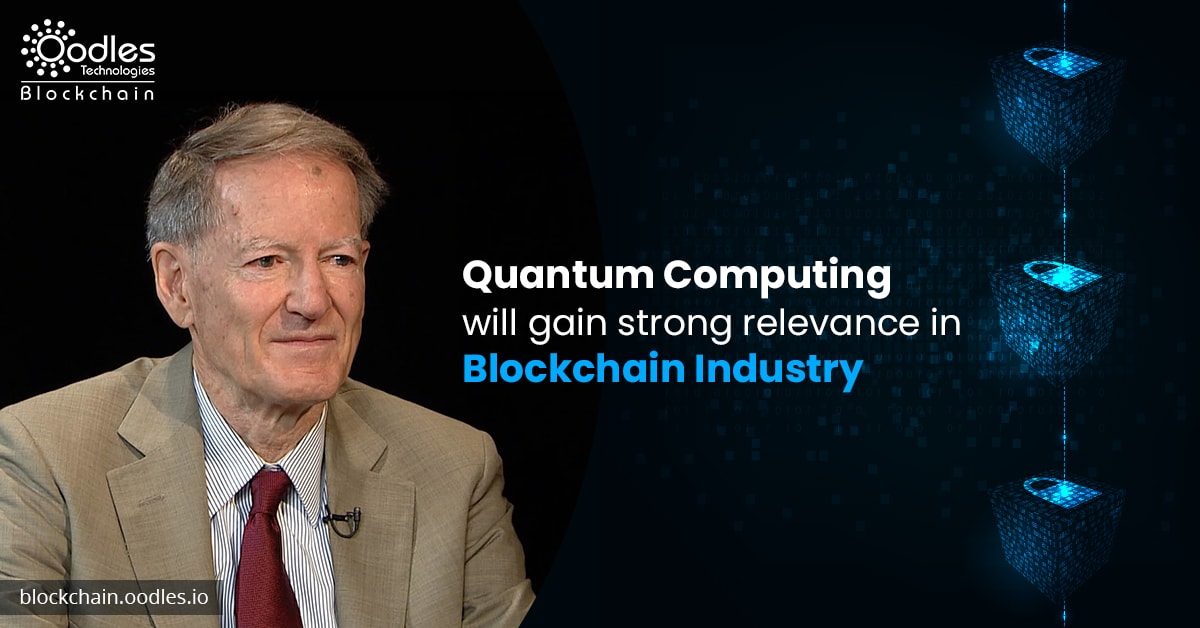 Technology Evangelist George Gilder is among the new world harbingers in technology and how it has been impacting the society. Since decades, his insights have been the basis of pathbreaking developments in information tech. His latest book "Life After Google" was released at the beginning of 2018. In the book, he established Blockchain as the ultimate salvager of humanity from the clutches of data monopoly of big tech giants. It is futuristic to build private blockchain following his dictums. It is because his verdicts focus on new insights like the developments in quantum computing, which are posing a real threat to the Blockchain ecosystem.
Glider divulged several criticalities of the present internet ecosystem, which has penetrated deep into our lives and society. Posing Blockchain technology as the emergent trait, which has the potential to bring "Data Democracy", Glider believes it will ultimately bring a new economy. However, traits like Quantum Computing brings forth a twist in this development. Quantum computers are emerging as a critical vulnerability for blockchain ecosystem, as they have the prowess to attack the security aspects of this technology.
Glider's Prediction and Impact of Quantum Computing on Blockchain
Glider predicted Cryptographic building blocks are enough to secure the internet and private blockchain networks at present. But, he also predicted, a strong quantum computer in future can attack such systems by producing random keys to match with the hash functions of the blockchain. Hash functions are the basis of public-key encryption, which is the foundation of security features of the blockchain.
Above this, the emergent trend to build private blockchain applications for enterprises and public utility is not oriented towards addressing this potential lacuna. A quantum computer has the power to attack blockchain based application. Against this backdrop, this facet is posing another exigency. As Blockchain is growing as the core concept behind a plethora of technologies, the ecosystem build on blockchain is under a serious security vulnerability.
Read: How AI can Impact Cryptocurrency Exchange Development.
Read: Hard Forking a Blockchain to Build an App.
Build Private Blockchain Secured by Quantum Keys
The solution to the threats posed by Quantum Computing is to build private blockchain secured by quantum keys. Although there could be many other solutions, the immediate way to address the issue is to generate hash functions and encryptions based on quantum technology. Quantum Computing must be used to create the encryption algorithm of the blockchain. Such encryption techniques are adequate security features to tackle quantum computing cyber attacks. The solution is already being leveraged by several financial institutions and private cloud carriers. Installing quantum random-key generator is now a new standard to build private blockchain applications.
If There is a Will, There is a Way
If Quantum Computing can be used to attack blockchain, the same technology can be also used to defend it. George Glider showed the pathways to the possible vulnerability in blockchain and the technology community came up with effective solutions. Glider's insights on microchips were the basis of Moore's Law. Now his insight into the future of blockchain worked as a precaution against a serious forthcoming vulnerability. The blockchain community of developers must leverage quantum-based security algorithm to develop an application. Quantum Computing will certainly gain strong relevance in the Blockchain Industry.