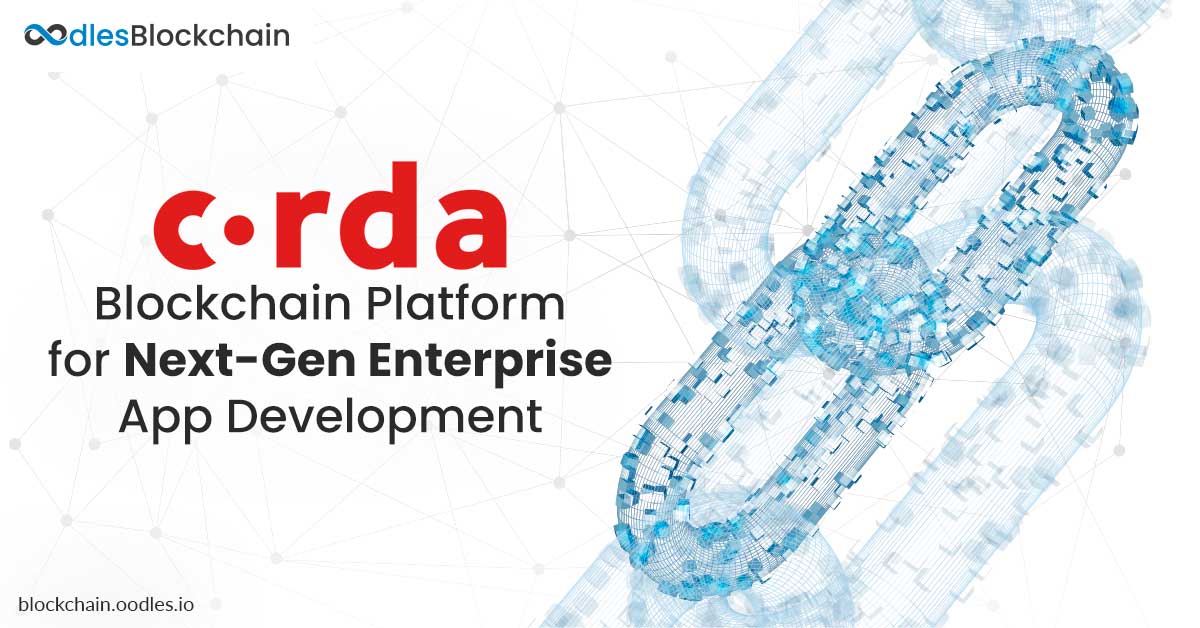 In 2016, R3 Consortium introduced Corda, an open-source blockchain platform. It enables enterprises to transact directly within strict privacy. Therefore, it reduces costs related to transactions and record-keeping while streamlining business operations. Essentially, Corda blockchain solutions provide firms the potential to expand their business and transform the industries they operate in.
Corda Blockchain for Enterprise App Development
Then, the consortium launched Corda Enterprise, a commercial distribution of Corda specifically optimized to fulfill today's business needs. The enterprise version of Corda is interoperable and compatible with the Corda open source. It is essentially designed for organizations with stringent requirements around the quality of service and the network infrastructure in which they operate.
Fine-tuned for Enterprise Needs 
Traditional permissionless blockchain platforms — in which all data are shared with all parties — have privacy, scalability, and interoperability issues that make them largely unsuitable for global business. Many companies – especially bigger ones – are facing technical headwinds that prevent a blockchain platform from being adopted. Corda Enterprise harnesses the most desirable components from its core product and fine-tunes them for enterprise app development.
A Blockchain for Every Business 
With the launch of Corda Enterprise, a wider range of institutions can realize the full potential of blockchain by executing complex logic and exchange of assets directly, simply and in strict privacy, without the need for costly reconciliation or a trusted intermediary. Also, Corda Enterprise is ideally suited for use in all other sectors due to its design to meet the rigorous standards of the highly complex and regulated financial services industry.
Corda Blockchain for Enterprise App Development | Use Cases
Blockchain application in enterprise creates enormous value in nearly every sector. Early adopters who have already built CorDapps and business networks on Corda include independent software vendors (ISVs), start-ups, and consortia across fintech, financial services, supply chain, trade finance, insurance, collateral management, banking, and syndicated lending. 
Corda for enterprise app development is proven to meet the requirements of complex organizations for security, scalability, and support, and has become the standard in financial services.
Know how various companies have built Blockchain technologies that utilize Corda Technology to address complicated business issues. Explore a few Corda blockchain use cases for Enterprise:
Blockchain for the Energy/Oil/Gas Industry
Energy/gas & oil companies today face a multitude of market failures, which include reduced counterparty trust levels, low asset traceability, obsolete, laborious documentation procedures, and stressful contract negotiations and disputes. Adopting DLT / blockchain technology in the oil and gas industry can reinvent energy trading, upgrade back-office processes, digitize assets, and facilitate peer-to-peer interactions while increasing efficiencies.
Why Corda? 
Digitize commodity-space trading (i.e. gold) 

Tracking certificates for renewable energy (RECs) and carbon loans 

Verify identities and permits to remain compatible with safety training 

Provide one unchangeable record of ownership and mineral rights
Blockchain Use Cases in Supply Chain Management
Geater visibility of the origin and movement of goods and more accurate and timely data about the supply chain can address inefficiencies and risks in today's global value chains. Without a way of synchronizing information between multiple parties along the supply chain, each organization records its version of the truth, resulting in errors, high costs, and reputational and financial risks. What if consumers, manufacturers, shippers, and other players in the supply chain could function in a secure network that keeps everybody connected, in real-time, and in strict privacy? 
What are blockchain use cases for the supply chain?
Blockchain supply chain management use cases include immutability in the provenance of goods, elimination of reconciliation pain across multiple parties, and real-time visibility for tracking and tracking analysis, risk assessment, and acceleration of physical and financial supply chains. Find out how blockchain revolutionizes the supply chain, and download Corda Enterprise today for a free trial.
Why Corda?
Corda Smart Contracts have a common source of truth for supply chain information – which can be checked by all stakeholders, allowing both parties accountability 

Since Corda is a licensed blockchain, regulators may access supply chain information in a safe environment, reducing penalties for failure to comply

On request, the parties can capture and verify the origin, quantity, movement, location and transfer of materials, raw ingredients and finished products
Gain control and full visibility of your supplier network – including shipping, logistics, insurance and more – allowing your business to grow faster and more profitable
Maximize productivity by knowing product position and flow inside the supply chain — from the raw materials stage to post-delivery
Strengthen record keeping and reporting systems to ensure reliable manifests, lading bills, certifications and more
Blockchain Use Cases in Healthcare
What is Healthcare blockchain? Healthcare blockchain brings health, quality, and transparency to the industry at the next level. Nearly every function is prepared for a blockchain solution across the value chain of healthcare. Pharmaceutical companies that handle patents and applications are looking for more efficient ways of handling and monitoring IP catalogs and patent applications. Healthcare stresses hospital management and record-keeping. Health insurers manage vast volumes of data for designing policies and personalized plans, filing and handling adjudication of claims, and controlling insurance payment and resolution of claims. Even companies that use medical equipment require more streamlined supply chains. Find out how blockchain changes the healthcare sector, and use cases for Corda.
Why Corda?
The only blockchain company on the market designed for highly controlled environments that deliver scalability, protection, and integration with existing systems 

Corda 's innovative model of privacy and smart contracting capabilities will provide a reliable and efficient forum for patient and provider identity sharing and verification

Provide access to open, real-time, and safe data storage with consistent regulatory management reporting 

Automate payments between parties and across borders while insurers can benefit from the smooth settlement of claims
Blockchain Use Cases in Digital Identity
The ability to collect, verify, and manage the digital identities of users while completing transactions and accessing services online is an increasingly key component of the digital economy. Present approaches to exchanging personal data and information with companies and digital networks lead to exploits or bad data protection privacy vulnerabilities. Adopting DLT / blockchain into digital identity verification and management enables individuals or businesses to maintain more direct control over their confidential data. Furthermore, processes along the lifecycle of digital identity collection, verification, and management can be simplified by more seamless attestations as well as more direct data sharing.
Why Corda?
Provides a stable distributed data network, thus keeping personal sensitive data off the chain 

Streamline attestation processes during the lifecycle of identity provision, while users can track and control which organizations can access their data 

Revolutionize autonomous digital identities and corporate KYC

End to end data encryption and decentralized process minimization ease access to checked identity