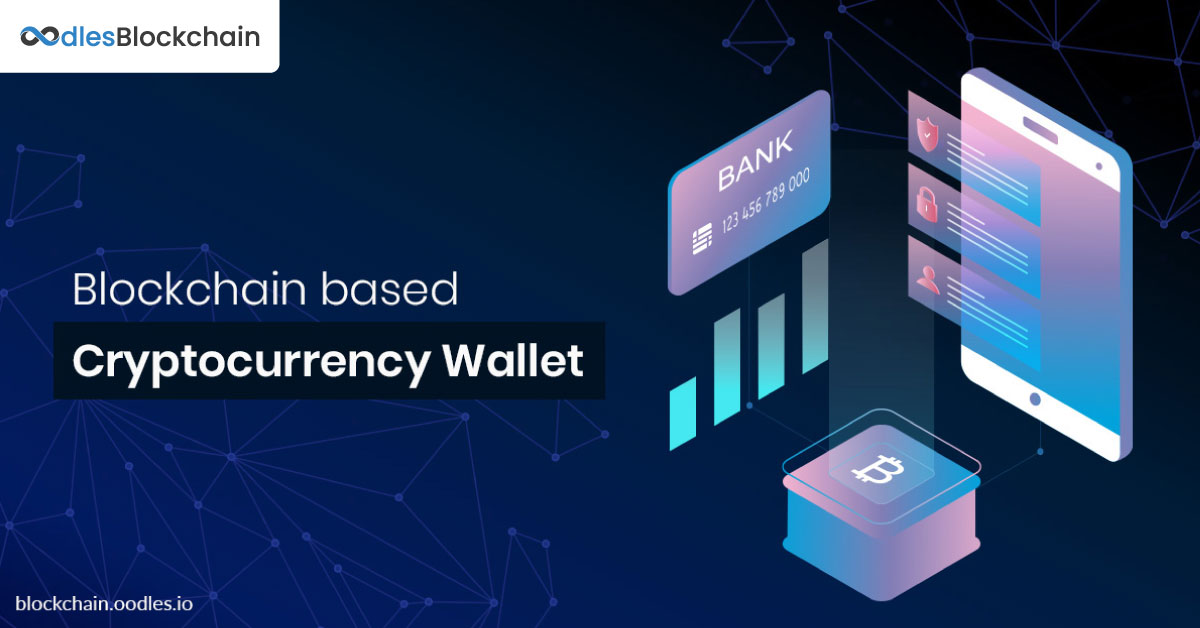 If you want a rundown of what the cryptocurrency wallet app development entails and how much would it cost from scratch, firstly, let's brush up your basics.
What is Cryptocurrency?
It's been around ten years since cryptocurrencies came into existence. Many of us already know the bread and butter of cryptocurrencies.
However, those who don't have an idea, here's a simple explanation that has no sophisticated words and process.
"Cryptocurrencies are limited entries in a digital ledger that no can change until specific conditions don't meet. That's how we can explain any currency in the world."
The rapid cryptocurrencies development and adoption have brought it on the same platform as fiat currency.
Cryptocurrencies, similar to their fiat counterparts, require a digital wallet to be stored and transacted.
Cryptocurrency/Blockchain Wallets?
For storing cryptocurrencies, blockchain development companies develop blockchain based secure digital wallets used to store, send and receive them.
Growing alongside the increasing numbers of cryptocurrency enthusiasts and traders is the use of cryptocurrency/blockchain wallets to protect users' crypto money.
If you don't believe it, here's a graph that demonstrates the increased use of blockchain based cryptocurrency wallet users globally from Q1 2015 to Q3 2018.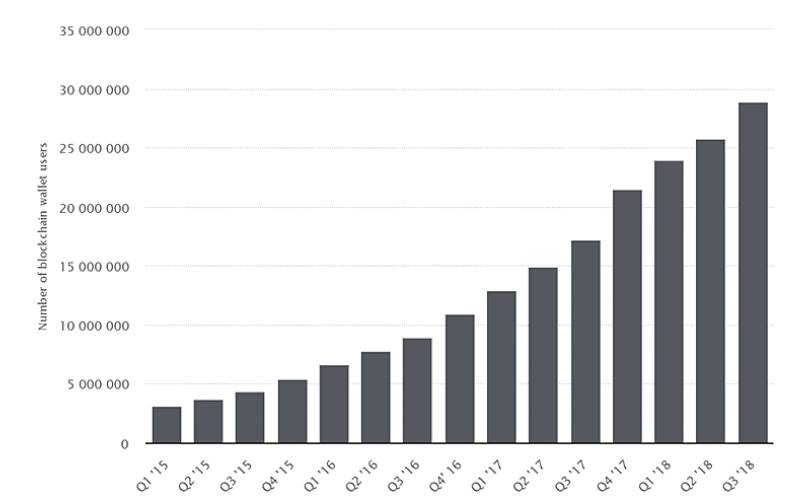 It also the reason which has resulted in pushing Fintech enthused businesses to add Blockchain based crypto wallets as a part of their business and revenue model.
Now, let's move a step further and know the different types of Crypto Wallets.
Varieties of Crypto Wallets
Web Wallets

Mobile Wallets

Desktop Wallets

Hardware Wallets

Paper Wallets
When talking about the types of crypto wallets, that leads the category given their popularity are Mobile Wallet App and Web Wallet Apps.
These crypto wallet apps not only allow users to store the digital currency but also enable them to transact money with other users.
The speculations behind this growing popularity of Cryptocurrency Mobile Wallet are:
Accessibility
By providing the option to use the crypto wallet on a device that stays with you always, it becomes convenient to transfer money or simply check the balance on the go.
Store and Maintain Various Cryptocurrencies
Cryptocurrency/Blockchain Wallet Apps offer the benefit of storing and trading various digital currencies without having to require switching between screens or devices. Also, it allows a single app to operate as a platform to remain aligned with your digital currency portfolio status.
Increased Protection
Cryptocurrency Mobile Wallet Apps come equipped with numerous superior security algorithm. Plus, since the wallet remains with you at all times, the risk of theft or damage is minimal to none.
Now, let us give our concentrated focus on the aspects you would need to work around and invest in to get your own Cryptocurrency Wallet App developed.
Highlights of Cryptocurrency Wallet Apps
Permission
Although known to be one of the most common features of a mobile app, if we talk about cryptocurrency wallet apps, the authorization stage is of utmost importance.
In the feature, users sign up or fill in a form with their private keys to access their Crypto wallet.
Since it is the first step where the private keys will be used, the authorization feature should have a proper and thoroughly-tested security protocol in place.
One concrete way to make your app hack-proof right from its first onboarding stage is to integrate Google Two Factor Authentication.
By integrating two-step authentication, you add an additional security layer which is generally missing in standard non-crypto based apps.
Addresses' List
The feature aims at expediting the whole transaction and making it convenient by providing the users with a mode to maintain the addresses they often use to send or receive digital currencies.
Push Notifications
With the push notification, the admin can notify the crypto wallet app users about their digital currency price, success & failure of the transaction, address addition, etc. With it, users can stay up-to-date with all of their account activities in real-time.
Paper Wallet Import
A number of mobile wallet apps also provide the option to scan the paper wallet using the QR Code. And further, add keys to the wallet of the app to execute a transaction. Then, the scanned information can be utilized to send and receive money.
Transaction Trait
The core idea of Blockchain is to revolutionize the future of digital transactions. Thus, the crucial part of cryptocurrency wallet apps is its transaction feature. Therefore, it is important that this section of the app is 100% secure, hack-proof and flawless.
Developing cryptocurrency wallet apps, equipped with all these features, from scratch would need the backing of a technology combination developed and combined in a way that that would deliver a scalable, fast, and hack-proof solution. That's why choosing the right technology stack is crucial as it plays a vital role in stabilizing cryptocurrency wallet apps development costs.
Tech Stack for Cryptocurrency Wallet Apps Development
C++

JavaScript

Python

PHP

Node

Swift

Chain

Ethereum

Litecoin

Ripple

IOTA
Even after having the backing of a robust tech stack, certain challenges always occur when developing a blockchain-powered cryptocurrency wallet.
Challenges in the Cryptocurrency Wallet App Development 
Speed of transactions
One of the biggest concerns with cryptocurrency wallets is their slow transaction speed.
The reason is, a transaction gets processed after 5 to 6 confirmations from the chain.
Oodles Blockchain Solution
The cryptocurrency wallet we create offers the facility to be confirmed with 0 to 3 confirmations from the chain. Also, we can make use of the lightning network, sidechain, and batch processing to decrease the transaction speed.
Hacks and security threats
The most crippling issue with blockchain wallet application development is security threats and hacks.
Oodles Blockchain Solution
We strive to follow strict standard encryption and decryption mechanisms along with developing both hot and cold wallets to lower the hacks to the minimum to none.
Also, we follow the two-factor authentication to identify the user. It helps in limiting security breaches further.
Inevitable Third-Party Dependence
Cryptocurrency integration in business requires a third-party inclusion, no matter how decentralized the whole system is. Also, cryptocurrency payment gateways, eventually, rely on other exchanges or counterparts to get access to the markets.
Oodles Blockchain
We use the decentralized exchange network to offer conversion features using cryptographically secure methods so that users don't get exposed to counterparty associated risk.