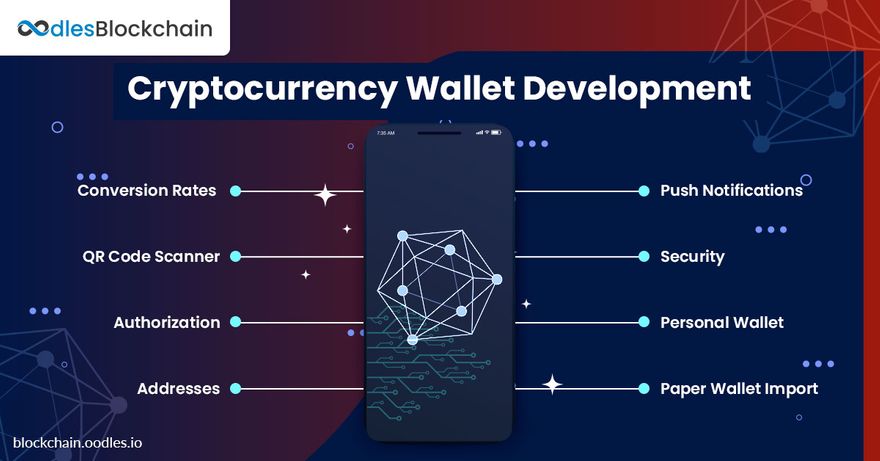 A cryptocurrency wallet is an application used to transfer and receive cryptocurrencies between members of a blockchain network, conduct crypto payments and verify balances as well as the history of transactions. This crypto wallet app development safely stores users ' private keys using encryption methods and simplifies contact with digital currency.
Cryptocurrency Wallet Development
Custom cryptocurrency wallet creation is a way to build personalized solutions that ensure user data protection and device reliability. If you were looking for a solution that would allow users on your platform to carry out crypto transactions without leaving your system-this is a perfect choice. When using an exclusive product, it enables customers to make and receive payments, track personal account balances, and even use the escrow service.
A crypto wallet software stores private and public keys and can exploit blockchain technology to give users an efficient and safe way to conduct financial transactions and highly transparent contracts. Using your digital cryptocurrency wallet services, they will be able to pay and receive payments, use the escrow service, manage their balances, and increase their investments using your trading platform. Also, our highly trained cryptocurrency wallet developers predict any potential use of the case and make the wallet well-tailored to your needs.
Crypto Wallet Development | Benefits
Custom wallets provide more control and flexibility to handle cryptocurrencies. It is suggested that you use a custom app supported by a reputable partner like Oodles because it has a better cryptocurrency wallet creation experience that enables you to customize its features. Now, read on to learn about the benefits of using this tool.
A long-lasting solution
Being trusted by a variety of major corporations and embraced as a payment tool, cryptocurrency wallets are becoming increasingly secure. Cryptocurrency wallets can be both a long-term investment and spending option, making it easier for financial transactions to take place over the longer term.
Safety and assurance
Many people still feel uncomfortable using cryptocurrencies today because of how little they know about protocols. Thus, to be confident of the efforts that will be made to protect them, they need to be dependent on and trust the provider. It is the obligation, in effect, of the wallet selling app or website to break it down for them.
Further, including double checks, statutory alerts, and transaction transcripts sent with other security mechanisms enables them to be in the loop with any legal transaction at all times.
Also, Read | Crucial Considerations for Developing a Cryptocurrency Wallet Application
Reliable and Robust
With a secure blockchain network, cryptocurrency wallets assist users to make hassle-free transactions. They get the same configuration across and are in line with the data that is then repeated in the same way throughout the access field. Consequently, this durability and accuracy work best when you know the exact outcome, i.e. custom wallets.
Indeed, the risk of transactions failing with blockchain technology is extremely low. Therefore, it increases authenticity. Additionally, a custom wallet helps deter fraud and hacking with improved security due to simplicity and the need for an algorithm. This makes it durable, which makes its use more effective.
Types of Crypto Wallets
Web wallets
Mainly, a cryptocurrency wallet having web access to the app is called a hot wallet or a web wallet.
Benefits
A faster way to complete transactions.
Ideal for optimum savings in cryptocurrency.
Enables several transfers of cryptocurrency.
Enables for easy entry into an exchange.
Mobile wallets
Cryptocurrency wallet, which is highly usable and can be easily accessed on any mobile device, is called a mobile wallet. It's fully internet-based.
Types of mobile wallet
The types of mobile wallets can be classified as follows:
Based on support for cryptocurrencies
Multi-cryptocurrency wallet
Single cryptocurrency wallet
Based on custody
Based on the platform
Advantages
Efficient enough to accept or send payments on the fly.
Can support hardware wallets like QR code scanning.
Also, Read | Custodial Vs Non-Custodial Crypto Wallets: Getting Into Details
Desktop Wallet
It's a very effective cold storage system for cryptocurrencies. Safer than a smartphone and a web wallet.
Benefits
It's quick to use
There is no need for a cold storage solution for any energy source.
Comes with your private keys.
Should not be placed on the server of a third party
Hardware wallets
Highly safe than a mobile wallet and simpler to deal with than wallets. They 're better at handling fork than most.
Benefits
An easier and easier way to store crypto for the long term.
Better protection than all other wallets.
Crypto Wallet Development | Essential Features 
Let's further discuss the main features that the wallet should contain;
Multi-layer protection
A crypto wallet should have security protocols integrated to make it hack-proof. Different security features are;
Multi-asset support
Nowadays users are asking for a wallet that would facilitate more than one crypto asset. Therefore, several coins or tokens should be provided by the wallet software.
QR Code Scanner
QR Code Scanner checks wallet addresses automatically and speeds up transactions of crypto properties.
NFC (Near Field Communication) Support
NFC support operates on the transfer mechanism of assets based on the proximity of the system. It requires a sender to tap the NFC tag and retrieve the wallet address of the recipient and complete the transaction.
12-word mnemonic phrase
It is one of the key features that makes it easy to restore wallets when you have removed or transferred the wallet to another unit. The mnemonic passphrase is a link to your private keys that have made them align with security features.
Also, Read | Outlining Ideal Mechanisms to Develop Secure Cryptocurrency Wallets
Two-factor Authentication
One must fill in the OTP code created by the chosen 2F Authentication – Google Authentication or SMS Codes – to securely log in to the wallet. This prohibits cybercriminals from accessing a user's account unethically.
Coin Recovery
Ironically, crypto assets will become inaccessible if a user has lost access to their mnemonics or private key. Thus, advanced cryptocurrencies wallets like Cold wallets provide cryptocurrency recovery functionality. So, users can recover their cryptocurrencies in case of malfunctions.
Biometric system
Implementing a biometric scan would provide users with innovative authentication solutions and abrogate their apprehensions of losing their coins. Fundamentally, all they need to do is to record the biometric data on the wallet system by verifying their fingerprint or face.
Seamless transactions
Allow users to immediately move their funds without or without a small transaction fee and thus make the crypto transaction a problem-free process for them.
Multiple signatures
A multisig wallet needs more than one key to approve a crypto transaction for  sharing the responsibility for the ownership of digital properties.
Now, if you consider creating your cryptocurrency wallet app, you can seek Oodles' professional crypto wallet development services that are equipped with the requisite technical skills and knowledge to deliver a quality wallet solution.