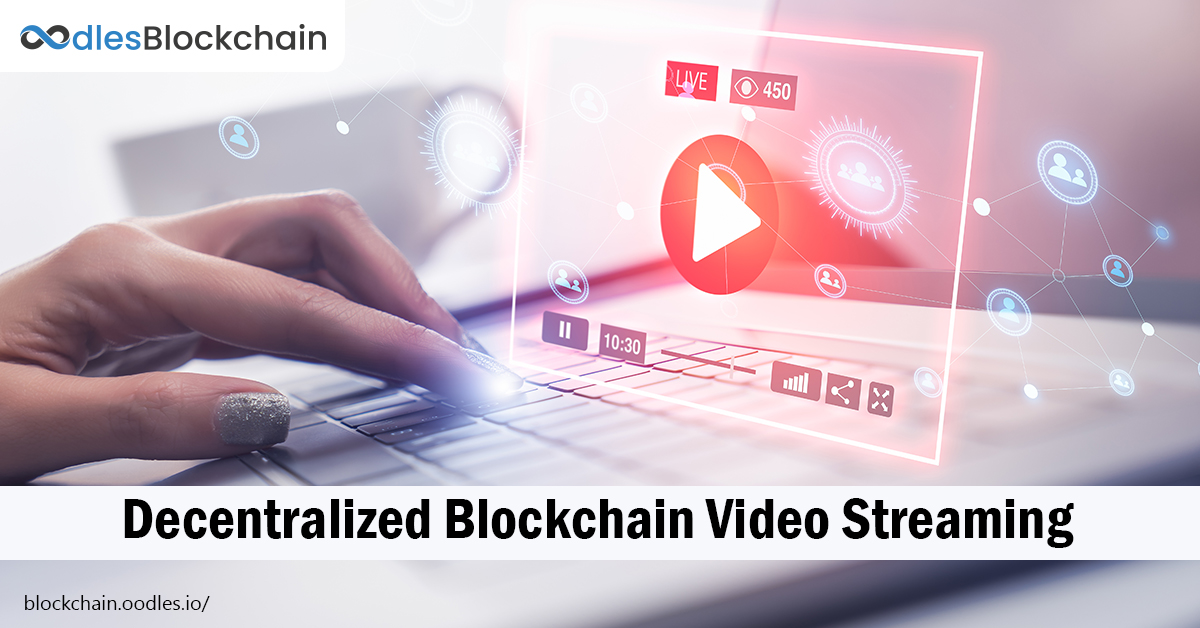 Blockchain has caught the attention of one and all in the digital world. Its decentralized and distributed approach has demonstrated the potential to transform the traditional functioning of various industrial sectors. Blockchain also holds great potential to revolutionize the realm of video streaming services.
Currently, new-age video streaming platforms like Netflix, Amazon Prime, Twitch, etc. have a large market share. With their live video streaming services, they provide enhanced and enriched user experiences. Users have these live video streaming channels easily available at their fingertips, on their smartphone. Indeed, watching live videos, including educational sessions, webinars, movies, and music online has become a default.
Now, technology enthusiasts are exploring ways to combine these two domains. Significantly, developing blockchain based video streaming platforms can change the realm of live streaming, altogether. 
Why is Blockchain based Video Streaming Essential
Within the video streaming sector, live video streaming is a rapidly growing segment with millions of people watching live videos online. Although the growth of live video streaming is significant, it still deals with issues like less bandwidth and storage. Also, centralized cloud servers manage the storage, networking, delivery, and other essential aspects. As these servers are hosted by bigwigs like Amazon (AWS) or Google (Cloud), these companies earn whopping amounts of profit from this sector.
Also, developers and publishers of these platforms act as intermediaries that increase the content streaming cost. Indeed, the original video creators and innovators get no authority over their content. They are bound to settle with rules laid out by centralized controlling parties. Therefore, the increased interest and reliance on live video streaming channels require decentralization. It has laid the foundation for creating Blockchain based video streaming platforms.
Blockchain based Video Streaming
At Oodles, we can develop blockchain based video streaming platforms that can address the above-mentioned issues. Let us explore, how?
Devoid of any central power, blockchain is essentially a peer-to-peer, distributed ledger network. It can facilitate video content creators to take advantage of its decentralized system. They can publish, deliver, or broadcast any video content directly to consumers without depending on a centralized server.
By connecting creators with users directly both can join in the blockchain network, there's no need for any intermediate controller. With a blockchain video streaming solution, content creators themselves can directly broadcast their content on the network. After consensus amongst the other nodes/miners in the network, consumers can directly receive content. It eliminates the dependence on intermediaries like publishers or content providers.
As a result, content creators can have direct revenue generation via the platform. They can provide video-on-demand basis services that enable consumers to only pay as they consume.
Additionally, a blockchain video streaming solution can enable consumers as well to earn rewards. They can rent out excess disk space and bandwidth to provide scalable storage and bandwidth for video streaming.
Not only this, but creators can gain complete ownership of content they publish without losing authority to third party controllers.
Also, Read | Causing the Paradigm Shift in Online Video Streaming with Blockchain
Blockchain Video Streaming | Use Cases
Decentralized one-to-many live video broadcast (multicast) is the most effective form of media distribution. It enables a broadcaster to connect directly with their audience in a first-hand manner. It also makes them free from alterations, after-the-fact interpretation, and spin. Essentially, it gives everyone a platform to have a voice.
Existing centralized solutions suffer from censorship. It is the third parties that have control over user data/relationship/monetization with inefficient cost structures around service payments. Some use cases for video streaming applications and services to be built on top of blockchain's ledger.
Pay-As-You-Use Content Consumption
The value transaction controlled by the consensus protocol makes it possible for broadcasters to stream live content to viewers directly. Thus, it does not require a credit card, account, or access to users' identities via a centralized platform. Blockchain streaming applications can facilitate various solutions such as paying to attend an education online course, live events like a concert or live sporting event, entertainment, and more. Its applications do all by enabling consumers to pay directly to the broadcaster for only what they consume while preserving their privacy.
Auto-scaling Social Video Services
When building consumer video services, scalable infrastructure to support the demand for the growing number of streams, as well as consumers, is always a bottleneck. There are various blockchain platforms available that can scale to support any number of streams and viewers as they go. Thus, it eliminates the provisioning of servers, licensing media servers, and managing resources to handle spikes.
Video Enabled DApps
Driven largely by the Ethereum blockchain application development, decentralized apps (DApps) are gaining significant traction. With ethereum blockchain development, an application can be fully decentralized while scaling to contain live video to as many users as wish to consume it.
Ethereum Blockchain | Video Streaming
 The Ethereum dApp development is popular due to the platform's non-dependency on centralized services to store and manage while meeting the aspects of decentralization with immutability. Ethereum dApp development facilitates the direct interaction of a dApp with the Ethereum Blockchain network. It comprises peer-to-peer nodes that operate together to reach a consensus for transaction confirmations, unlike the centralized service provider being the final controlling authority. Ethereum blockchain offers a range of opportunities for diverse industry-application development including, Video Streaming, insurance, e-Commerce, and more. Ethereum dApp development can be a great solution to build applications for the streaming media sector.