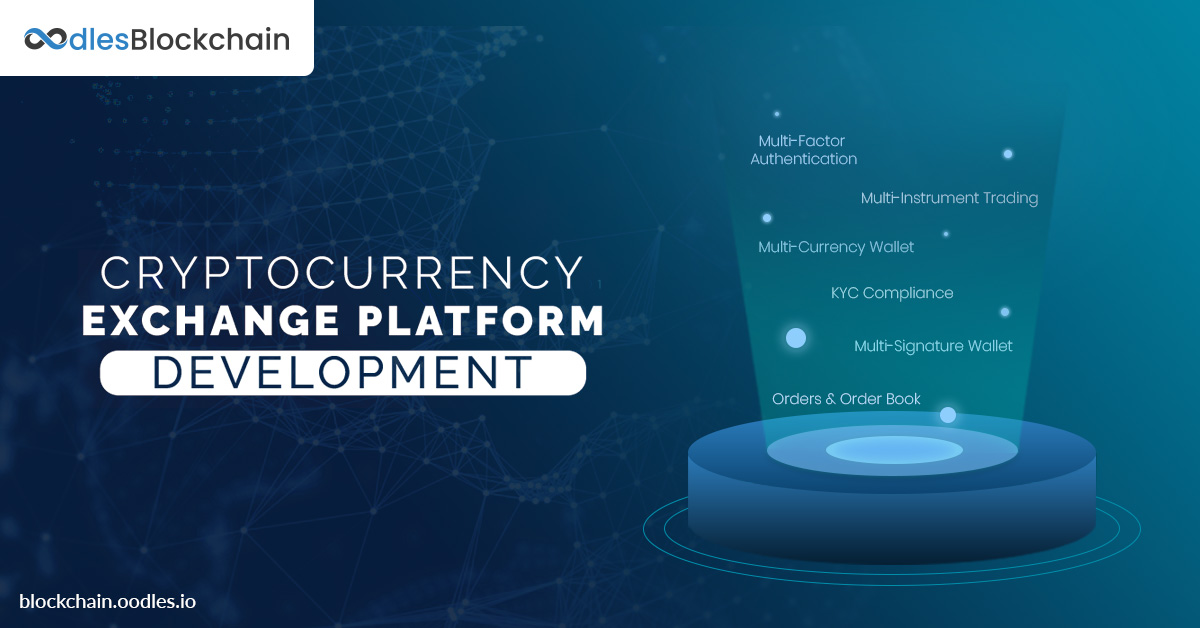 Existing cryptocurrency exchange platforms often find it challenging to cope up with increasing market requirements such as efficient handling of large transaction volumes, advanced user-experience features, and smooth trading experience. 
The need of the hour is to develop simple and minimalistic crypto exchange platforms. They must support fast fiat withdrawals to include a large portion of the world population that deals in fiat money. Most importantly, they need to be safeguarded with high-level security to establish trust in the network. 
So, let's start with basic aspects to consider while developing a modern cryptocurrency exchange platform. 
Cryptocurrency Exchange Platform: Architecture Essentials
The development of a cryptocurrency exchange platform must include these following four components. 
1) The trading engine should always be at the core of any exchange. It provides access to the order book, matches buy/sell orders, executes transactions and calculates balances. 
2) UI (user interface) or the outlook of your exchange website must be excellent, and user-intuitive. It is a window to how users see your exchange. Also, mobile accessibility should be at the top of the list as the majority of users use their smartphones to access the web. Fast and efficient mobile-optimized exchange platforms experience a better audience adoption rate. 
 In a nutshell, the UI of the website should enable your users to;
Register and access their account

Deposit, view and withdraw cryptocurrencies and fiat currencies

View existing order book, past transactions, stats, balances, charts, etc

Place sell and purchase orders

Enable access to the support mechanism 
3) An efficient cryptocurrency wallet stores and manages cryptocurrencies on the exchange server with maximum security. For any exchange platform to prevent hacks it must have a hot/cold crypto wallet system to diversify risk. (explain wallets in detail)
4) An advanced admin panel is necessary for exchange platforms. It works like business intelligence and management software.
Necessary Admin Panel Features
Alteration of liquidity

Option to edit the spread and trading

Approval of user accounts for trading, after the verification of KYC and other regulatory requirements

Management of currencies like BTC, USD, ETH, etc. and exchange pairs like USD/BTC, BTC/ETH, etc 

Crediting fiat deposits, debiting fiat withdrawal requests of users
Security Considerations 
Google Two-Factor Authentication
Google 2FA ensures that only valid users get access to the accounts created on the exchange. It requires two-factor authentication at every login and withdrawal request to protect the platform  
Encryption and Authorization System
Both encryption and authorization are critical for a cryptocurrency exchange to keep track of user activities on the platform. 
Hot Wallet Protection
The use of multiple private keys rather than a single private key prevents wallet attacks.
Robust features
KYC/AML Verification
An exchange should be equipped with AML and KYC Checks, and customer document verification and management system to eliminate frauds. 
Strengthened Security
The platform must adhere to security protocols defined by blockchain technology, and enhance the quality and accuracy of data.
API and Liquidity Integration
APIs and liquidity integration ensures that you get regular estimates of trading activities in the crypto market. Also, they provide current trading activities being executed on the website.
Order Book with Matching Engine
It is a dashboard that provides details regarding order payments, balance tracking, withdrawal request, pending transactions, and much more. 
Multi-Sig Wallet Configuration
Integrating multi-signature encryption configurations in hot, cold or frozen wallets manage traders' KYC and AML checks for regulatory adherence.
Trade Chart and Market Data
Trade charts provide a comprehensive view of every cryptocurrency on the platform with rational chart visual presentation. Market data reveals information like volume of trades at a specific time. 
Provision to Connect with Other Exchanges to Boost Liquidity
Steady and smooth liquidity is a prominent factor that drives the success of an exchange platform. Most of the new exchanges operate without an order book and trading activity chart and keep loosing potential customers.  Instead, it is beneficial to connect the platform with external exchanges than simulating these activities using dummy accounts. Overall, it boosts the liquidity and allows the platform to operate within a network of exchanges.
Extensibility 
As the number of crypto users is increasing, the platform must be highly scalable in architecture. It should be modular in design and consist of API layers to integrate third party services.
Utility
Integrating intuitive dashboards with trade charts and market depth charts provides an engaging user experience. It is also important to keep signup and trading processes simple and intuitive. 
Advanced Exchange Software
The platform must use highly customizable software with granular user access controls and provide platform setting access from the admin console. 
Further, smart contracts automate various exchange processes, which increases efficiency and reduces operational costs. 
Looking for a Cryptocurrency Exchange Platform Development Company? 
Employing an in-house team of crypto developers is not sustainable as compared to outsourcing crypto exchange development tasks. The benefits of hiring an offshore cryptocurrency exchange software development company are: 
It is cost-effective

A dedicated team can evaluate multiple cryptocurrency development platforms to fulfill your business needs 

No need to estimate the cost of hiring employees, software, resources, etc.

No need to estimate the time required for developing, maintaining, and continuously upgrading the platform