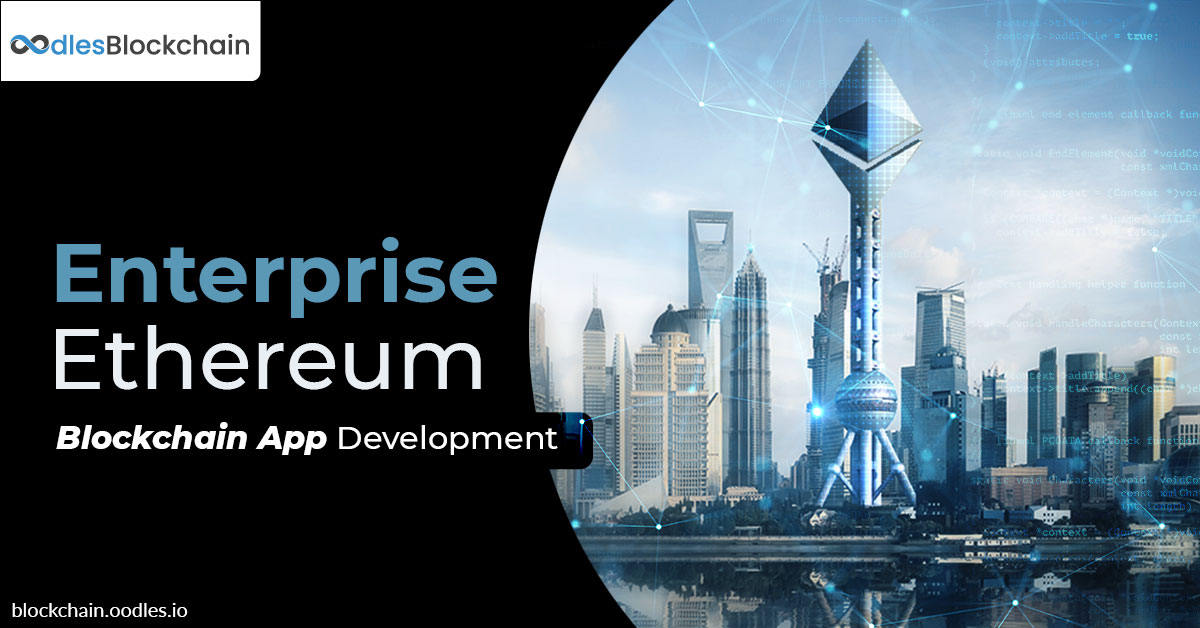 The adoption of blockchain in diverse industries has increased significantly. It has made enterprises to enter the blockchain space to gain a competitive edge. Ethereum has already established itself as a renowned name in the blockchain development space by providing a cutting edge networking environment. Since its inception, Ethereum blockchain app development has enabled developers to build only public blockchain applications. As a result, enterprises looking for permissioned or private blockchain solutions have remained reluctant to explore Ethereum. However, now, businesses can create enterprise-ready blockchain solutions with Enterprise Ethereum. So, let's dig deeper into the essentials of Enterprise Ethereum and explore what it offers to enterprises. 
Enterprise Ethereum Blockchain: A Brief 
Enterprise Ethereum enables developers to create private or permissioned blockchain versions of the public Ethereum codebase. Although these private chains remain separated from the public blockchains, they can still have characteristics of the public Ethereum. There is not any single product for the enterprise Ethereum. Instead, blockchain development services providers offer custom enterprise Ethereum. They modify the existing Ethereum client application as per the enterprise needs. It means that different private networks can have different outcomes based on specific needs. For instance, some enterprises may have scalability requirements for their enterprise Ethereum network, while others may require other functionality upgrades. Those functionalities can include network performance, scalability, governance, privacy, and permission.
Also Read: Ethereum is outlining a bright future for a Blockchain-powered World
Mechanics of Enterprise Ethereum Blockchain
While Enterprise Ethereum follows aspects of a public blockchain network, it also provides permission layers with identity management for a permissioned network. Additionally, it strengthens the privacy level through private p2p transactions while increasing scalability and performance. Furthermore, it also enables the use of different consensus algorithms apart from proof of work. Essentially, organizations using the Enterprise Ethereum might not face the same problems as the public Ethereum apps, like privacy and scalability. Not only this, but they can also make quicker transactions than the typical speed of public ethereum of 15-20 TPS (transactions per second). 
Ethereum Enterprise provides all these functionalities because Ethereum developers can change the network size, blockchain size, and the gas limit. It not necessary to use gas to run the blockchain network. However, it is possible to keep this feature for specific needs. Also, the network sizing makes a huge difference where organizations have a closed environment. It means only permissioned participants can join the system, which provides features like scalability and privacy in Enterprise Ethereum.
According to the Enterprise Ethereum Alliance, enterprise Ethereum is only an extension to the public Ethereum. Consequently, public Ethereum gets several advantages while having enterprise solution extensions to work privately. In this case, they are providing authentication functionality for participants to enter the network and a permission layer to view the ledger. The permission layer enables only permissioned participants to see what transactions other users are making in the ledger. 
Also Read: An Easy Guide to Connecting the Ethereum Wallet to a Private Blockchain
Benefits for Organizations
Enterprise Ethereum is a blockchain that provides cost-effective, flexible, and suitable solutions for businesses. Let's see what they will get from the enterprise Ethereum blockchain –
Open Source
Organizations can use Enterprise Ethereum freely as it is completely open-source. It also benefits developers who can make tweaks to code or add a new feature as per the requirement. Additionally, resolving bug issues is easy with open-source technologies.
Rapid Deployment
Enterprise Ethereum provides the effortless deployment of blockchain solutions. It does not require to code everything from scratch and preserves time and energy, and resources.
Permissioned Networks
With Enterprise Ethereum, organizations can deploy permissioned networks, as well as consortium environments having public Ethereum features.
Private Transactions
Enterprise Ethereum provides various levels of privacy with private consortia and private transaction layering protocol. It ensures that enterprise Ethereum members operate in complete privacy without exposing any transactional information. 
Scalability and Performance
With the use of custom consensus mechanisms, block time and gas limit, Enterprise Ethereum Blockchain can process hundreds of transactions within seconds. The custom consensus mechanism includes newly introduced proof of authority, proof of elapsed time, etc. Also, other protocols, like sharding or off-chain computation, augment the overall throughput.
Conclusion
The enterprise version of the Ethereum blockchain can significantly influence real-world environments. Also, the permissioned platform seems to no issues when it comes to innovation. While the public Ethereum has already established itself in the Ethereum blockchain application development space, now it's time for its private platform to perform.