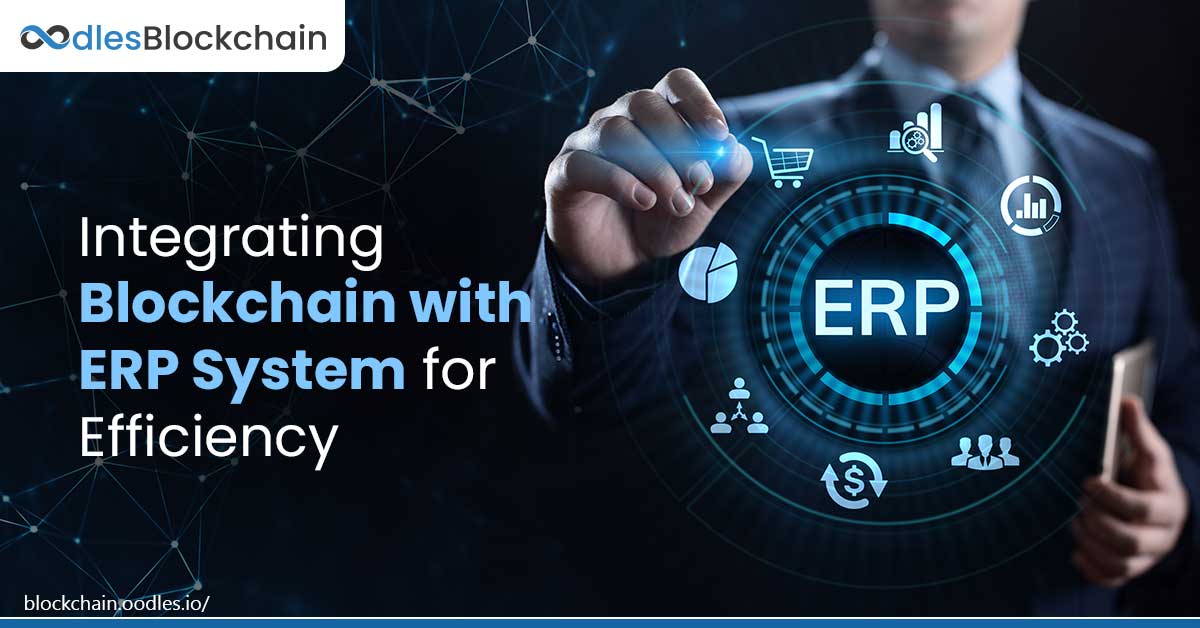 Blockchain technology is proving to be a transformative force in the digital space due to its feature-rich characteristics. It is gradually changing the way different business models work these days, such as healthcare, supply chain, government, trade Finance, banking, etc. Now, many companies using ERP systems are exploring blockchain solutions to streamline the enterprise business. There are various challenges with traditional ERP systems that blockchain technology can address. In this guide, how blockchain can become the game-changer for legacy enterprise ERP systems.
ERP (Enterprise Resource Planning)
Essentially, enterprise resource planning is software that businesses use to manage daily business outcomes like procurement, accounting, risk management, project management, supply chain operations, compliances, and many more. Indeed, ERP systems can strengthen and boost a company's overall operational performance. However, as the systems are centralized, it causes more issues than benefiting an enterprise. Here, introducing blockchain for ERP systems overall comes into play. Let's acquaint yourself with a few significant issues in ERP systems.
ERP Challenges
Opaque Centralized Production Processes

Inadequately Flexible and Modular

Resistant To Upgrades

Complicated Or Restricted Functionality

Complex UI designs and odd functionalities

High Maintenance Cost

Poor Data Maintenance Leading To Lower Quality
Now, let's take a look at how blockchain solutions and ERP can come together and benefit enterprises.
Blockchain Improving ERP Systems
Visibility and Transparency Across the Supply Chain
A Blockchain supply chain management solution for ERP systems can provide an additional layer of visibility across various supply chain processes. Generally, the supply chain is complex and fragmented in nature for any industry. Thereby, it becomes difficult to track all the processes or the state of products across different supply chain stages. Using blockchain for enterprise technology can enable the tracking of the processes and products in real-time in the supply chain. Besides, a blockchain-powered ERP system can provide real-time reports about product movements and other metrics like the temperature or the product quality.
Promotes Trusts among All the Supply Chain Participants
With a blockchain-powered ERP system, businesses can establish trust across all supply chain participants. Also, as everything in the system is visible to every network participant, it ensures the prevention of fraud or hacks. ERP systems are efficient but with heavy dependence on people instead of the system itself. However, with blockchain, instead of trusting people, enterprises can trust the system given the fact that no one can perform any illegal activities in the network.
Smart Contract Implementation For Automation
Introducing Blockchain smart contract implementation with ERP can enable secure and transparent verification of the transaction with your suppliers. Also, as the process is automated, the contract initiates itself automatically and processes the transactions once the pre-defined rules are met. For example, when trading with another overseas company, you can track the entire trading process. Once you get the product, the smart contract will automatically release the funds.
Lowers Risk In Digital Transactions
Another one of the blockchain ERP use cases is the low risk in digital transactions. In reality, ERP systems can also offer transactions; however, they aren't that secured as of now. Furthermore, security vulnerabilities enable hackers to target centralized servers and hack a transaction.
However, blockchain with ERP systems can really change the scenario here. In reality, blockchain offers peer-to-peer transaction processing, which is quite effective and fast. Also, the security protocols in every blockchain or enterprise tech are quite high. Thus, hackers can't get access to these platforms easily.
Moreover, as they have a decentralized environment, it's quite impossible for a hacker to track down and hack a user's account. And so, the coupled technology can easily offer high security for digital transactions.
Security and Data Privacy in Real-Time
Another big advantage of blockchain with ERP systems is they offer the highest level of security together. Integrating enterprise blockchain technology will prevent any data leakage, detect any security threats or flaws, and detect unauthorized real-time activities.
The best part is that it can not only detect these kinds of security concerns but can also prevent them. Blockchain for business will potentially provide encrypted access and get rid of any unwanted third parties. It can also provide full protection to information that is not for the public eye. Enterprises handle a lot of sensitive information, and getting access to privacy-based information can help maintain the company's regulations. Furthermore, it can also get rid of any vulnerabilities due to employee interactions.
Compliance With GDPR And Secure Sensitive Information Facility 
Enterprises need to be GDPR compliant when communicating with customers and their personal details. In addition, you must ensure that all your customer's information is kept private and that no third-party company can mine that data for market analysis.
Take for example the Facebook scandal. You certainly don't want to go through this like that sometimes. If you don't obey the rules of the GDPR, you may face severe legal issues and fines. Not to mention that along with that too, your brand value would take a massive hit.
This is where the use cases of blockchain ERP come into play. With blockchain help, you can safely store all information about the consumers without any problems. In addition, you can also completely comply with GDPR and provide total clarity in the case of customer handling.
 Efficiency Processes Across all Departments
As time goes by, the process becomes even more complicated in manufacturing. Hence, many companies face errors that cause costly results. However, with help from the blockchain with ERP, they can easily automate their business processes.
More so, they can maintain cross-department operations, real-time information, and solutions, eliminating human errors, and many more. Combination companies can get rid of manual labor by using this new software, and increasing their productivity at a rapid pace.
Also, blockchain can really help get rid of the complex processes and false data along with improving deliveries.
You will also save a massive amount of time and increase the level of productivity. In fact, the blockchain's automation mechanism will compensate for the losses that arise in other departments. Employees also don't have to think about all the little information, and then the technology can quickly take off. In addition, staff can also enjoy the ease of use and minimal workload. So, businesses will genuinely raise their brand equity in the long run.
Concluding Thoughts
For the enterprises, blockchain with an ERP system is a huge step-stone. ERP systems are absolutely efficient even when they come up with some problems. Those problems, however, are not common enough for blockchain to fully replace ERPs. So, I think that blockchain will act as an additive to ERP systems for now. More so, I don't believe that blockchain will get rid of ERPs absolutely yet. Like the incorporation of blockchain and ERP will improve the supply chain 's efficiency and integrity.
Blockchain also comes with its fair share of features, as far as the efficiency goes. And together with ERP, blockchain, the software can easily change the supply chain industry for good.