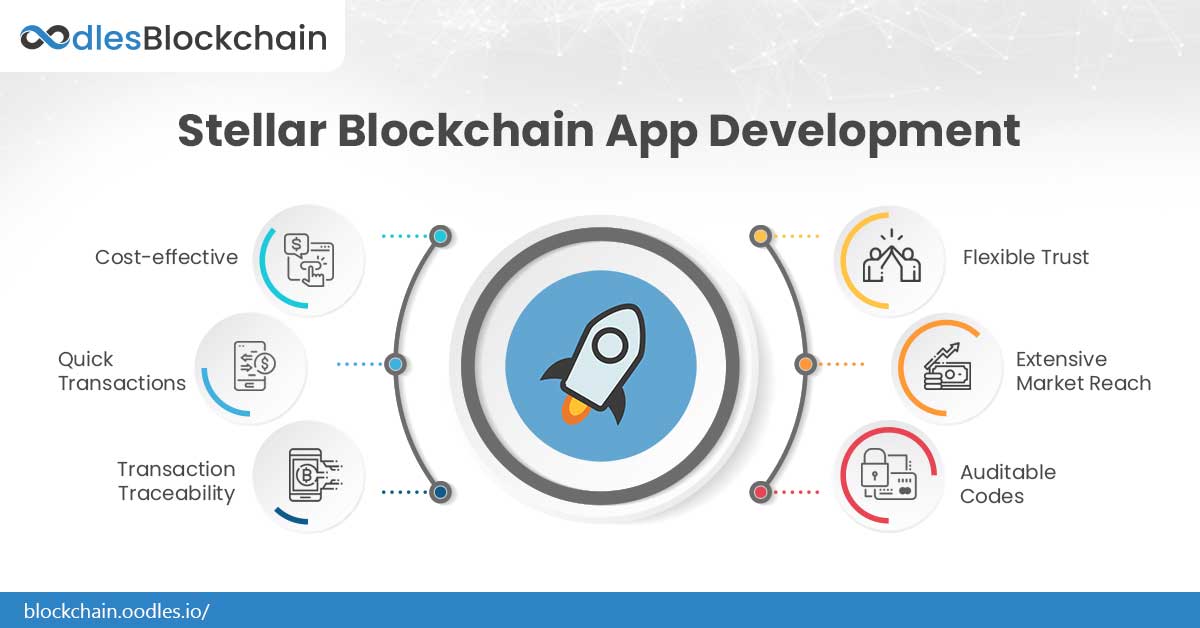 Global financial infrastructure is a robust complex machine network. The perceived differences between these systems lead to increased transaction costs and reduced money flow across political and geographical boundaries. Because of this, the financial services industry has not grown to its full potential, leaving a large number of communities financially underserved.
One of the steps towards solving these problems is developing a financial system that facilitates tremendous organic growth and innovation. Historically, there has been a strong dependence on entry barriers and the control of existing institutions to preserve credibility in the absence of other effective means. This approach conflicts with the necessary prerequisites for organic growth, demanding new, innovative participants equipped with only the bare minimum financial and computing resources.
The Stellar blockchain platform app development promises significant potential in such a situation. The platform leads the way to a transparent global financial network that is available to everyone. It ensures participants record transactions correctly and collectively by agreeing on the credibility or validity of each other's transactions, preserving dignity. New organizations can quickly gain entry into such a network and expand financial access to societies.
The platform currently ranks among the top 10 common blockchain platforms, with Stellar Lumens (XLM) one of the leading cryptocurrencies whose market acceptance and adoption are steadily growing.
Stellar Blockchain App Development Platform
Stellar is a distributed ledger technology-based payment protocol that enables fast, cross-border transactions between any currency pair. It is analogous to other cryptocurrencies based on blockchain. According to their website, Stellar blockchain "is a network that connects banks, payment systems and p
\eople" and aims to "fast, efficiently and cost-effectively transfer money
The Stellar blockchain network is operated by its native digital currency Stellar Lumen (XLM), and the entire spectrum of operations thereon.
Inflation is the only other process for XLM production. Annual inflation or rate of Lumen formation is set at 1 percent to compensate for economic growth and Lumens lost. Each week the newly produced Lumens are generated and distributed through a direct voting system.
Also, Read | Is Stellar Blockchain a Right Fit for Cross-Border Payment Solutions
Features | Stellar Blockchain App Development
Now that we know what Stellar blockchain, let's get a rundown of the features that matter:
Decentralized and open-source database, a leading feature of a real blockchain network.
Confirmation time of transaction is about 3 and 5 seconds, supported by its consensus process. We will be discussing this shortly.
Accommodates thousands of deals per second.
Enables Smart and Multi-signatures.
Offers annual inflation fixed at 1 percent.
Workings | Stellar Blockchain App Development Platform
Like any other blockchain platform, transactions are added to a centralized, distributed, public ledger on the Stellar network, which everyone around the world can access. Stellar uses its unique consensus algorithm, based on the Federated Byzantine Agreement (FBA), to securely, quickly, and accurately reach a consensus on transactions. The algorithm is called the "Perfect Protocol of Consensus" or, in short SCP.
SCP enables quick transactions at a lower cost, with everyone on the network reaching agreement or consensus within seconds on the legitimacy of a transaction. Every participant on the Stellar network (called a node) that helps link transactions to the global ledger selects its mini-network of other trusted participants.
 Baseline Payment Fee Structure | Stellar Network
The base fee for a Stellar network transaction is a fixed sum that is correlated with each transaction in a transaction. This charge has no profit motive but rather is meant to serve as a deterrent for malicious activity (such as DoS attacks). The base fee is currently set to .00001 XLM, which is a fraction of a penny.
The transaction sender incurs the tax. The fee is collected by the ledger and then redistributed through the inflation cycle.
Also, Read | Stellar Blockchain: Understanding its Benefits for Payment Solutions
Stellar dApps | Start-up Costs and  Deployment charge on the Network
Using the Stellar network does not charge a user a fee, which means that it's free to use. All the necessary integration software is licensed under version 2.0 of the Apache License which allows for commercial use, modification, and/or distribution.
For example, Stellar integration refers to the connecting technique to the Stellar network. It requires setting up current or new systems to converse with the Stellar network.
Integrating with Stellar requires dedicated technical resources. It usually takes between 120-200 hours of professional progress, depending on the size and level of experience of the development team.
Stellar Blockchain Business Applications
Beyond capital markets, Stellar has programs that help ensure that companies conduct vital functions safely. Taking into account the various features of the Stellar blockchain, one can think of the platform's many possibilities and applications. Here's a list of leading ideas for applications:
Anchors in more currencies
Mobile and trading clients
API Mashups
Merchant plugin
Micro savings account for school, health, insurance
Microinsurance
P2P lending
Conditional cash transfers
Donation systems for nonprofits
Loyalty points programs
Community currencies
Timebanks
Volunteer hour tracking
Anywhere ATM or human ATM mobile apps
If you're searching for more information about the Stellar blockchain in real-time, you may want to consider looking at a Stellar blockchain explorer.
A Stellar blockchain explorer will provide you with live insights into the Stellar blockchain 's recently mined blocks, and a live stream of all the blocks added to the blockchain. It also provides comprehensive data, pricing history, and informative reports for all of the assets in the Stellar network, which helps to make smarter decisions.
Have an idea or a business case for setting up a Stellar network transaction process, get in contact with us. Our Stellar blockchain experts can help you take your proposal from the idea to the business outcomes.