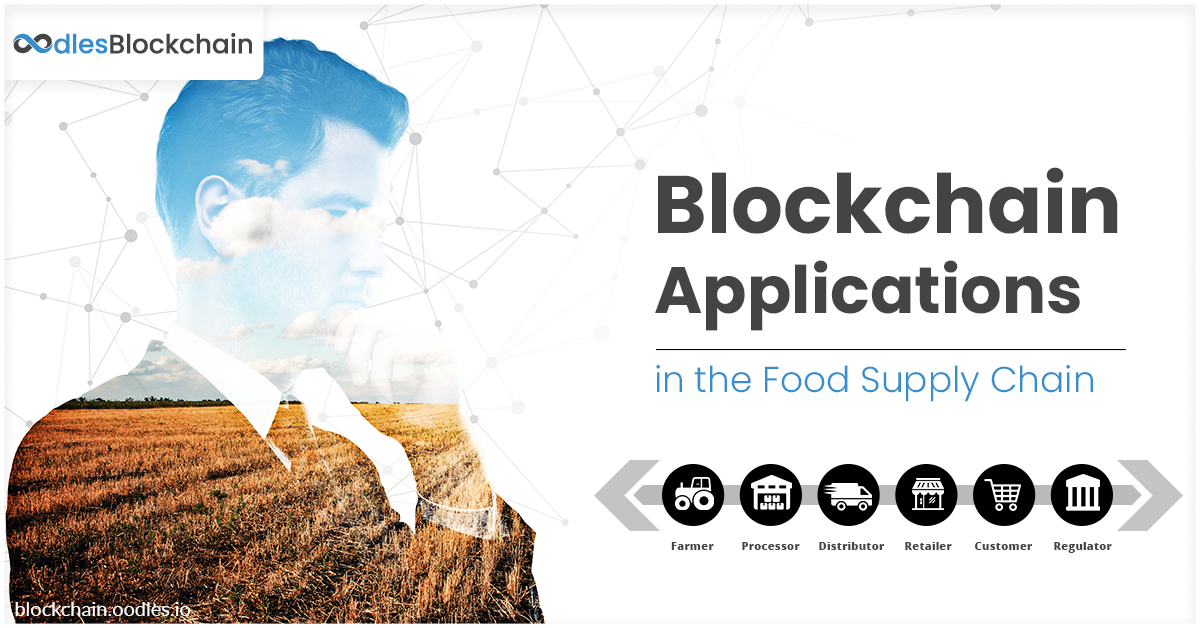 Several key industry players are exploring the potential of blockchain technology to transform their business processes into growth enablers. After cryptocurrencies, it is now finding applications in industries like financial services, healthcare, real-estate, e-commerce, and food supply chain. In the agrifood sector, blockchain is showing immense potential to enhance the food supply chain management. Also, visit our blockchain supply chain development services to know more about blockchain's role in the food supply chain.
Food Supply Chain: Existing Challenges
The food industry is facing challenges in dealing with inefficiencies, frauds, and scandals caused by distrust and lack of transparency within the supply chain. The industry has failed several times to meet customer demands for accountability and assurance. There are instances like the UK horsemeat scandal in 2003 and E.Coli outbreaks since 1998 that still haunt the food industry, as well as the consumers worldwide.
According to the Food and Agriculture Organization of the United Nations, we waste approximately 1.3 billion tonnes of food every year. Also, the World Health Organization' reports that nearly one in ten people fall ill after being exposed to food contamination. Foodborne diseases not only affect the health of infants, pregnant women, but elderly people too.  Food fraud is another issue that immobilizes the industry by costing it an estimated US 40$ billion each year. Last but not least, the food and supply chain management systems are heavily reliant on manual processes that fail to detect or prevent adulteration.
Applying Blockchain Technology
Blockchain is a type of distributed ledger technology that provides attributes like efficiency, security, traceability, and transparency in the business network. It facilitates businesses to establish trust in the network, and achieve end-to-end transparency and traceability of transactions.
Implementing blockchain in the food supply chain makes the entire process traceable and transparent. Blockchain provides supply chain stakeholders, from farmers to warehouses and factories, with a unified platform that provides end-to-end traceability. On the platform, every stakeholder that handles food represents a node in the blockchain network. It enables anyone in the network to track and trace the food from its provenance to the table.
For instance, a Hyperledger Fabric or Corda based food supply chain solution can facilitate stakeholders to achieve these objectives with efficiency.
Here's a high-level overview of a Corda based food supply chain solution that provides information tracing and tracking abilities.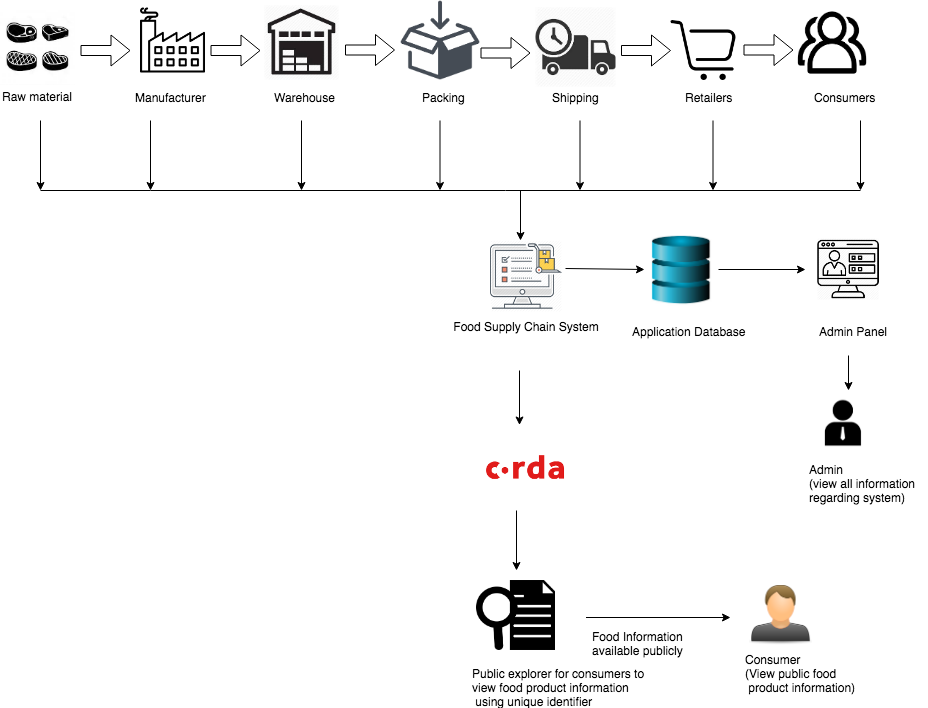 Further, IoT integration plays a crucial role by replacing the need for manual verification and recordings of the supply chain operations. IoT (Internet of Things) refers to the internet-connected devices that serve as a means of communication between the physical and digital world. IoT-enabled sensors collect and transmit food products' information to the blockchain solution. Blockchain prevents data tampering and malicious activities by storing this information in an immutable manner.  Also, blockchain based transactions happen through consensus protocols, which eliminates manual processing of operations and the dependence on intermediaries
Several global food organizations like Nestle, Walmart, and Unilever are exploring blockchain solutions to build transparent and traceable food supply chains.  Walmart has partnered with IBM to achieve traceability and transparency in the chain. With a permissioned network data, their solution brings farmers, processors, distributors, and retailers together.
"Our customers deserve a more transparent supply chain. We felt the one-step-up and one-step-back model of food traceability was outdated for the 21st century. This is a smart, technology-supported move that will greatly benefit our customers and transform the food system, benefitting all stakeholders," — Frank Yiannas, Vice President of Food Safety, Walmart.
With this blockchain solution, Walmart can track information about food products within 2.2 seconds. In other words, it assists the company in tracking a disease outbreak or contamination, and reducing unnecessary waste and food recalls.
Also Read: Blockchain Solutions: The Panacea For The Food Industry Problems
Let's take a look at an array of advantages that blockchain provides
Blockchain supply chain development services can provide greater visibility into complex steps in a supply chain. Recording a product's journey across the supply chain with blockchain transactions can aid in establishing trust among consumers and substantiating claims.
The essential blockchain attributes like data transparency, traceability, and immutability can significantly transform the food industry. It can infuse trust between farmers, retailers, suppliers, and consumers.
Blockchain Benefits in the Food Supply Chain
Traceability throughout the value chain
Improved food products management
Digital marketplace creation for buyers and manufacturers
Selective data sharing with regulatory authorities