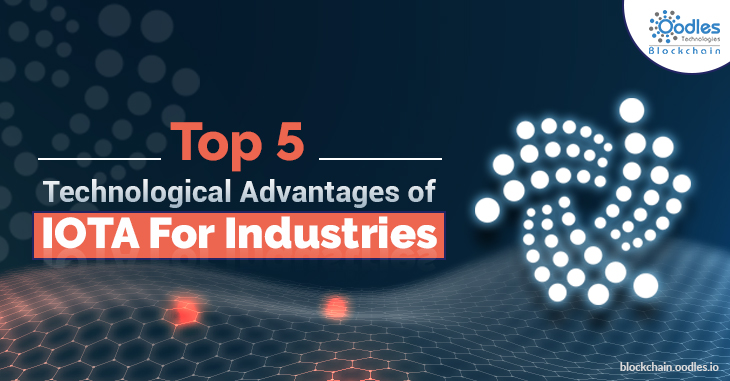 IOTA is one of the revolutionary, next-generation public shared ledgers that incorporates the utilization of an innovative technology called "Tangle" at its core. Based on a Directed Acyclic Graph, the Tangle is a new data structure. Thus, it has no blocks, no miners, and no Chain. Due to its critical data structure, processes in IOTA take place quite differently and efficiently as when compared to other Blockchains.
With blockchain technology around the corner when it's about crypto-innovation, IOTA offers users with a unique digital framework.
IOTA's most prominent market driver is its native technological offering, Tangle. Unlike a blockchain, it maps transactions onto an entire network contrary to a single data-chain.
Tangle's this type of mapping offering helps increase the implementation capabilities along with expanding the scope of application for IOTA.
Core Advantages of IOTA and Blockchain:
1. Reduced Transaction Fees
Mainly originated for Bitcoin, one of the concerning issues with the blockchain is its slow transaction times.
Currently, transfer rates for the blockchain are in double-digit range, which can be considered quite low for various modern applications.
However, IOTA utilizes a system wherein the rates of transaction increase exponentially as more customers start using its native platform. Also, by using a unique consensus protocol, it provides its users with reduced confirmation times.
2. Free Micro-Payments
In standard blockchain-based payment portals, usually, the sender/initiator of the transaction sets the transaction fees. As a result, it makes it increasingly unfeasible to execute smaller amounts of payment.
On the other hand, one of the prominent advantages of IOTA is its ability to enable smaller payments with the incurrence of very little to a fee-less transaction.
3. Scalability
From a technical point of view, experts believe that IOTA utilizes a processing module that's capable of becoming faster as its number of transactions and subscribers increase.
Also, it's worth mentioning that in an IOTA blockchain, the time taken to execute a transaction and the process to validate it gets zeroed as soon as data gets identified.
4. Future Ready
Customers using the blockchain face one central issue. Often, for them, the technology proves to be expensive in terms of its computational needs and security assurance.
For instance, implementing Bitcoin mining processes requires more and more computation power as time goes on.
However, IOTA proves to be a great alternative here. It reduces such hefty cost requirements by eradicating key areas of the traditional mining.
5. Safety
In a nutshell, the owner of a blockchain contains the power to tweak the system with new data, therefore, having the power to modify it for personal gains.
Consequently, it gives rise to a tangible dilemma for organizations looking to incorporate the blockchain technology with externally auditable applications when maintaining the immutability of data required at all times.
Why is IOTA the best in Industrial Use Cases?
In addition to the above-mentioned technological advantages, IOTA also goes beyond its deployment as a unique payment protocol. For instance, intricate business operations can utilize its Tangle technology to support their IoT use cases.
Similarly, by using MAM (Masked Authenticated Messaging), it can streamline the transfer of encrypted data along with maintaining a high-level of data protection, integrity, and data access management.
IOTA not only brings a platform to the fore that has the capability to facilitate digital payments for trade and everyday transactions but also provides a technology which turns IoT communication into a reality.