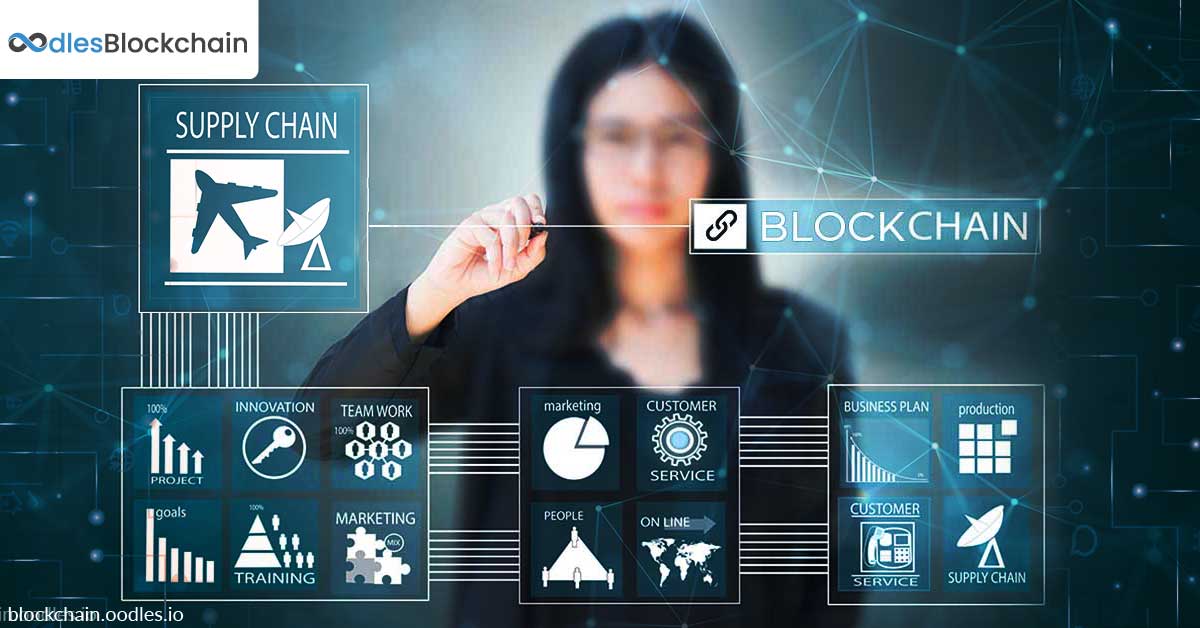 Blockchain and the Internet of things (IoT) are two recent technological advancements transforming different industries. In supply chain management, key players are using blockchain and IoT to achieve efficiency, reliability, and speed for all stakeholders involved in the chain. Industries are finding Blockchain and IoT two most important strategic technology trends in 2020, According to IDC, 20 percent IoT deployment involve basic levels of blockchain services enabled. 
Blockchain is a type of distributed ledger which provides characteristics like traceability, auditability, security, and efficient collaboration. IoT is a network of smart physical objects and things capable of connecting to that network to send and receive data. Some of the enterprise use cases of IoT include predictive asset maintenance, fleet monitoring, and plant operation monitoring. 
Our blockchain development experts at Oodles suggest that combining blockchain and IoT to strengthen supply chain management can provide significant benefits for manufacturers, suppliers, and logistics service providers. In the following sections, find out key value drivers that the combination of blockchain and IoT provides for contemporary supply chains. 
End-to-End Real-Time Supply Chain Visibility
The involvement of multiple parties in a supply chain makes it difficult to achieve end-to-end visibility and transparency. Using IoT devices to track the status of moving goods through the blockchain based supply chain and storing this information on a DLT (distributed ledger technology) solution can ensure that all participants in the chain get access to data in real-time. 
For instance, a manufacturer is in the US and raises a purchase order on a supplier in Canada. He simultaneously assigns an LSP (logistics services provider) too to pick up and deliver the goods to the US. In this scenario, the supplier broadcasts products' production status made traceable via their production monitoring IoT solution to a secure blockchain. It will enable both the LSP and manufacturer to track and trace the same information. 
A supply chain with the provision of real-time access to data in a secure blockchain can enable organizations to achieve efficiency with transparency and security. It can also enable them to act fast to unexpected events like a sudden dip in customer demand or shipment delay due to weather. 
Global Supply Chain Financing
Supply chains involving parties across borders and cross-border transactions require voluminous paperwork and bureaucracy. It impacts the timely execution of international payments. It is because they involve multiple parties that are subject to local banking regulation. Additionally, any discrepancies like duplicate invoices can cause delays in payment settlement and clearing. 
Using a blockchain and IoT based solution can significantly expedite the goods movement across borders. It can also result in making cross-border transactions secure, efficient, and cost-effective while preventing fraud through DLT. 
However, all this is possible with blockchain smart contracts. Smart contracts are computer programs consisting of terms of an agreement between two parties. In smart contracts, those terms can be programmed, enforced as per the occurrence of mentioned events, and executed automatically.
For instance, a goods manufacturer can have a smart contract with a retailer. 
The contract will have conditional payment terms defined in code, such as payment execution upon goods' delivery at the retailer's dock. Both the manufacturer's and retailer's banks also will be able to access the contract's status. Additionally, smart contracts and IoT devices together can enable monitoring of shipments' status and execution of payment terms of the contract upon delivery. With visibility into the original contract, sales order, and actual delivery status, banks will be able to validate the contract's authenticity and speed up the payment cycle.
Data-Driven Insights
In a blockchain and IoT powered supply chain, all stakeholders and things in the ecosystem can share data securely. Further, the use of the latest machine learning techniques on this holistic dataset, when combined with third-party data sources, can derive insights across supply chains. 
For instance, manufacturers can share and access data in real-time from all partners like suppliers, LSPs, and contractors on a blockchain platform. They can combine this data with the climate and economic trends across the entire network. It will enable them to enhance their decision-making capabilities regarding the realignment of their sourcing and distribution networks. Meanwhile, the partners will be able to use to assess their role and impact on the overall supply chain. They can make adapt improvements designed to increase their competitiveness. 
Conclusion
The combination of Blockchain and IoT can significantly address key issues of global supply chains while adding value to enterprises. If you want to explore opportunities created by blockchain in supply chain management, connect with us. Both IoT and blockchain have started gaining traction across industries. It is likely that they will accelerate into production as the technologies become more developed.