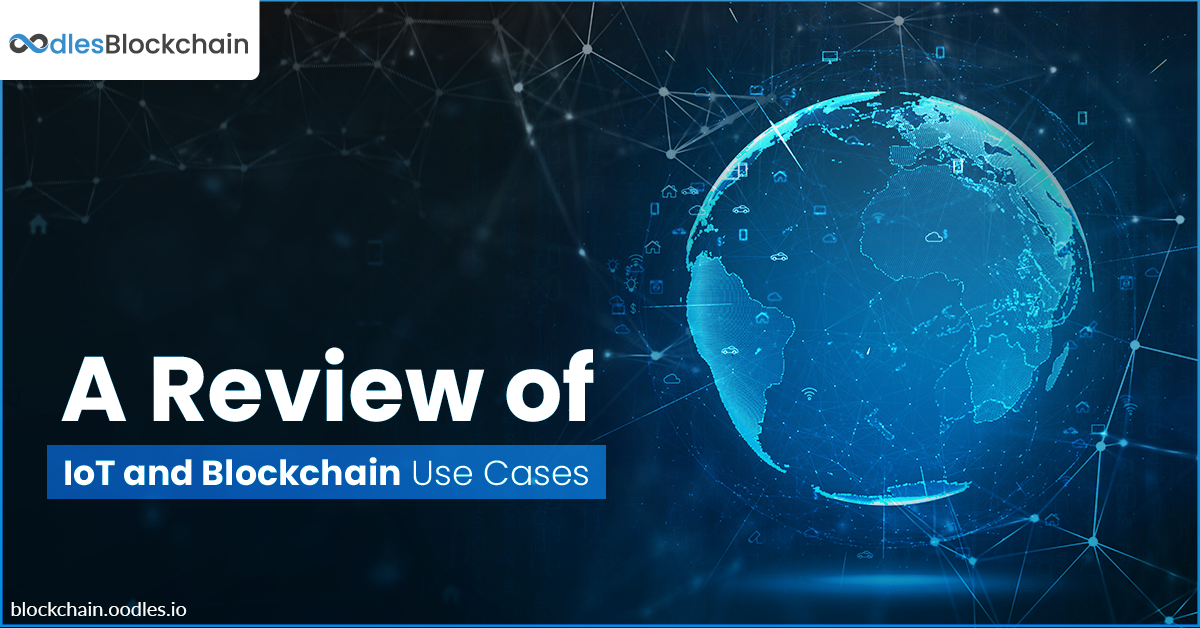 Blockchain strengthens the sphere of IoT devices to scale up security and transparency in the ecosystem. Blockchain provides a scalable and decentralized infrastructure for IoT devices and applications.  Internet of Things (IoT) provides opportunities for businesses to run smart operations and services. Here are a few Blockchain IoT use cases that can have a significant impact across multiple industries:
Supply Chain and Logistics
Pharmacy Industry
Automotive Industry
Smart Homes
Sharing Economy
Supply Chain and Logistics
A global supply chain network has many stakeholders like brokers, raw material providers, and so on. It complicates the end-to-end visibility. Also, a multitude of payments and invoices can extend over months of time in the supply chain. Having multiple stakeholders makes the delivery delays a huge challenge. However, now companies exploring IoT enabled vehicles to track the movement of products throughout the shipment process.
Here, blockchain technology and IoT can help enhance the reliability and traceability of the network. IoT sensors such as motion sensors, GPS, and temperature sensors provide accurate details about shipments' status. The information generated from the sensors is then stored in the blockchain.
Further, stakeholders in a smart contract can get access to the information in real-time. Using which, they can accordingly execute transshipment and cross-border transactions.
Also Read: Strengthening the Food Supply Chain with Blockchain Solutions
Pharmacy Industry
Counterfeit medicines are an increasing issue in the pharmaceutical sector with every passing day. For pharma companies, manufacturing and distributing drugs is a complex process. It makes the tracking of drugs journey quite difficult.
Blockchain brings transparency and traceability in the network. Transparency and traceability are necessary when it comes to monitoring sensitive healthcare drugs. Blockchain solutions can enable pharma companies to monitor the shipment of drugs from the provenance to the end-consumer.
Also, blockchain solutions offer enhanced payment process, permissioned user access, and a medium to prevent counterfeit drugs in the supply chain.
Also Read: Use Case: Using Blockchain to Fix Fragmented Healthcare Supply Chain
Automotive Industry
Automotive industries players are relying on IoT-enabled sensors to create completely automated vehicles. Connecting decentralized blockchain solution with IoT enabled vehicles enables multiple users to store, manage, and exchange information more efficiently and securely.
For blockchain IoT use cases, automotive is one of the most interesting industries. The use of combined technology can enhance operations like automated cars, traffic control, fuel payments, and smart parking.
Also Read: Blockchain Applications becoming the Panacea for Automotive Challenges
Smart Homes
Smart IoT-enabled devices have started playing an important part in our day-to-day lives. The integration of blockchain with smart IoT devices enables users to manage home security systems remotely from their smartphones.
Blockchain replaces the traditional centralized approach to share information generated by IoT devices. It improves the security standards and ownership of information. It can even optimize and enhance the smart home by resolving security issues and eliminating the dependence on centralized infrastructure.
Sharing Economy
The sharing economy has become a concept that is gaining significant traction around the world. A blockchain can provide the platform to create a secure online market of connected things. With a blockchain solution, users can rent, sell or share any object securely without requiring intermediaries. Here, smart contracts ensure data privacy and transparency by enabling controlled access to information.
Conclusion
Various industries are exploring the potential of IoT and Blockchain to enhance efficiency and achieve automation, among other benefits. In this blog post, we analyzed some vital IoT and blockchain use cases that companies can leverage to build robust business solutions.
To understand how the IoT and blockchain combination can assist your business, or if you are looking for an IoT Blockchain application development company, connect with our experts directly.