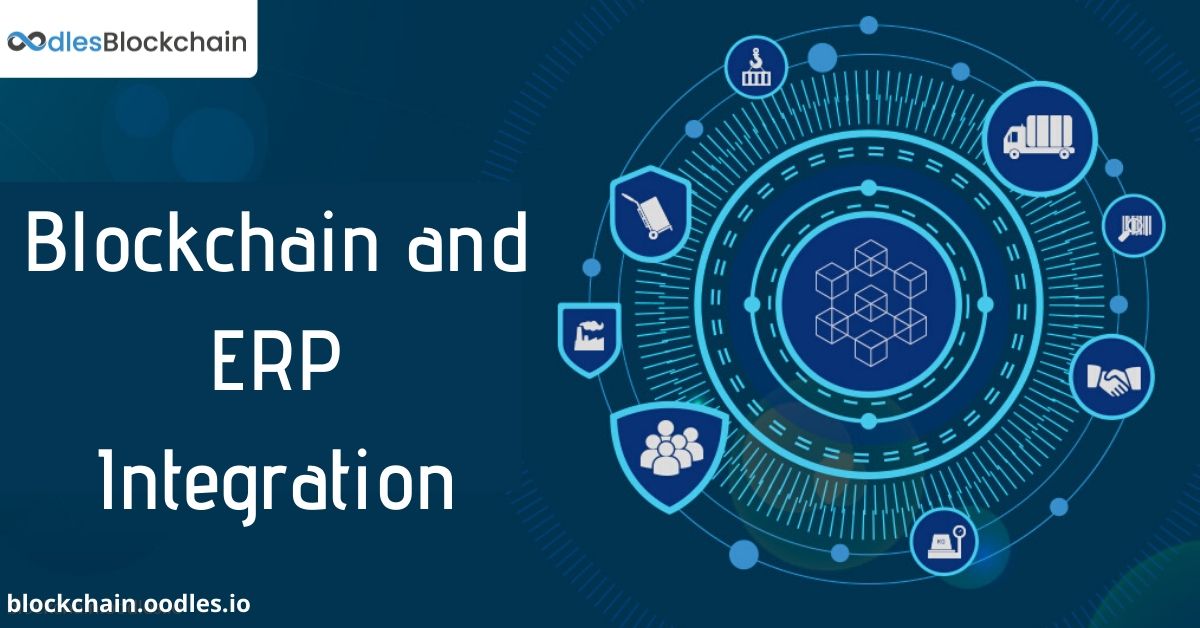 Blockchain,  a type of distributed ledger technology, ensures immutable data records, seamless transaction authentication,  and robust business contract enforcement. With all these benefits, it is a suitable technology to be used with ERP solutions. In this article, let us take a look at how the integration of ERP and blockchain enhances existing features of enterprise resource planning software program.
Blockchain has gradually evolved as an advanced technology that is serving as the underlying infrastructures for several large corporates. Tech pundits suggest that integrating Blockchain with ERP systems can enable businesses to streamline their investments whilst optimizing the cost.
ERP Systems | Challenges
No Defined Production Processes
Improper defining of the production process entirely. Some existing processes do not require an ERP system but integrating it can decrease efficiency. Also, Mapping out operations clearly is essential for an ERP system  to provide benefits and operate
Less Flexible
Instead of software adapting to your processes, it requires you to adjust processes according to its modeling structure. ERP systems with predefined functionality aren't modular enough. They don't enable you to add up a feature as per the need.
Complex or Restricted Functionality
Most ERP systems are overly complicated to use with complex UI designs and odd functionalities that often become overwhelming. Moreover, these systems fail to fulfill the increasing demand for adding features.
High Maintenance Cost
Needless to say, implementing an ERP system can cost you a fortune. Even though the initial implementation is quite costly and can take a lot of time, still maintenance also becomes an issue.
How Blockchain Addresses these Challenges and Enhances the Capabilities of ERP Systems?
End-to-End Visibility Across Supply Stages to Establish Transparency
Blockchain for ERP systems integration can offer enterprises a high-level of visibility across every part of the supply process by connecting every stakeholder with a distributed ledger.
Usually, a supply chain of a product tends to be a lengthy and segmented process. It makes tracking all the processes or products in different stages relatively difficult with traditional ERP systems.
Blockchain ERP solutions can enable enterprises to track processes in real-time with end-to-traceability with a single distributed ledger. Additionally, with IoT solutions, you can get real-time insights into such as a product's movement at every supply chain step and what the temperature or quality of a product.
Blockchain Smart Contracts Implementation to Automate Processes and Payments 
Blockchain for ERP provides businesses with what no other technology can offer, smart contract implementation. With ethereum blockchain app development and smart contracts for ERP solutions, you can automate the transaction process with your suppliers. Once the pre-defined rules coded in computer programs are met, a smart contract initiates itself to automatically and process a transaction. Indeed, you can track the process of shipment and trading, and when once you have received your shipment, the smart contract can automatically release the funds.
Compliance With GDPR And Secure Storage Facility For Sensitive Information
When handling consumers and their sensitive information, enterprises must be GDPR compliant. Furthermore, you would like to make sure that every one the knowledge of your customers remains private, and no third-party company can mine those data for marketing research.
Take the Facebook scandal as an example. you certainly don't want to travel through sometimes like that. If you don't follow the GDPR rules, you'll be able to face serious legal issues and fines. to not mention that your brand value would take a large hit together with that moreover.
This is where the blockchain ERP use cases acquire play. With blockchain help, you'll be able to securely store all the consumers' information with no issues. More so, you'll be able to even be fully compliant with GDPR and offer full transparency just in case of handling customers. 
A Flexible, Configurable and Robust ERP System Development with Blockchain Platforms
The integration of enterprise blockchain platforms like Hyperledger, Enterprise Ethereum Alliance, R3 Corda, Quorum, Ripple, and more with an ERP system can create a configurable, flexible, and robust model. These blockchain technologies offer extensive customization provisions for ERP software development.
Also, these systems can quickly adapt to the changing business scenarios and make sure that you don't end up with an obsolete system. However, make rue to figure out which blockchain technology to choose while you are integrating it with your ERP systems.
Blockchain and the ERP system needs to be fully compatible with each other to make it work. In reality, blockchain can be the shield for ERP systems as they have vulnerable centralized servers that can easily be hacked.
So, in a way, they both can give rise to a robust yet flexible environment.