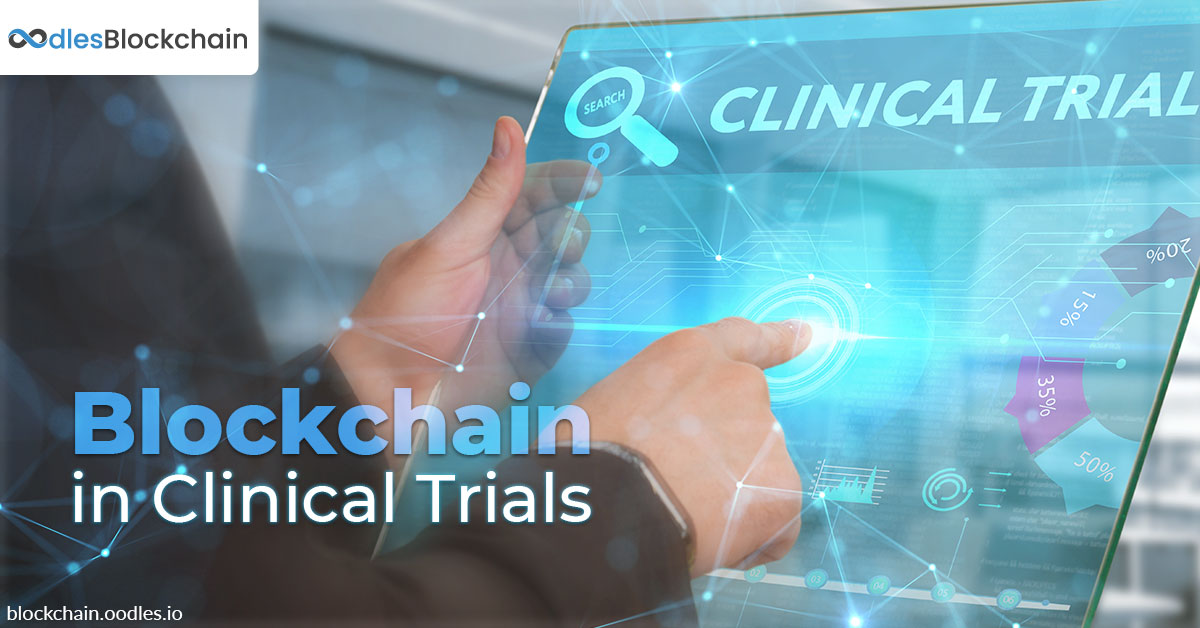 Blockchain-powered timestamped and immutable data can address key challenges in the healthcare sector. Especially, it can revolutionize clinical trials, an area where data integrity, traceability, and transparency are of utmost importance. Stakeholders like patients, researchers, and regulators rely on this data and its analysis to assess the benefits/risks balance of a therapeutic product. In this case, the notion of "trust" between all the stakeholders becomes extremely important. 
Also, regulatory bodies (FDA with FDAAA 801) and NGOs (WHO with April 2015 declaration) are pressuring organizations to publicly disclose clinical trials' results.
As a result, pharmaceutical companies are finding new mediums to certify clinical trials and data.
Blockchain as a Solutions for Clinical Trials
Blockchain technology is one of those mediums. It is, by its design, is a trust-enabler. Its decentralized nature to store data prevents its alteration by any intermediary or third-party, even after being available to all stakeholders at any time. We can consider it as the "single source of truth", especially when it comes to clinical trial data.
Additionally, blockchain app development services can also facilitate key success factors such as patient engagement, regulatory reporting, compliance oversight, and secure data traceability.
Blockchain Applications in Clinical Trials
Data Traceability with Security
Although data storage on the blockchain is possible, storing large data chunks generated during a clinical trial may incur increased storage costs and lower performance. It is because of transaction check, block generation, and blockchain querying with huge data sets consuming more time and resources. However, any data and information generated during a trial can be stored separately on a database (Sidechain) and hashed through an SHA (Secure Hash Algorithm). It will provide a unique and tamper-proof low-weight signature for each document. Then, signatures will be stored on the blockchain to provide secure data traceability for all stakeholders.
Transparency in Clinical Data Management
Blockchain possesses the potential to significantly strengthen clinical data management and processes with transparency, trust, and security. Indeed, key pharma companies' interest to implement blockchain technology in the areas of clinical trials is growing. Recently, Boehringer Ingelheim and IBM partnered in Canada to pilot whether blockchain can improve clinical trials. They tested whether blockchain's decentralized framework can enable data integrity, provenance, and transparency, as well as patient empowerment with process automation. Also, they tested whether it ultimately leads to improved trial quality and patients' data privacy at reduced costs. 
Patients' Engagement and Consent Management 
Patients are becoming attentive and willing than ever to involve in the healthcare industry. As a result, patient engagement is also becoming a critical success factor in clinical trials. When allowing consent to participate in a trial, the patient may rest assured about agreed protocols encoded through blockchain smart contracts. Smart contracts ensure that any protocol modification triggers the renewal of a patient's consent. Enrolled patients are also required to share any past or current medical conditions with the study investigators. As there has been no generalized digital health record system available, previous patient conditions' declaration can be exhaustive and inaccurate.
However, in a recent instance in Estonia, nearly 1.3 million citizens benefited from a blockchain-enabled secure e-Health record system. Now, we can say that such a system will automatically grant investigators access to patients' medical records while adhering to the digital informed consent signature of patients. The access to medical records will be valid as long as the patient keeps giving his consent with smart contracts. In a nutshell, continuous update of patients' data on the blockchain can foster transparency and enforce patients' trust in trial investigators.
Reporting to Regulators
Governments and regulators are required to ascertain the benefits and risks associated with an investigated drug as per the evidence submitted by the trial investigators. For that, it requires stakeholders to make all trial-related documents available to regulators upon the request. In this case, a consortium blockchain's implementation will involve regulators, trial sponsors, the Contract Research Organizations (CROs) and other healthcare organizations. It will enable them to continuously share clinical data among themselves while facilitating regulators to directly put queries on the blockchain. Although trial-related data will be accessible to all stakeholders, this type of blockchain developed with platforms like Hyperledger will make it confidential due to its non-public nature. 
Ethical Compliance and Oversight
Ethics Committees play an important role in clinical trial management. They mark and approve a trial as being respectful and sage for patients. Blockchain smart contracts can lay the foundation for Ethics Committees to safely store approvals. Then, they will be granting approvals for one version of the protocol. Additionally, a smart contract will trigger immediately an Ethics Committee approval renewal upon any protocol modification request. Using a queryable blockchain database like BigchainDB, Ethics Committees can keep track of patients' consents and compliance of CROs/sponsors to already approved protocol.
Conclusion
While the adoption of blockchain solutions in the healthcare industry is still in infancy, our team of blockchain experts suggests revolutionary improvements in the coming years, especially in clinical trials. Healthcare blockchain application development in clinical trials is providing new efficient solutions to enhance optimize and simplify complex processes.