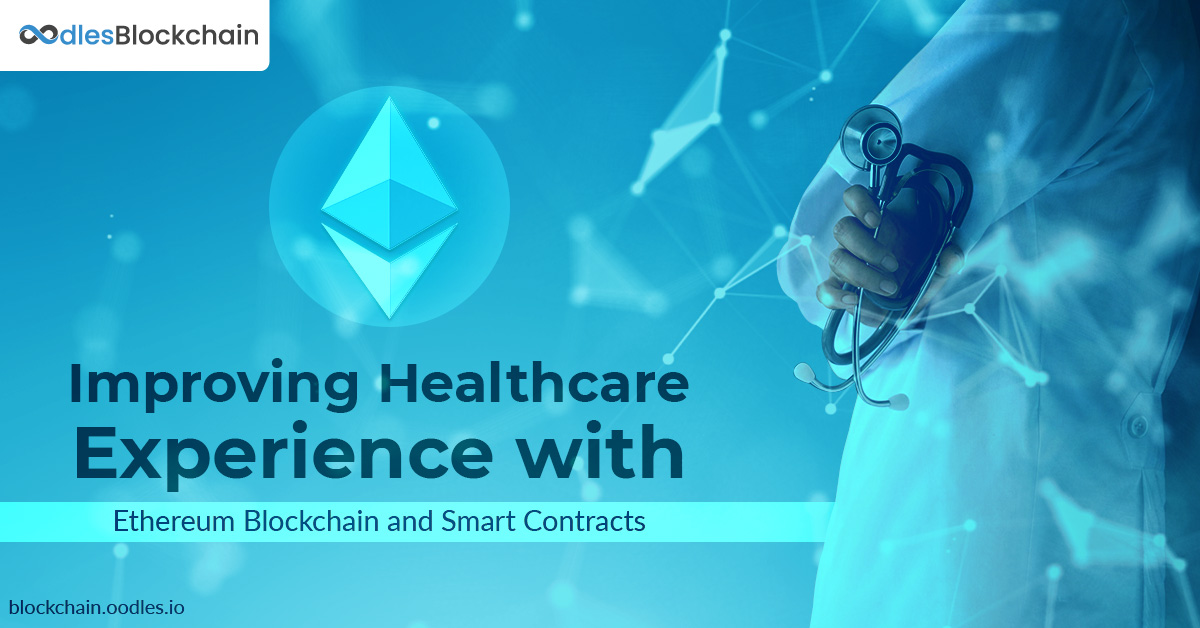 In our previous articles, we have assessed the potential of blockchain app development in the healthcare industry. We have primarily focused on the advantages of blockchain and how they revolutionize the healthcare industry. In this article, we focus on exploring the challenges faced by the healthcare sector and how the use of blockchain smart contracts solutions for instance with Ethereum address them quite efficiently. However, first, let's examine what blockchain smart contracts really are, then delve into the intricacies of smart contracts and blockchain. 
Blockchain Smart Contracts
Smart contracts are blockchain-powered business protocols or contracts that facilitate the verification, enforcement, and performance of digital transactions automatically with optimum accuracy. Smart contracts enable transactions to execute even in the absence of third parties.
The healthcare sector faces various challenges, from an increasing number of patients, drug counterfeiting, middlemen, administrative inefficiencies, and more. Smart contracts powered by Blockchain's decentralized applications can solve these challenges. They can facilitate secure and efficient transferring, retrieval, analysis, and management of healthcare-related information and data. 
Also Read:  Three Ways Blockchain Smart Contracts Are Revolutionizing Healthcare
Challenges in the Healthcare Sector
Data Security and Integrity
With the increasing number of patients, healthcare providers witness a significant strain on their side. Managing and keeping patients' health information, records, and data secure with IoT devices are arduous tasks for medical practitioners and healthcare providers. The data stored in centralized databases are always vulnerable to breaches, hacks, and threats. Indeed, in some cases, malicious actors have stolen patients' health data for marketing purposes.
Then, there are medical insurance frauds that cost taxpayers in billions every year. Additionally, billing for services not rendered, excessive services and duplicate claims, and more are other critical instances of healthcare insurance frauds. 
Inefficient Administration
Gross lapses and wastages administrate public health sectors around the globe. 
In the US, hospitals splurge nearly a quarter of the budget on billing and administrative costs. Cases of readmissions, poorly managed patient flows, poor communication, and delays and lags further intensify inefficiencies in the healthcare administration.
Not only this but also patients spend a lot of time dealing with appointments, chasing down records, filling out forms, refilling prescriptions, and whatnot. Even physicians and nurses spend over hours to complete paperwork and conduct administrative tasks.
Blockchain Smart Contract Solutions
Telemedicine
Telemedicine is a field gaining traction across the healthcare sector. It enables physicians to reach patients through the means of electronic devices like Wearable Body Area Networks (WBANs), mobile phones, and other IoT devices. Telemedicine predominantly enables healthcare for chronic health management, prescription compliance, and collecting real-time information about patients' conditions. Such advancements provide sufficient assistance in enhancing interoperability, reducing administrative inefficiency, and enhancing patients' healthcare experience. The downside of such solutions, however, is that they are also lucrative targets for hackers. Here, to ensure the safety and privacy of patients' information and other critical clinical data, blockchain smart contracts can play a crucial role. A blockchain consortium of healthcare stakeholders can use smart contracts to analyze, aggregate, and share data across the network. Smart contracts can further assist them in maintaining data in an immutable state, thus, ensuring trust, transparency, and efficiency for all. Overall, blockchain like Ethereum and smart contracts can ensure healthcare data is securely stored while being reliable and transparent.
Enhanced Interoperability and Reconciliation
Blockchain smart contracts in the healthcare sector can also enable efficient interoperability and reconciliation of health records and information of a patient with the digital ledger. They can provide solutions using which patients can move from one hospital to another without carrying numerous separate forms. They can simply permit respective physicians to view their health records on the blockchain network. Also, they can streamline the racking of patients'' treatment activities and data for purposes of insurance payments. Additionally, smart contracts can ensure compliance and adherence to healthcare standards and regulatory requirements. Any changes to any standard, process, or operation can be instantly updated on the blockchain network without hassle.
Put simply, smart contracts and blockchain can be the most effective technological advancements for the betterment of the healthcare sector. While the technologies are nascent, there is no doubt that can empower the healthcare domain. They can provide stakeholders with diverse capabilities and rights that ultimately revolutionize the industry. Smart contracts are equipped with high-level encryption and security. Users, therefore, can rest assured that their information is safe, confidential, and attack-proof including other advantages. 
Ethereum Smart Contracts
Healthcare professionals and medical providers in fields including global public health, pharmacology, medicine, and health data are recognizing the advantages of using Ethereum blockchain and its smart contract capabilities. Ethereum blockchain development and smart contract solutions can significantly streamline and secure healthcare data management, enable drug traceability, automate operations, and more. 
Ethereum Blockchain and Smart Contract Use Cases in Healthcare
An Ethereum Blockchain-based solution equipped with smart contracts can further augment the overall healthcare industry's capability to improve operational performance, patient data transparency, tracking, traceability, accountability, reduced costs, and more. We, at Oodles, provide healthcare solutions using blockchain platforms and applications like Ethereum and smart contracts. We can tailor them to address various challenges across healthcare applications, including the following:
Secure Electronic Health Records (EHRs) Management

Patient Consent Management

Drug Traceability

Strengthened Healthcare Supply Chain

Data Security in Clinical Trials

Incentivization Through Micropayments