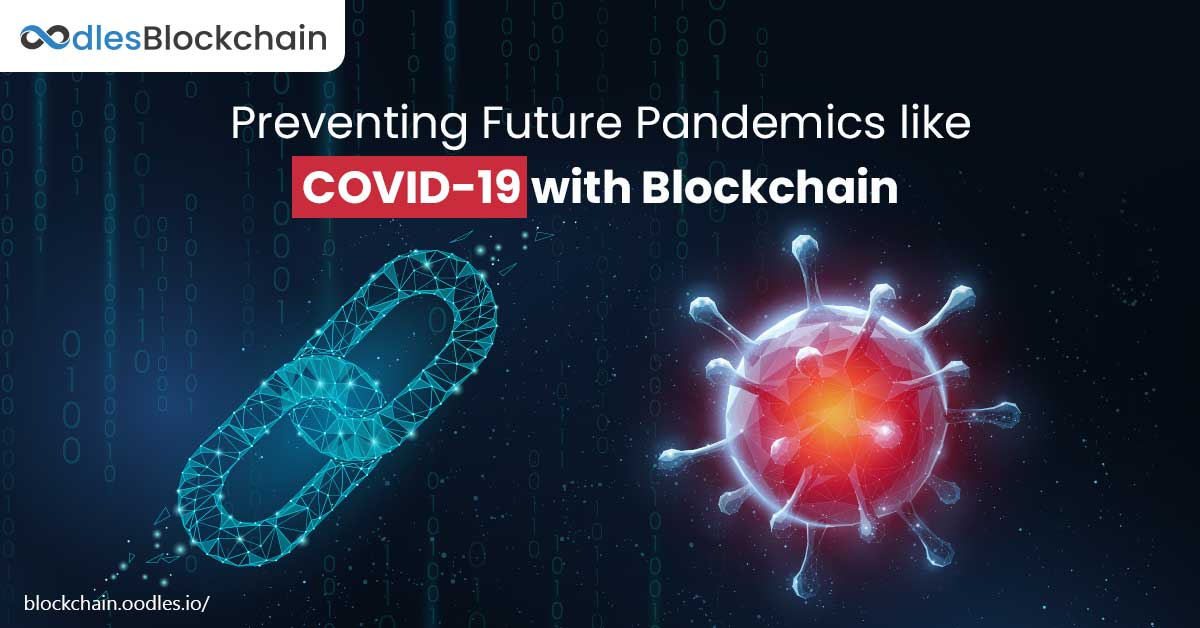 The article intends to highlight the importance of blockchain-based systems in the healthcare sector. It elaborates on the subject of the COVID-19 pandemic (coronavirus outbreak) forcing businesses and governments to use blockchain in healthcare operations.
Countries are struggling with a global pandemic that the WHO (World Health Organization) calls COVID-19. Blockchain, a type of distributed ledger technology, has gained more attraction in such critical times of global crisis. It is due to the rich-features and characteristics of DLTs like Blockchain. Individuals, organizations, and businesses around the world trying to cope with the spread of the virus are exploring blockchain technology to find solutions to prevent such impending disasters. 
The implementation of blockchain solutions across industries like healthcare can significantly improve operations and management, as well as the handling of a crisis like the one we are facing now.
The rapid adoption of DLTs for industrial solutions validates that, in a few years, the use of Blockchain will extend way beyond traditional applications.
Now, let's take a closer look at how blockchain can provide solutions to combat such disasters. 
Blockchain in Action
Although no country can ever fully prepare for a pandemic of such a scale, there are a few areas that can be improved with interoperable blockchain technology solutions. 
Healthcare technology organizations and startups have started piloting with a series of solutions built on top of the DLT like blockchain. They are developing solutions for end-to-end traceable drug supply chains, interoperability and management of medical data exchange, and others
Ensuring Traceability of Outbreaks like COVID-19
With blockchain healthcare solutions, health care, and life sciences institutes can easily track the virus outbreak. The solutions can enable them to track how an outbreak is spreading around the world. They can facilitate researchers, scientists and journalists to understand and facilitate efficient clinical trials with regards to the spread of the virus. Also, if we equip blockchain solutions with more emerging technologies, they can help track its trends over time from a wide set of public data, data from the Center for Disease Control and the World Health Organization. The solutions underlie blockchain technology that ensures that nobody can manipulate or change even a single piece of shared information among the network. 
Strengthening Fragmented Medical Supply Chains
A blockchain-based supply chain solution can provide stakeholders with provisions to trace the demand and the supply chains of medical supplies. It also includes the recording and tracking of epidemic prevention materials like masks, gloves, and other protective gear. Indeed, China has faced a shortage of facial masks. The National Development and Reform Commission, China's apex economic planning commission has been tasked with managing the supply of masks. 
As per the reports by the NDRC, the daily production of masks count is approx.  15.2 million masks per day. Whereas, the demand estimation is between 50 and 60 million units. 
The huge gap between supply and demand is giving the rise to counterfeit production. 
The coronavirus has shown that the medical supply chain must implement blockchain provenance solutions. The use of blockchain technology to track medication shipments and usage with improved supply chain monitoring and quality control can drive for a more targeted inventory and recall management. 
Simplified Insurance Claims
Blockchain's foundational features like accessibility, data integrity, immutability, automated execution of transactions and applications as a distributed ledger across a blockchain network constitute that it is a perfect candidate for addressing various healthcare insurance-related claims. The current global healthcare infrastructure is complex and fragmented, especially the healthcare insurance sector is proving inefficient.
Amid COVID-19, when thousands of its positive cases are emerging around the world, healthcare insurance operations seem to offer no relief. However,  the deployment of blockchain on healthcare networks can address various pain points. It can help improve patient diagnosis and medical costs. It can enable patients to control his/her medical information with the rights to share as per requirement without involving any other external agency. Also, hospitals and doctors can access patients' data quickly and completely. It will eliminate the need for extra tests and prolonged or wrong diagnosis, and thereby, improve the customer experience.
Further, the integration of smart contracts with blockchain platforms like Ethereum or R3 Corda can automatically execute fast, safe, and efficient transactions. Again, it will make the processing and denying claims easier and faster and thus, immensely improve the trust among insurance providers. Not only this but also the sharing of data among various providers in the distributed ledger network ensures proper documentation and no loss of data/documentation. 
Also Read:  Secure and Efficient Healthcare Data Sharing (POC) using Corda Blockchain
Conclusion:
Key healthcare players are piloting to use DLT like Blockchain as the underlying technology for healthcare operations and systems. Although Blockchain healthcare solutions are not the panacea for the industry, they can bring significant transformations while preparing it to combat with such impending global disasters like COVID-19. In the next post, you can find out how the use of Blockchain with other emerging technologies can address challenges like insufficient demand and supply of medical equipment, inefficient data consolidation for the surveillance and outbreak tracking, and others.