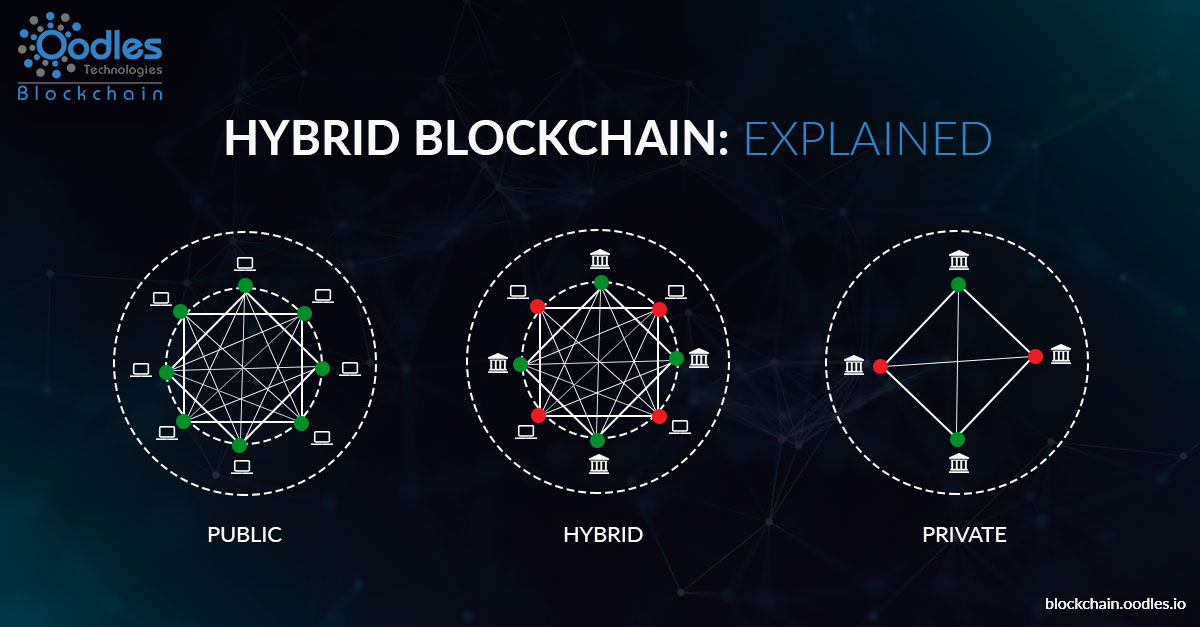 There's no doubt that the world is showing an overwhelming interest in Blockchain; from tens of thousands of new startups to dedicated R&D labs for showing up in both federal and commercial institutions, or numerous consortia formed to fix their industry challenges.
Blockchain Technology offers an unprecedented level of details in its records including financial and non-financial transactions. It hugely reduces the chances of manipulation of information distributed across the network. One of the most significant traits for discussion about public blockchain is that no particular entity can govern it.
Each participant or entity in the network has the permission to share or generate copies.
While many perceive it as an advantage, it's also considered as a big negative as few have claimed that it's not secure enough.
Luckily, Blockchain technology has developed into three different forms – public, private and hybrid. While there's been a lot of discussion on public and private models, Hybrid blockchain technology has remained untouched and is comparatively a 'latest' trend in blockchain development landscape.
A Glance at Hybrid Blockchain:
As the name indicates, Hybrid Blockchain is a combination of the extremes of public and private blockchains and takes advantages of the characteristics of both. Using a hybrid blockchain solution, network members or individual dominant entities can decide which transactions can remain public and which to be open to a smaller group of members.
Hybrid blockchain consisting of the network's public and private state ensures that transactions are private yet verifiable using an immutable history on the public blockchain. Each transaction will need to be verified by a massive network and, typically, is reliable and secure.
Hence, it requires no central governing entity or complex chain of intermediaries to control things.
Thus, any alteration to a transaction will need to process under an agnate verification process, making it extremely difficult for a single entity to tamper the transaction or entries.
In a public-based Hybrid Blockchain, its participants get equal rights to see, edit and add their permission to a transaction, however, the identity of parties involved in the transaction is never get disclosed to other parties in the network. The only concern with this model is its anonymity feature that doesn't suit financial institutions and regulated sectors where following KYC (Know Your Customer) standards is a must.
Moreover, the unlimited visibility of the public state of the network uncovers all the data to a massive network- a trait that doesn't adhere with data confidentiality obligations.
The anonymity feature of public state can be fixed using the private state of Hybrid Blockchain. Its private state is a perfect alternative to the Fintech industry. While it's secure, decentralized, transparent and immutable similar to its public analog, it does limit the right to see, edit and approve transactions to chosen members.
In a nutshell, if a participant of the network wants its transaction data to be invisible or inaccessible without their permission, they can give particular rights to see, edit and join consensus with other members.
For instance, in a transaction, a member can give rights to Member 1 to see the payments, Member 2  to edit particular transactions and Member 3 to approve them.
Hybrid Blockchain: The Opportunities
Hybrid Blockchain's such transforming technology can help build enterprise-grade implementations of the open-source technology encompassing various trades exposing to real-world use cases.
In addition, Hybrid Blockchain's robust security and high transaction throughout ensure reliable cross-border payments for financing and trading. Industrial applications is another spectrum where Hybrid Blockchain can play a crucial role, such as Travel, Energy, Aviation, etc. and be implemented to boost business process revamp, supply chain, financing, procurement, etc.