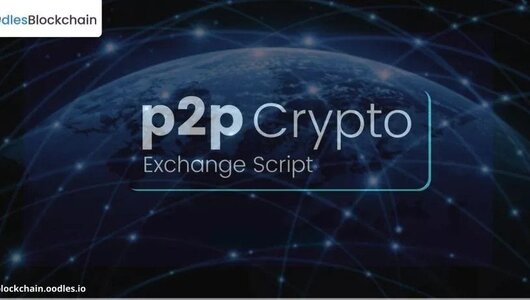 Considering the disadvantages of centralized exchanges, crypto investors are now looking to disrupt the market by developing a new type of crypto exchange solutions – decentralized peer-to-peer exchanges, run by software, not people.
Differentiating Between 'Standard' Crypto Exchanges and Peer-to-Peer (P2P) Crypto Exchange Development
A 'Standard' Crypto Exchange 
Let's first take a look at how a typical centralized cryptocurrency exchange works for crypto traders. It enables sellers to sell cryptocurrencies by specifying the amount and the price of their orders. They place these 'orders' in a common ledger known as the 'order book.' Then buyers visit the order book to look for adequate and satisfactory orders placed by sellers. In case of not being able to find an order suitable to their needs, they create their own 'buy order.' They specify the terms of the order according to their requirements. Then, the exchange's matching algorithm matches buy and sell orders by price and processes the trades. 
The whole process is time-consuming and involves intermediaries. A group of members or a company with staff operates these types of exchanges. A private company that acts as an intermediary is responsible for trades and transactions. It serves as an arbitrator also in case of disputes for a fee. However, the ease of use and liquidity are significant advantages of centralized exchanges.
A P2P Crypto Exchange Platform
Consequently, the development of a p2p cryptocurrency exchange script comes into the role and completely transforms the cryptocurrency exchange process. Essentially, a P2P crypto exchange script underlies as a website script to power a "peer to peer" crypto exchange platform. It follows the concept of decentralization, and thereby, eliminates the involvement of intermediaries. 
Instead of matching orders in the order book, a P2P exchange matches the crypto traders making those orders. Put simply, whenever the exchange software matches buy and sell orders, it does not immediately process the trade. It connects a buyer with a seller and enables them to conduct a crypto trade deal without involving any intermediaries. A P2P exchange system utilizes a smart-contract based escrow solution to facilitate transactions between the traders. This escrow based trading provides a fast and easy way to trade while ensuring overall security, trust, and cost-effectivity. However, a third party may be involved to act as an arbitrator for resolving possible disputes.
P2P Crypto Exchange Development | Advantages
P2P crypto exchange platforms promise to offer high resistance to transaction censorship in a cost-effective, private, and secure manner when developed, deployed, and realized properly. These advantages stem from the decentralization of operations. Indeed, centralized exchanges' single point of authority provides several advantages, like faster trades and sufficient liquidity. However, even a single attack is enough to affect the system.
Strengthened Transaction Privacy Mechanism
P2P cryptocurrency exchanges need not have a third party or intermediary for transaction execution. Indeed, the decentralization with Blockchain's feature-rich characteristics like being an immutable, distributed ledger facilitating encrypted transactions ensures the entire platform's privacy security.
Cost-Effective Operations
The involvement of multiple intermediaries in a transaction increases its operational cost. Contrarily, the concept of decentralization eliminates the need for an intermediary for crypto trading on a p2p exchange software. As a result, It reduces the operational costs to almost zero. 
Robust Platform with Strengthened Security
With KYC details of users in sync with the blockchain database, a p2p exchange eliminates the need to worry about the counterparties' authenticity. The chances of identity and other types of fraud remain relatively nominal. nominal chances
Worldwide Transactions
Exchanging fiat money takes days to weeks for international transactions. The use of a P2P exchange platform provides fast, efficient, and cost-effective transactions globally. Anyone around the world can conduct transactions on a P2P exchange platform.
Efficient Resolutions to Transaction Disputes
A community of people oversees all the transactions on the platform. It plays its role when a dispute starts to emerge between a buyer and a seller. Also, the platforms require transacting parties to lock some amount in a smart contract escrow before the trade. Subsequently, upon the successful trade settlement, the escrow can release the amount from the smart contract escrow. 
P2P Crypto Exchange Development | Essentials 
Now, let's tap into the potential of P2P exchange platforms for more secure, fast, efficient, and private transactions. The followings are a few significant advantages of opting to develop and launch a p2p cryptocurrency exchange platform.
Robust and High-Performant Matching Engine
A high-speed matching engine reinforces to match buyers and sellers with minimum latency and maximum efficiency. It comes with built-in order types of buying and selling orders. It serves as the cornerstone of a P2P exchange system. 
Strengthened Multi-layer Security
The implementation of the security mechanisms such as SSL implementation and two-factor authentication like email authentication and Google authentication ensures the addition of an essential protection layer for the P2P exchange platform.
Quick and Secure KYC and AML Verification System
The deployment of a user-centric identity verification system equipped with the right KYC protocol powered with Blockchain expedites the overall process with efficiency. It enables us to build a strong foundation of legit and authentic trading users (Buyers and Sellers).
Blockchain Smart Contract-Powered Escrow System
A blockchain smart contract-based escrow system integrated with the platform facilitates secure, private, fast, and efficient trading between users.
P2P Crypto trading and Exchange Platform Development with Oodles
Crypto enthusiasts can tap into the space of rapidly growing peer-to-peer trading networks with our cryptocurrency exchange development services. Our team of crypto experts devises strategic processes aligned with your goals to deliver P2P crypto exchange projects. With our domain expertise and technology-agnostic development process, you can enter the future of P2P trading with accelerated time-to-market.