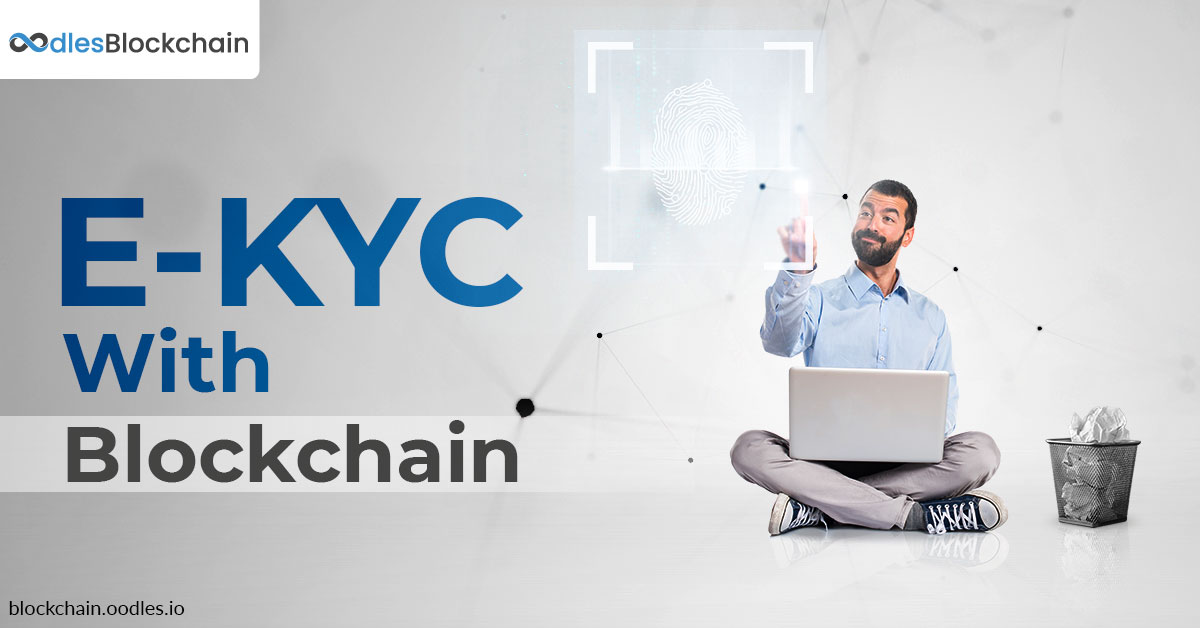 Using a blockchain-powered e-KYC system, banks can request access to customers' KYC data. While customers can approve requests and revoke access. Customers can also update their data which will then be automatically updated across all banks with permission to access it. 
Blockchain is an ideal technology to digitize the KYC compliance process. In its advanced form, a permissioned blockchain solution enables customers to have complete access and control over their personal data. They can be certain that nobody can share this data with any other actors unless they explicitly permit them. The customers can revoke this permission at any time, while all actions being recorded on the Blockchain platform. Also, visit this page to know how blockchain app development in insurance is enhancing the sectors' efficiency. 
Key Highlights | Blockchain e-KYC Application
The platform will have no global sharing of data, only permissioned parties can access data within an agreement. 

It will enable the deployment of regulatory and supervisory observer nodes with its design and architecture.

Only parties that are associated with a KYC process will validate the actions rather than a broader pool of unrelated validators.

Provides an explicit link between human-language composed legal documents and smart contract code



Benefits
Using a blockchain-based solution can provide several advantages to the KYC space. These include immutable records, enhanced privacy, a shared ledger (provides access to accurate data across the network), and greater transparency. 
Also Read:  Digitizing AML/KYC Compliance with Blockchain
The blockchain-powered KYC applications' self-sovereign model enables customers to create and manage their digital identities, including relevant documentation. Then, customers can grant permission to multiple participants to access this data. 
The applications will work toward reducing duplication and costs by eliminating the need for each financial institution to individually attest and update KYC records. Also, with permission-based data access, the chances of data privacy and security issues will be negligible.
Also Read: Blockchain in Insurance: Enabling New Opportunities
How eKYC system on the blockchain will solve the issues with the current centralized system
We find that there are some major drawbacks of having a centralized architecture for KYC processes. A downside of a centralized KYC platform and architecture is the single point of failure of the server, which results in significant downtime. The centralized architecture is always under the control of the administrator having access to confidential customer data. It is contrary to recent legislation, like GDPR, which significantly increases the risk of holding such large pools of personal information. GDPR requires each individual to give consent and agree to participate explicitly. Generally, the centralized architecture uses third parties to establish trust between the stakeholders. Thus and so, it creates a dependency on the third party to create an environment of trust. Lastly, a centralized KYC repository is always vulnerable to hacks and thefts. 
Also Read: Is Blockchain the Right Underlying Technology for Digital KYC verification
One model that addresses these challenges is a blockchain-powered decentralized model. It supports the idea of handing KYC ownership back to consumers. As we know, blockchain is distributed across the network, there is no single point of failure. Instead of having a centralized administrator as the server, it supports the idea of handing KYC ownership back to consumers. It also adheres to the regulatory and compliance requirements of GDPR. With permission-based data access, it reduces the risk of data privacy and security issues will be negligible. It provides risk managers, business developers, and legal professionals a reliable and efficient way to validate their customers, in an easy to use dashboard. With such an ecosystem, it is the customers who will only do their KYC process once and have it in their wallet ready to transparently access whatever exchange, payment or other services they like.