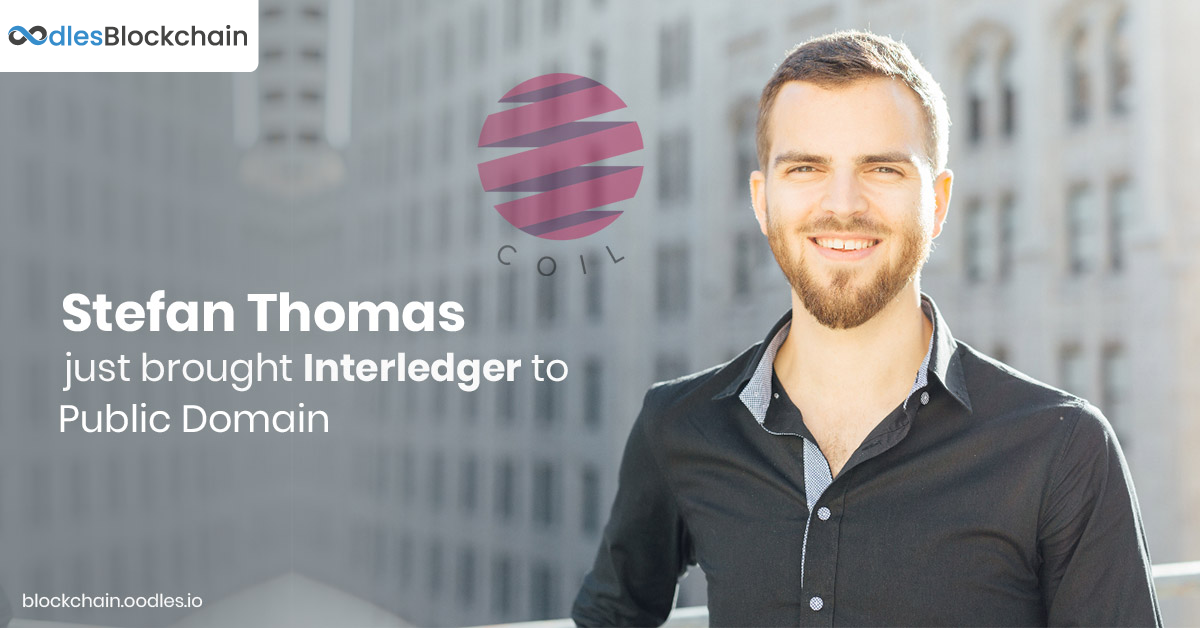 Ripple XRP Token is all Good
Well, the good news is: XRP is not through any rift. Former CTO of Ripple, Stefan Thomas just has another plan to contribute towards the cryptocurrency ecosystem. In fact, this move is also an evidence of the ever-evolutionary trait of Distributed Ledger Technology. Thomas moved away from an emerging technology such as XRP Ledger, which has strong prospects in the industry, especially, in FinTech. This is because, as a former CTO he understood a critical aspect of XRP Ledger as being strongly oriented towards the enterprise use cases apart from emphasizing more on Ripple XRP Token as a digital asset. This is a strong advantage for Ripple as an efficient decentralized ledger for enterprise use. Still, Thomas is diving into his own foresightedness.
Thomas in an interview mentioned that Interledger, the DLT developed by Ripple makes payment "more efficient for banks, payment service providers, their customers, corporates and so on." Although he acknowledges the fact, Thomas believes Inteledger can be leveraged in other use cases as well, especially, in a new class of online communication. He created Coil, the new Interledger based technology, with an objective to use it in new use cases. In a podcast, his new team at Coil mentioned content monetization on websites as the major prospect. Apparently, the team wants to replace the existing advertising model in the internet landscape. As explained on the podcast, the platform will also monetize artworks and other online assets.
What exactly is Coil?
Holistically, Coil provides content creators on the internet the platform to monetize their works efficiently. Thomas rightly understood, in this era of Netflix and Spotify, "it's actually very hard right now to make money on the web" for small content creators. Thus, Coil allows readers, watchers, and listeners to make micropayments as contributions towards the original content creators.
Several platforms like the Brave by Mozilla founder Brendan Eich and Patreon, are in the same business. However, unlike them, Coil allows real-time payments. This will allow content creators to find innovative business models to earn on the internet. The platform enables downloading or uploading a file, sending SMS and stream music. These activities require a fee, which is provided to creators. A creator's website receives the money instantly from any user viewing their content through an API called Web Monetization. This new platform is a truly innovative use case of Inter Ledger, which Stefan Thomas created for Ripple.
Interledger as a Router for Payment Systems
The underlying technology behind Coil is Interledger. Ripple describes it as "an open protocol suite for sending payments across different ledgers." Interledger has an open architecture and is enabled with minimal protocol, making it possible for small systems to play their roles. The protocol is comparable to routers on the Internet for transferring money. As a protocol, Interledger is the set of standards for payments across networks of financial services and banks. Using this protocol, banks can connect via ledgers to transfer money, thereby removing a third party or a central authority from the system. Ripple uses this protocol to enable transactions between banks and financial enterprises.
Prospects of the likes of Ripple XRP Token 
Ripple XRP Token is through a major hype, but a creator of Interledger, which is the underlying technology behind Ripple, breaks away from the tech firm to create a separate payment system. Although such a trend in the business ecosystem is not new, Stefan Thomas broke into the landscape utilizing decentralized ledger technology as a payment system. Thus, Distributed Ledger is emerging as an effective technique for financial transactions. With no requirement of a third party or any mediator to authenticate a transaction, ledgers are now the most efficient solution for cross-border transactions.
DLT is successful as a payment solution because it supports faster processing, easier reconciliation and better transparency on fees. The technology is a game changer in the financial industry. Gradually, it is transforming as a public utility for individual user-oriented microtransactions. This leap from enterprise to the public landscape will open more use cases of the distributed ledgers, becoming another face of the Internet.