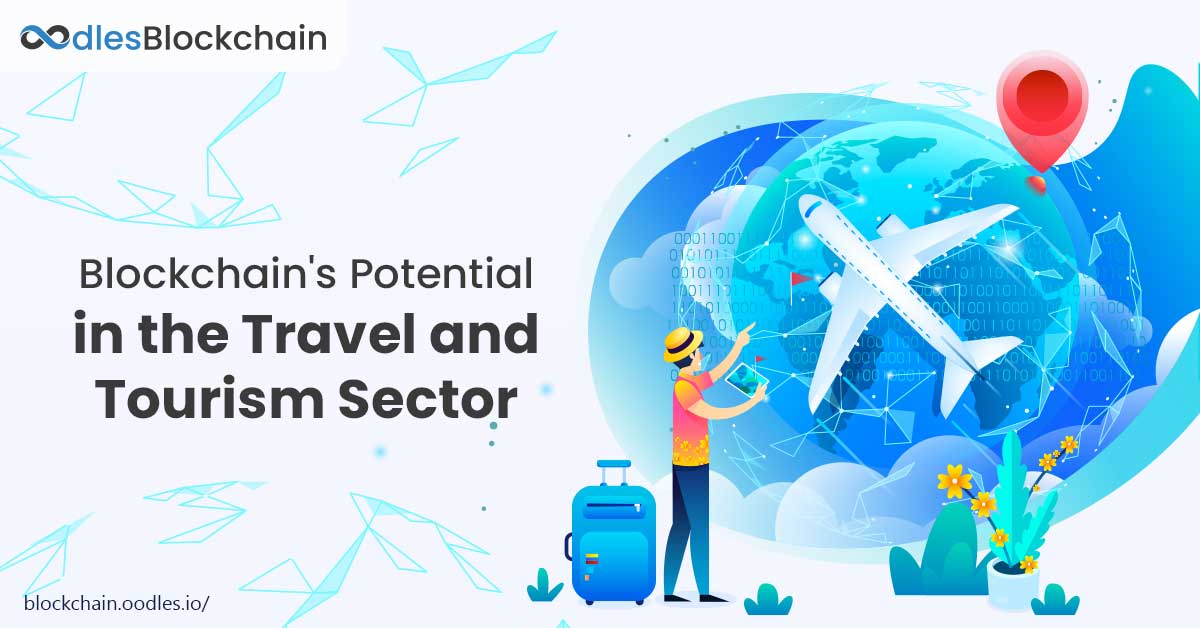 The global tourism market has crossed nearly USD 8 trillion in 2017 as per reports. According to experts, it was expected to reach a year on the year growth rate of 4.7% to reach USD 11.38 trillion by 2025. However, given the current situation of the COVID-19 pandemic, it is the travel and tourism sector that is being greatly impacted.  The use of digital technologies like blockchain in tourism can only help in sustaining the development of the sector. Many companies have already realized the potential benefits of blockchain and used technology for various operations and processes. The giants are now relying on the blockchain's potential to prepare for such environmental disasters.
Applications of Blockchain in the Travel and Tourism Industry
Blockchain solutions have raised significant interest in the travel and tourism industry due to its potential to reform complex processes with efficiency and more. Major companies have already started piloting with the integration of blockchain technology into their services.  Let's explore how blockchain and travel and tourism solutions and applications can ensure the sustainability and efficiency of the sector.
Enhanced Travellers' Identification
The identification of tourists and travelers is always crucial for the travel and tourism industry. Immigration officials apply stringent processes to verify the identity of every foreign tourist for security purposes. But, those processes are prone to human errors, negligence, inconsistency, and more.
If we use blockchain technology as the underlying infrastructure for those processes, it can bring significantly transform them while ensuring enhanced verification of travelers.
For instance, currently, it requires a traveler to show multiple identification documents at multiple stages such as airport check-in and immigration. It results in wastage of time, accumulating at every step of the process. Blockchain's integration here can reduce the time spent on various customer verification steps like at immigrations, check-in times at hotels, long queues at embassies. Thus, it can facilitate a time-efficient experience for stakeholders.
It might even eliminate the need to have a physical passport if the majority of international governments adopt the technology for the tourism industry. Certainly, that's a long road to success which requires the participation of users at all levels of processes, and essentially, Blockchain's widespread adoption and use.
ShoCard is a digital identity platform that uses Blockchain as the infrastructure. It enables the platform to authenticate people without usernames and passwords with SSIs. It also eliminates the need for the username and password methodology used for digital payments.
Efficient Travel Baggage Management
Customers' Baggage handling is one of the critical aspects of the aviation sector. Instances of mishandling of baggage at almost every airport is a significant issue faced today by air travelers. Baggage mishandling and loss have become common these days. It an increasingly alarming issue for airline companies. International baggage requires going through multiple hands during transportation. Blockchain provides solutions to reduce Baggage loss or mishandling significantly. It can store data in a way that enables stakeholders in the process to use end-to-end information to identify, monitor, or track luggage. With AI, IoT, and other sensor technologies, it can determine the location of baggage when misplaced or lost. Sensors attached to bags can track their exact location. Put simply, the use of blockchain in tourism for baggage management can alleviate the baggage loss issues faced in the industry today with other benefits.
Also Read: Simplifying the Travel and Tourism Industry with Blockchain
Customer Rewards Mechanism and Incentivization Systems
Travel service providers encourage customers for returning trips by run loyalty schemes. Blockchain can provide services providers to run with these programs more efficiently by enabling users to access their loyalty rewards for a multitude of benefits. They can blockchain-based systems to reward customers with cryptocurrencies, which they can use for multiple purposes in future travel.  For instance, Trippki is a service provider that uses a loyalty reward system built with blockchain for its customers. Customers use allocated crypto tokens for staying to get discounted stay in hotels and other rewards and incentives. Essentially, the use of blockchain in tourism helps companies retain customers and increase their revenues. It can also enable the industry to fight fraud as we know nobody can manipulate blockchain data.
Also Read: How Blockchain Eliminates The Pain Points Of Travel Industry
Transparent Business Ratings
Among global travelers, the trend of using the internet to read forums and user reviews before traveling is increasing significantly. However, there is no guarantee of information that often lack accuracy. Many businesses are able to publish fake reviews for themselves, as well as their competition. Such fraudulent activities are becoming rampant over the web because of increased competition. Indeed, users experience completely different than what they imagined from reading reviews online, and thus, reducing consumer trust. Nonetheless, data stored on a blockchain solution ensure strengthened security while enabling greater transparency and consumer trust.