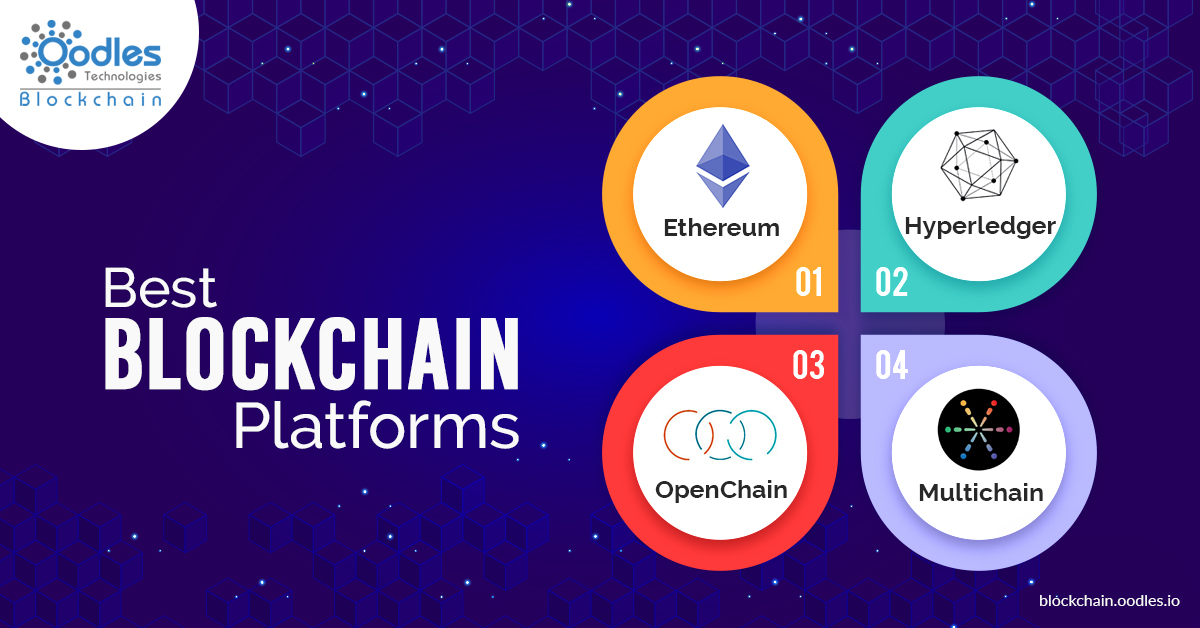 Due to the revolution caused by the blockchain technology, numerous blockchain platforms are entering the digital landscape every day.
Blockchain technology has become a transforming technology in the tech world by presenting a wide array of tools for large and small entities and startups in various industries like real estate, supply chain, banks, insurance, etc. to safely store information and database. Its independent and secure working infrastructure has offered a unique solution to streamline business operations and transferring of assets.
So, let's read on to know what types of blockchain platforms are in existence that have the potential to bring significant changes to cumbersome business operations.
Best Blockchain Platforms 2018
Founded in 2014 by Vitalik Buterin, Gavin Wood, and Jeffery Wilcke, Ethereum is one of the fastest growing blockchain technology-based platforms and a cryptocurrency like bitcoin.
Why Use It? 
Ethereum is an open source platform that utilizes the blockchain technology to advance smart contracts and cryptocurrency trading safely without using any third party.
Ripple was developed in 2012. Currently, the cryptocurrency that represents Ripple blockchain, XRP, is one the high performing cryptocurrencies in the crypto world.
Why Use It?
Ripple is the world's only enterprise blockchain solution for global payments. It connects payment providers, banks, digital asset exchanges and corporates through RippleNet. Also, it has gained its trading volume in the last year. Ripple facilitates the frictionless experience as it enables payment in any currency. It makes it easier for anyone to transfer money globally anytime anywhere. Its payment processing time is quite fast, with an average of 5 transactions every second.
Based on the blockchain technology, Hyperledger offers distributed ledger frameworks to a variety of industry leaders in the fields of banking, finance, Internet of Things, supply chains, manufacturing, and technology.
Why Use It?
Hyperledger consists of various innovative frameworks like Hyperledger Sawtooth, Indy, Iroha, Fabric, and Burrow, to facilitate distributed ledger technology effectively into enterprise-grade projects.
These innovative blockchain-based hyperledger frameworks are a solution to the business obstacles associated with security, data privacy, inclusion, and information sharing.
4. IBM Bluemix Blockchain:
Developed using the base of Hyperledger, IBM Bluemix offers transparency in transactions and security in information for enterprises. At present, IBM Bluemix runs on the IBM cloud.
Why Use It?
IBM has also entered in the blockchain development landscape with Bluemix Blockchain. Bluemix uses the blockchain format to expedite the governance, development, and operations of a multi-institutional business network. You can use it to design and develop applications and manage distributed ledgers.
Multichain is one of the best Blockchain platforms that enables the creation and execution of private blockchains. This multi-asset exchange is becoming popular for solving real problems in finance, infrastructure, and e-commerce.
Why Use It?
Multichain is famous for providing privacy and security as you can control who can read, connect or engage with the chain by incorporating permissions systems. It can be used for deployment of blockchain applications and private P2P network.
Developed by Coinprism, Open-chain is a Blockchain infrastructure that's used for the perseverance and management of digital assets.  Open-chain is an enterprise-ready platform for digital assets. Its approach is different than the standard Bitcoin approach to implementing Blockchain.
It has features:
A secured platform due to its multiple levels of control and thus, it protects the data at every level.
An efficient and reliable architecture for the peer-to-peer network.
Follows a partitioned consensus system
Conclusion: 
With the above-mentioned blockchain platforms, you can get unprecedented services for the security of digital transactions and assets. The blockchain technology provides independent and secure work structure and is a reliable solution that can be utilized to streamline an organization's processes and transfer of assets without getting into any extensive documentation or periodical controls.