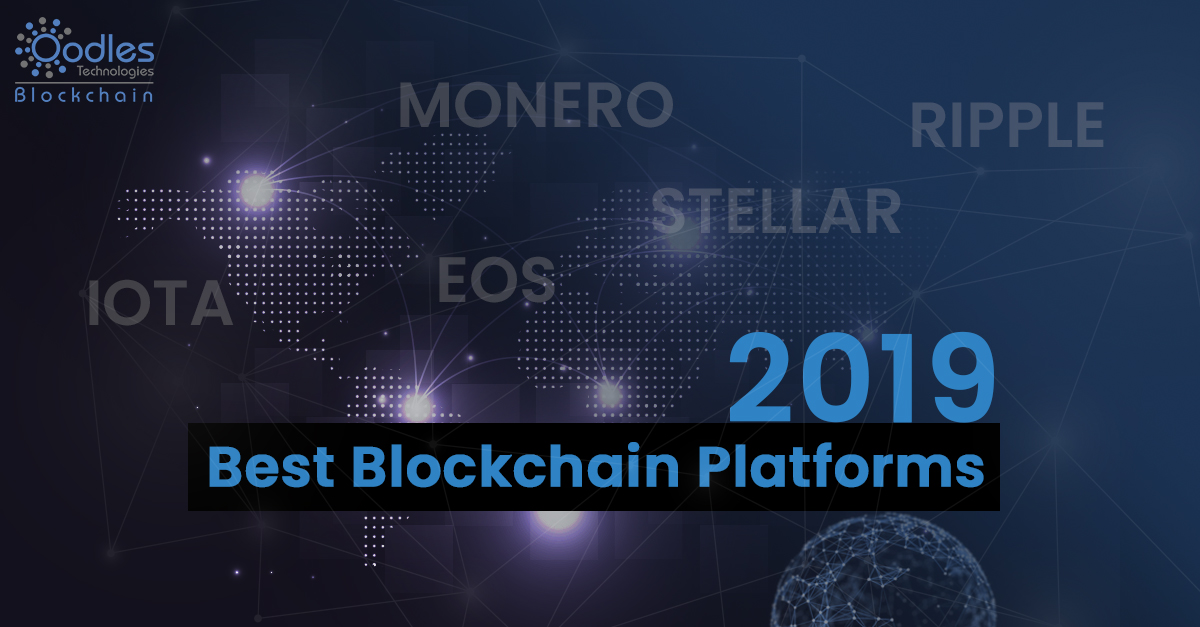 Best Blockchain Platforms for 2019
Ripple stands at the second spot in the list of coinmarketcap.com.
Ripple is best known for cross-border payments solutions. It offers a global financial settlement service for banks by allowing them to transact directly and quickly across national borders.
Thus, Ripple is more focused on large institutions rather than individual users. Its sole aim is to facilitate large financial institutions with an easy and reliable way for cross-border payments.
Not only this, but it also has partnered with some of the established banks globally.
Now, more and more financial institutions are moving toward adopting the Ripple protocol, making it one of the most sought-after blockchain platforms for 2019.
The institutional support from around the world and the fact it's exempted from SEC are the reasons we believe that XRP may survive in this altcoin bloodbath.
EOS
EOS is being called 'the Ethereum Killer'  and one of top latest blockchain platforms for 2019. It addresses a few shortcomings of the Ethereum network.
For example, to develop a decentralized application (DApp) on Ethereum Blockchain platform, you need a proper understanding of Solidity, a programming language for executing Smart Contracts. Though, it has become a barrier to use the Ethereum Network.
EOS fixes this by providing database and account management services to developers and doesn't require programming knowledge.
Know everything about EOS, here's a beginner's + expert's guide.
EOS also offers a few other technological advantages.
For instance, it's way faster and scalable than Ethereum. While Ethereum requires users to contribute gas to use the network, transactions on the EOS blockchain are free-of-cost. You cannot mine EOS directly. Being an ERC-20 token, it's not mineable.
Also, the EOS blockchain uses the DPoS (delegated Proof-of-Stake) consensus algorithm and not the mineable PoW (Proof-of-Work) likewise Ethereum and Bitcoin. The difference between the PoS and DPoS is that the latter utilizes a voting system to select network delegates and assigns them the work of keeping it secure.
Eventually, EOS completed a successful token sale. Now, it has acquired the capital to develop to its full potential.
These are some of the reasons why we think EOS is going to be a profitable investment in 2019 and further.
Contrary to what Ripple offers, Steller aims to provide a fast, efficient and cost-effective cross-border payment solution to individuals.
Currently, companies like Paypal dominate the online payment sphere. They charge around five percent per transaction. In contrast, Steller offers five seconds transaction speed and low fees. For instance, the Tempo remittances application built on the Steller Blockchain can process approx. 600,000 transactions for only 0.01 USD. Above all, it doesn't use the PoW verification. It means that it doesn't have to deal with the energy consumption problem. It uses the Steller Consensus Protocol.
Steller is currently establishing with tech companies like IBM. Thus, presenting itself as a potential investment in the crypto world.
Monero 
Monero is a privacy token and the most preferred for darknet markets, which's why Coinbase hasn't added it and may not be adding it any time soon. Equipped with reliable transaction schematics, it uses Ring Signatures and Stealth Addresses created on an ad-hoc basis to make private transactions. Founded on the principles of privacy and decentralization, which are central to the original cryptocurrency concept, Monero has grown strong community support.
An all-inclusive guide to know everything about Monero.
IOTA offers an easy, fast and secure way of exchange to IoT users and allows them to buy and trade datasets easily.
Unlike other cryptocurrencies, IOTA doesn't use the blockchain technology. It uses a transforming transactional settlement and data transfer method called 'Tangle.' And, it's transactions are based on 'DAG' (Directed Acyclic Graph).
So, these were the best blockchain platforms for 2019. These are expected to create enough buzz in the year 2019 as well.