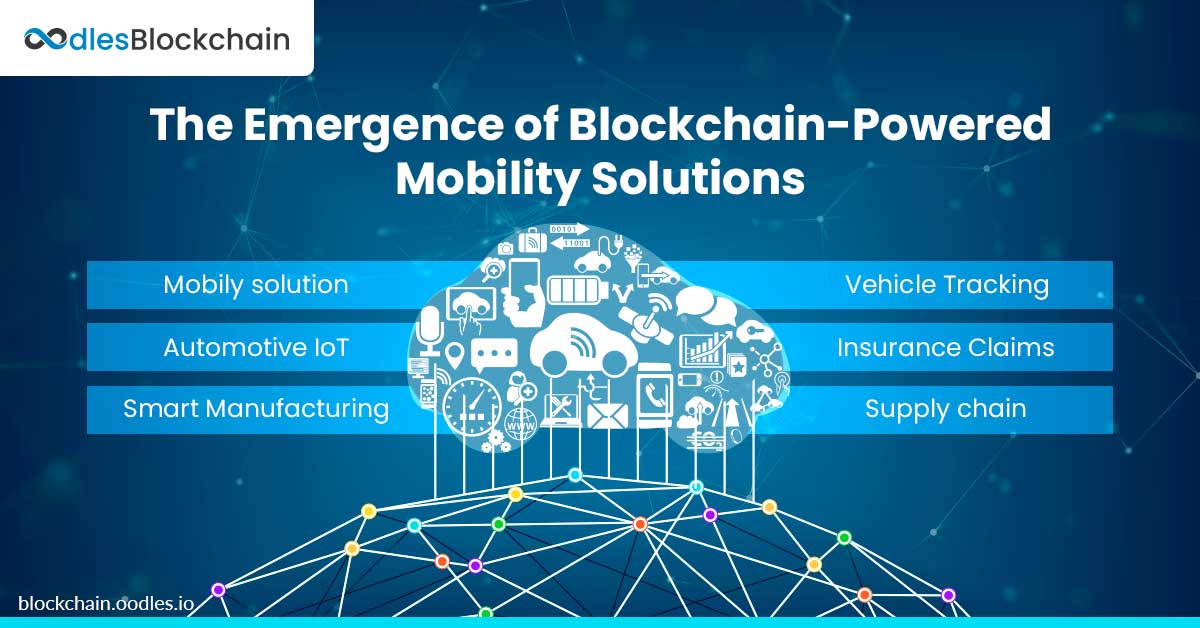 The future of the automotive industry will be somewhat different from today's market.  It demands more flexibility by providing on-demand and customized facilities like automated, sharing, and wired vehicles. Blockchain has the potential to be instrumental in underpinning the industry transformation with automotive blockchain solutions development. At Oodles, we believe that demand will expand in the next two to three years as more businesses pursue possibilities for blockchain, which will turn into comprehensive market strategies.
Operational Challenges in the Automotive Industry
The automobile industry is facing a rapidly evolving market climate with a rapid and intense change led by rising customer technology. 
The seasoned team at Oodles acknowledges the most important problems facing businesses in the automotive industry and knows how to solve them with blockchain.
Modifying customer behavior 

Electric car market demand 

Scattered information 

Disparate support services 

Sluggish and complex systems 

Difficulty monitoring and testing parts of vehicles 

Pressure on quality 

Obstacles to compliance
Addressing them with Blockchain
Blockchain can be extended to multiple supply chain problems in fields as simple as maintaining complicated databases and monitoring products and services. A far less corruptible and better-automated alternative to centralized systems is a major plus.
Throughout the field of monitoring and testing products and resources, a blockchain-based supply chain management system provides for reliable record-keeping and verification of provenance as product information can be obtained by embedded sensors and RFID tags. Blockchain can trace the history of a product right from its origin to where it is in the present time.
In addition, this type of exact provenance tracking can be used to detect fraud in any part of the supply chain.
Also, read | Blockchain Solutions Development for the Automotive Industry
The automobile supply chain is a highly complex and broad sector with multiple participants, ranging from parts suppliers, manufacturers to sellers. Delivering real customer value requires analysis of existing IT and business processes as well as solutions that adhere to security, confidentiality, and authorization permissions. Blockchain can prove ideal. Blockchain can be used by automotive manufacturers to protect their trademarks from counterfeit goods and to build customer-centered business models.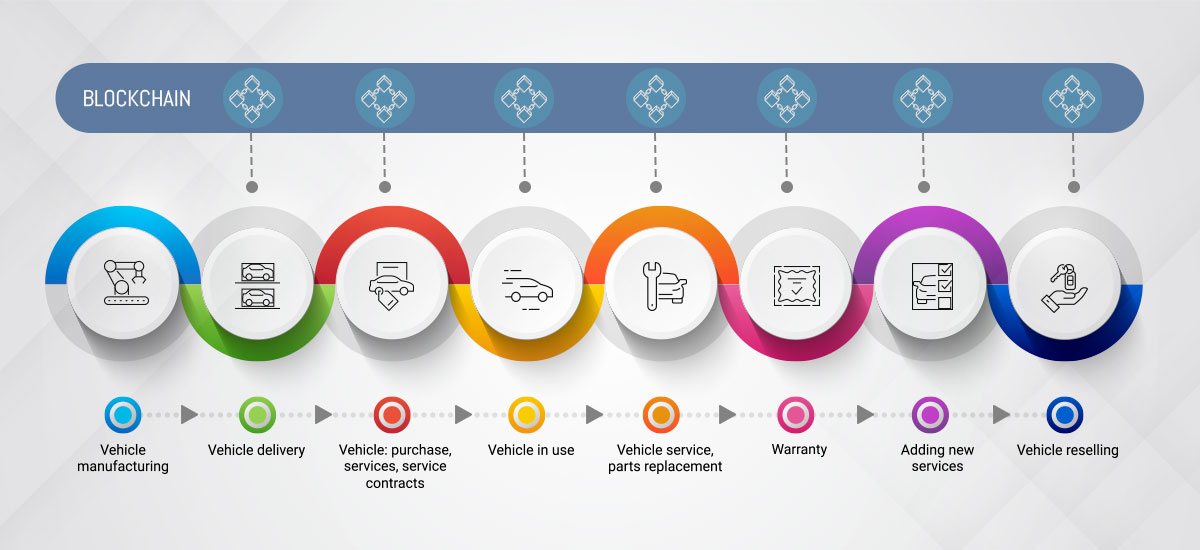 Benefits of Blockchain
Blockchain is ideally tailored to alternative business structures, as it enables micro-payments based on real car use and fractional ownership of cars. Transfer of vehicle title can also be simplified and streamlined using blockchain by providing one publicly available ledger, which can be accessed 'as needed' by interested parties. 
By advising spare part suppliers and service shops about specifications based on data obtained from the car, Blockchain will effectively allow proactive maintenance. 
Supply chain, like vehicle transfers, can be streamlined to allow smooth convergence of automated transactions, mutual details on inventories and distribution, sales, invoicing, and payments.
The provenance of spare parts on the blockchain will help avoid counterfeit issues, facilitate car repairs if necessary, and thus improve automotive health. 
Automotive firms will also benefit from the use of blockchain in fields such as finance and accounting to streamline back-office operations.

Also, read |  Blockchain Automotive Solutions | Making Drivers' Life Easier
Blockchain Use Cases in the Automotive Industry
Improvements in inspection and procedure
Improve efficiencies in supply chain and back-office processes
KYS (Know Your Supplier)
A blockchain-based solution records and verifies data of the retailer, leveraging external information, before delivering services to automotive organizations. Once verified, contracts with suppliers could be stored on the blockchain and payments executed when a service or product was fulfilled. Data can also be given 'off-chain' to facilitate monitoring of supplier results and to notify future contractual arrangements.
Provenance and traceability
A blockchain-based system storing, stocking, and upgrading vehicle parts details including spare parts. This would enable the repair center, car supplier and customer to track the origin of spare parts across the supply chain to the date and place of initial manufacturing.
Supply chain management
A blockchain-based solution that offers an end-to-end supply chain system that helps automotive organizations to order or sell, track, and pay for products seamlessly until they reach their destination. Parties should create, update, display or check the documentation on the blockchain. In the process, transfers may also be begun smoothly between parties based on arrangements (e.g. between seller and customs authority, seller and shipping business, and between seller and buyer).
As an example, embedded IoT sensors and intelligent devices may calculate the state of containers and other information that can be stored on Blockchain and alert final agreements e.g. whether goods become destroyed. 
Also, read | Achieving Operational Efficiency in Automotive Operations with Blockchain
Vehicle management and incentives
There are a number of blockchain use cases across the automotive value chain aimed at enabling vehicle management and incentives. 
Incentivization
A blockchain system that tracks distributor and consumer transactions and manages reward points inside the OEMs rewards network that can be exchanged and used as a currency. For example, at a discount, the dealer may offset the purchasing of parts with customer-redeemed loyalty points. If the reward points are withdrawn, the dealer's account for monitoring participants on the network will be revised
Ridesharing and on-demand mobility
A blockchain-based system that allows car owners (individuals) to monetize trips by tracking and implementing deals and monetary transactions. This approach will safely and/or interconnect smart and/or autonomous cars, car-sharing services and end-users 
Reliable form. Users and providers of car sharing (fleets, organizations, or individuals) will sign in and share data anonymously and effortlessly on the blockchain. These data may include vehicle location, auto-unlock keys, terms of the arrangement (e.g. cost per mile, insurance information), and consumer payment details.
The solution will then accept all transactions after the trip has been finished, and update the user log with a history of the trip.
Finance, payments, and insurance
There is a range of blockchain use cases across the value chain which aim to allow funding, payments, and insurance.
Also, read | Four Pertinent Blockchain Use Cases in the Automotive Industry
Electronic vehicle payments
A blockchain-based system that handles transactions, billing and payments when an electric car owner charges its car at a third-party charging station or discharges the power from its EV to the grid to facilitate the stability of the energy network ( e.g. moving energy from rural to metropolitan areas)
Connected Services 
A blockchain-based solution allowing car owners to easily buy 'infotainment' devices, or other consumer resources ( e.g. 
In-home connection or parking payment) focused on pre-defined contracts and agreements processed and enforced on a blockchain