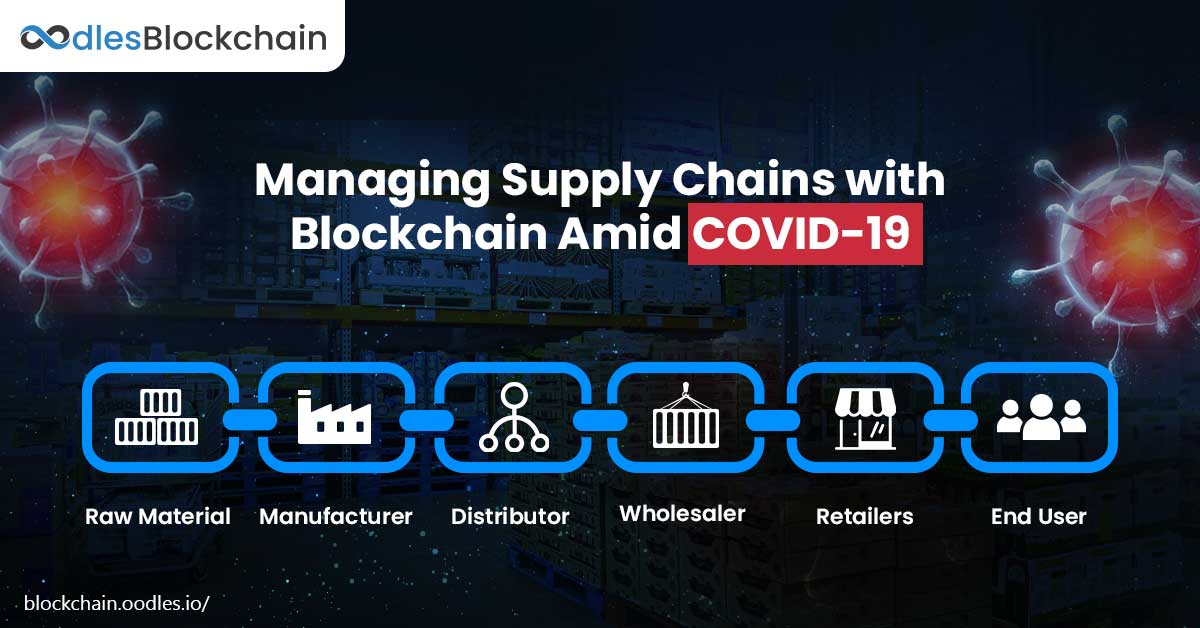 Global supply chains are mainly based on human-centered events and thus, experience complexity, inefficiency, and stress. Whether it's the healthcare, manufacturing, or food industry, global supply chains are struggling to cope with the increasingly growing pandemic's impact. Especially, the food industry requires more resilient, secure, and efficient supply chain solutions to face such impending disasters. The food industry stakeholders need to rethink their approach to sustain in anticipation of such unexpected events. Blockchain food supply chain solutions can address the challenges that today's global food supply chains are facing due to COVID-19. Although the technology is still in its infancy, established names like Walmart, IBM, Nestle, Dole, Golden State Foods, Unilever, McLane, and are piloting blockchain food supply chain solutions. Let's explore how blockchain' can provide efficient, sustainable food supply chain systems amid the COVID-19 pandemic's impact on our society.
COVID-19's | A Call for Food Security and Supply Chain Sustainability
The outbreak has significantly increased the demand for more strengthened, efficient, and secure food supply chains. As per Chinese media reports, Wuhan's seafood market was the epicenter of the outbreak. However, there's still a lot of ambiguity over the authenticity of those reports. Additionally, experts have failed to accurately track the provenance of the virus. Even after the earliest case's detection on 17 November, it took weeks before authorities acknowledged the new virus.
In the current scenario, it is nearly impossible for consumers, retailers, or even authorities to access the information related to the origination of a food item. The reason is the inefficiency of the existing supply chains to ensure food safety at various stages of the supply chain. However, emerging distributed ledger technology like blockchain is providing potential solutions to address these challenges. Blockchain food supply chain solutions can significantly strengthen the mechanisms to ensure food safety by bringing multiple stakeholders like farmers, processors, retailers, consumers, and authorities under a unified platform.
Every stakeholder within the network can anytime access the transparent and immutable view of every transaction recorded on the distributed ledger.
Let's take a closer look to know the existing problems and how blockchain could offer a better solution.
You Might Be Interested In | Developing an Online Food Delivery App with Blockchain
Traditional Food Supply Chain | Challenges
Foodborne Illness
The COVID-19 outbreak is not the only foodborne illness causing the crisis around the globe. Indeed, out of 600 million people, 1 in 10 people become victims of contaminated or adulterated food. As per a report by the World Health Organisation, 420,000 deaths occur due to food contamination every year. Additionally, foodborne diseases like COVID-19 not only impede socioeconomic development by burdening the healthcare system, they affect national economies by impacting tourism and more.
Food Fraud
Global supply chains are synonymous with increasing growing complexity, misrepresentation, tampering, and deliberate substitution. According to a report by NSF, the food industry incurs around $49 billion globally each year due to food fraud. Milk and its products, tea and coffee, fruit juices, olive oil, seafood, honey, and more are among the most affected food categories.
Also, it is extremely difficult to find fraud in current food supply chains as almost every stakeholder maintains their paper-based records. Manual recording of information leads to vulnerability and inaccurate updating. Thus, accurate track and trace capabilities seem difficult to achieve, resulting in investigation delays. At Oodles, our team of blockchain experts believes that blockchain food supply chains can prove to be viable solutions with end-to-end track and trace capabilities of immutable records in real-time.
Food Supply Chain Blockchain Benefits Amid COVID-19
Food companies can utilize the blockchain to inculcate transparency in their supply chain process. Blockchain has the potential to add an extra layer of security to the food industry.
Transparency
Since the data captured at every step is accessible to everyone within the network, blockchain can help bring transparency in the supply chain.
Efficiency
Blockchain can improve the way food is tracked, transported, or sold. Blockchain can address inaccuracies occurring due to traditional paper-based records. In food recall or investigation scenarios, blockchain's end-to-end traceability can enable seamless operations.
Food Safety
Blockchain can considerably ensure food safety. It can save lives while enabling efficiency.
Also, Read | Analyzing the Food Traceability System Developed by Walmart with Hyperledger Fabric
Establishing A Traceable Food Supply Chain with Blockchain
Stakeholders can infuse transparency, efficiency, and accountability with traceability and auditability powered by blockchain's distributed ledger. A blockchain-based food supply chain can directly bring the following stakeholders onto a unified platform
Farmers
Food Logistics Service Provider
Food Processors/Refineries
Government Authorities like Auditors
Retailers
Consumers
Tracing Food from Farm to the Table with Blockchain
Farmers store information about food crops on the blockchain platform
Using a blockchain-based mobile application or system, a farmer can submit information of grown-up crops, such as origin, types, the sowing procedure, storage, and other necessary information. Other network stakeholders can access this readily available information for their perusal. Additionally, machine learning algorithms can enable food processors like factories to make informed decisions about the quality of a crop. Further, blockchain smart contract-based solutions for regulation can ensure compliance during data feeding to the blockchain's database. Then, food processing companies or refineries can obtain crops for further processing.
Food processors submit processing details to the blockchain database
Once food processing units have received the crops after bidding for them through smart contracts, they start processing and store the information related to the public blockchain.
Retailers or consumers can verify if the food has been appropriately processed or not by accessing the information stored on the blockchain. Smart contracts with added regulations ensure food compliance at each step of processing.
Wholesalers obtain processed products with smart contracts
Food refining or processing companies can put the processed items for bidding after processing the food items. Then, wholesalers and retailers can bid through the smart contract to obtain prepared food items. Further, processing companies transport the processed food to wholesalers while transportation details get updated on the blockchain in real-time.
Besides, wholesalers can logistic services to distribute items to different retailers. To keep the food items safe under the controlled temperature, IoT-enabled vehicles or trucks can transport the processed food. IoT enabled vehicles can transmit real-time information related to the temperature and location of food items to the blockchain platform. It can enable retailers to track food items they are going to receive.
Also, Read | Strengthening the Food Supply Chain with Blockchain Solutions
Consumers ensure the authenticity of the food they buy
The blockchain food supply chain solutions at this stage will have information from source to destination, including details of crop origination, processing, transportation, storage temperature, expiration, and others in an immutable and readily accessible manner.
Eventually, a consumer can check every detail of a specific food item to ensure its authenticity. Also, government auditors can audit the cost and quality of food items from provenance, farms to the table with records stored on the food supply chain solutions built with blockchain.
Every stakeholder in the network comes to a consensus to validate every piece of information captured during each transaction. Therefore, the entire chain of transactions becomes an immutable and permanent record.