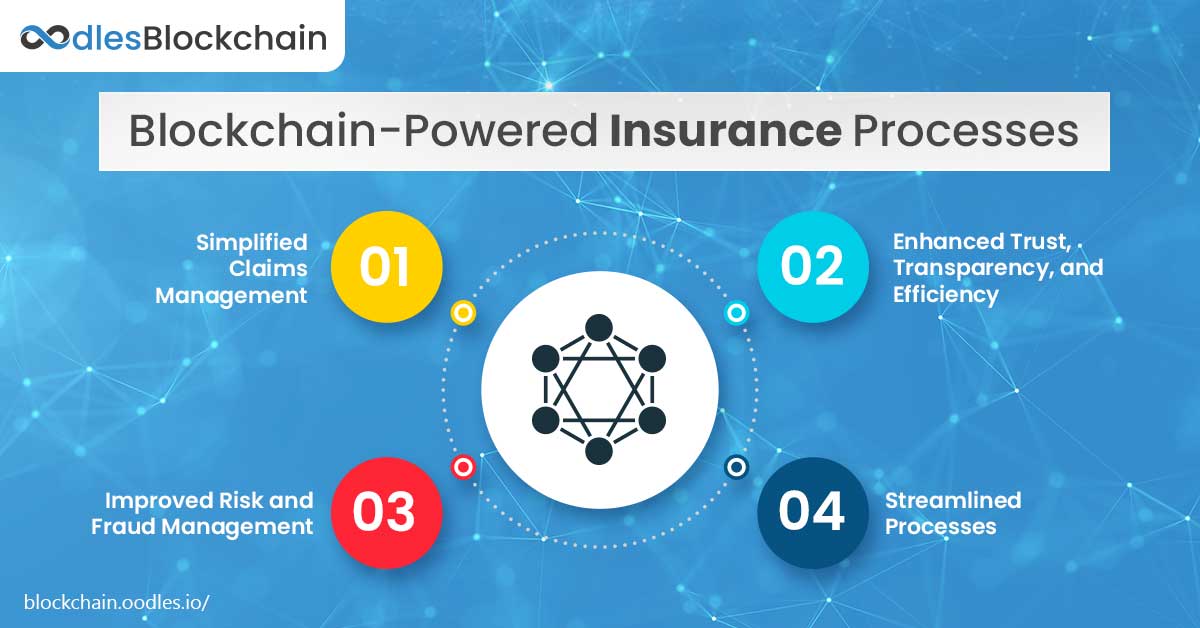 The insurance industry is one of the most traditional, bureaucratic, and walled sectors. Now, it is awakening from its slumber and exploring new technology for achieving efficiency. Increased customer distrust in centralized financial services, resulting in high underinsurance rates, is driving its reluctant yet solid interest in innovations. Especially, key players are exploring applications and smart contract solutions with blockchain technology in insurance.
Insurance companies, driven by both curiosity and fear, have started to hire blockchain development companies to assist them with the implementation of blockchain solutions. Curiosity stems from blockchain as it promises to reduce the overall time and transaction costs while increasing operational efficiency. However, insurers also fear this innovation, it can open up new cyber-attack vulnerabilities.
So, now let's explore how insurance companies can safely adopt blockchain solutions and stop being a laggard in comparison to other sectors of financial services. 
Blockchain's Role in Insurance
 Firstly, let's understand the blockchain technology and its characteristics.
Blockchain technology follows the concept of distributed ledger and, thus, eliminates the need for intermediaries. It stores and distributes copies of the shared ledger at multiple user locations. As a result, it provides access to the same source of data in real-time to any permissioned insurance company, agent, broker, underwriter, or insured people or organizations. Blockchain uses encryption and consensus mechanisms to register all the transactions on the database blockchain. Also, it publishes all the changes to the records as additions to the original data. 
If we talk about its realistic implementation of blockchain solutions in insurance, they may provide the following advantage. 
Sharing of medical records between hospitals and insurers (even across borders) with the help of blockchain-powered encryptions and its other feature-rich characteristics. Consequently, it prevents or identifies duplicated and erroneous records, prolonged claim processing, claim denials, and excessive check-ups.
Blockchain Implementation in Insurance 
As per a 2019 survey of Accenture Technology Vision, over 80 percent of insurance companies claimed to adopt blockchain technology. It is true that most insurance blockchain projects are lingering at the concept stage. However, some firms have chosen to collaborate and form alliances to accelerate adoption. The likes of such firms include the Blockchain Insurance Industry Initiative (B3i) or the RiskStream Collaborative of the institutes. These trailblazing alliances are developing blockchain-based platforms to adopt the following cases of blockchain use. 
Also, Read | Simplifying Vehicle Insurance Processes with Blockchain Technology
Preventing fraud and misconduct 
Fraud costs monstrous sums of money to the insurance industry. Mostly, because it is impossible to detect fraudulent activities with traditional methods based on the use of publicly available data and private data sources. As a result, the data collected are typically scattered due to legal restrictions that surround personally identifiable data. Unfortunately, fraudsters are compromising those visibility gaps. For example, for one single care case, multiple claims may be filed.
Once data is stored on a blockchain-based database, cryptographic signatures and granular permission settings are in place to secure it. It means both parties are able to exchange data and check their validity without disclosing confidential information. A distributed ledger enables the collection of historical data and helps businesses detect suspicious trends, like:
Multiple treatments of the same claim 

Manipulating possession of an insurance policy 

Insurance sold by brokers without a license 
Insurance companies can offer customers encrypted digital ID cards that cannot be faked to achieve even greater security.
You may also visit | 
Blockchain in Insurance: Enabling New Opportunities
Blockchain in Insurance: Enhancing Existing Complex Processes
Fostering transparency and trust
For a reason, insurance companies are termed walled gardens. Customers have little chance of seeing how companies manage their data. They'll never know their data is shared with third parties, for instance. It's no wonder that customers are increasingly distrustful of insurance companies, especially when they face long claim processing times or receive claim denials — while the cost of premiums is constantly increasing.
Nevertheless, if many insurance firms want to add data to the same mutual and open ledger, this may lead to three major advantages: 
Insurance firms can create consumer profiles more complete and remove duplicate information. The insurance firms won't have to question its validity as the data in the blockchain database is permanent.

Customers gain insight into what data their insurers are using and how they handle that. Plus, blockchain can automate the collection of claims when it is paired with machine learning and AI, thus speeding payouts. 

Blockchain assists in instantly validating claims made by third parties or payments made by personal apps. An insurance company can further see all of those transactions reflected on the blockchain. 
Streamlined handling of claims 
Insurance policies are labor-intensive to sell and manage. Insurance firms that stick to slow and paperwork-heavy traditional approaches lose to more digitally savvy competitors. By automating claim management, the latter is able to offer lower premiums. 
Here, the use of smart contract solutions can automate some of the processes that are becoming popular with property and casualty insurance companies. A smart contract solution can activate automated claim processing when used in conjunction with connected devices, stakeholders, and when, for instance, anti-theft sensors go off under certain pre-programmed contract conditions.
A streamlined insurance administration also needs increased trust from both insurers and customers. The best way to achieve this balance is to build an ecosystem focused on the blockchain with a considerable number of high profile participants. The Bank of China, which recently collaborated with leading insurance firms and introduced its own blockchain, is a classic example of it. When new records are added to the blockchain, the distributed ledger system helps update and verify the data against other network records, thus, dramatically reducing administrative costs while providing high transaction protection.
The distributed ledger system also tackles another aspect affecting claim management — the need for bank transfers. As a general rule, customers do not see weeks of payouts in their accounts. However, the payouts can be handled without significant delays if banks and insurers have a centralized system that they trust.
Also, Read |  Game-Changing Potential of Blockchain in Insurance (Claims Processing Use Case)
Conclusion | Blockchain Solutions in Insurance 
Blockchain solutions can be decisive in transforming and simplifying the insurance industry to break free from outdated traditions with efficiency. Insurance innovation is critical as customers seek transparency, speed, and flexibility in costs. Blockchain can significantly accomplish these needs while also fulfilling the expectations of all participants. People can trust their insurance agents more when there is little or no risk of fraud. Also, there is no space for conflict when nuanced policy statements are processed 10x faster. The insurers can get flexibility with pricing with automated claim processing. 
What's more, the use cases covered are just the beginning. With blockchain-based solutions, the insurance industry can expand its tech ecosystem to create better cash management, audit, and risk modeling products. Connect with our blockchain experts to know more about the potential of using blockchain solutions to optimize complex insurance processes.