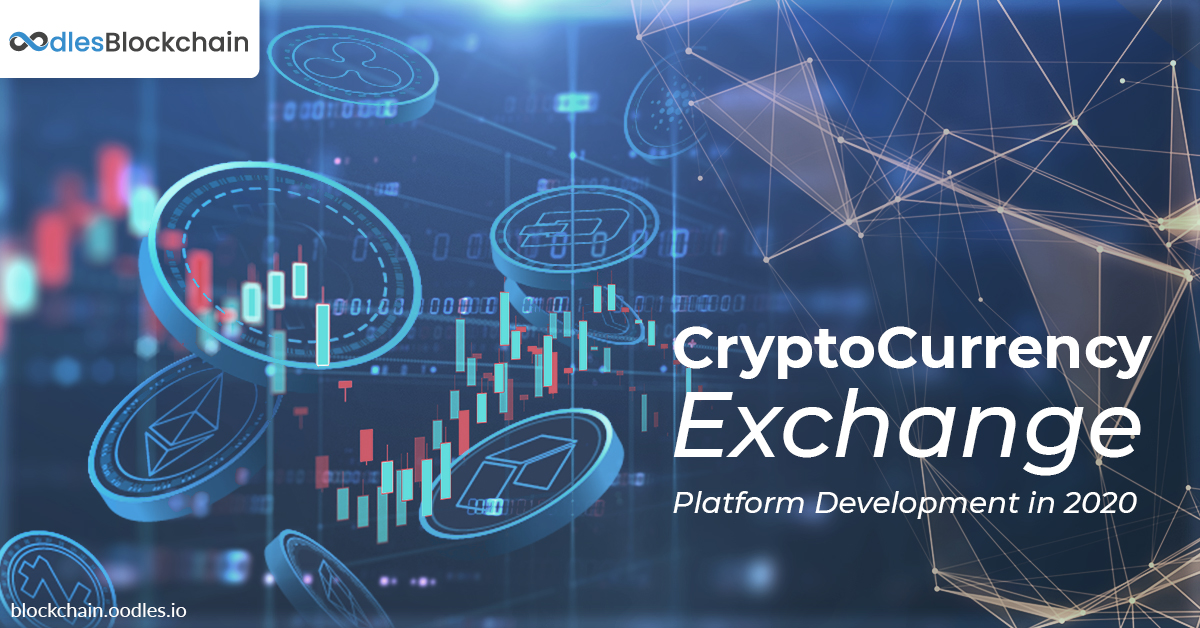 Our cryptocurrency exchange platform development team believes that cryptocurrencies hold the future of the payment industry in the year 2020. It is also apparent that more and more traders are approaching cryptocurrency exchange platforms to trade their cryptocurrencies. Thereby, proprietors can expect significant revenue and benefits with cryptocurrency exchange platform development in the year 2020.
Crypto investors looking to develop a crypto exchange platform can get in touch with Oodles Blockchain, a blockchain and cryptocurrency exchange development company. They can also refer to this guide that details the essentials of cryptocurrency exchange platform development in 2020.
Cryptocurrency Exchange Platform Development in 2020
A Right Type of Cryptocurrency Exchange Platform
Centralized Exchanges Essentially, a centralized exchange is a traditional form of cryptocurrency exchange. It involves a middleman or an intermediary to execute transactions. It is one of the reasons traders trust these exchanges to perform trading. Traders pay around 0.1-1-5 % charge for trading. Although they provide enhanced liquidity, security aspects can be a concern. Still, centralized exchanges are the most popular crypto exchanges among all and hence, a plethora of users prefer using them.
Decentralized Exchanges Decentralized Exchanges don't require intermediaries to facilitate transactions. Thereby, they don't store funds or other information on the server. They aren't prevalent enough in the crypto space yet and hence, lack liquidity. However, they do ensure the use of robust security mechanisms to secure funds and crypto-assets.
Hybrid Exchanges Hybrids refer to a blend of multiple crucial aspects of centralized and decentralized cryptocurrency exchange trading platforms. The primary reason to develop a hybrid exchange is to ensure liquidity as well as the security of the platform. In the year, experts suggest that Hybrid exchanges will see an increase in adoption globally.
Meticulous Market Research
It is necessary to do extensive industry research before starting a crypto exchange platform. It is important to have answers to a few critical questions to ensure the success of the platform. What will be different cryptocurrencies' price? Which countries are most preferred to run a crypto exchange in 2020? What features crypto traders expect to have in a crypto exchange for 2020? There are other vital critical factors too that you need to consider. For that, you may talk to our cryptocurrency development experts.
Also Read: Cryptocurrency Exchange Software: Everything You Need to Know About it
A Right Place to Start a Crypto Exchange Platform
After defining the business idea and its requirements, you need to choose a suitable place to set up and launch your cryptocurrency exchange. Given the potential of cryptocurrencies to reform global payment systems, most countries are legalizing the use of cryptos in the year 2020. Take a look at the following countries where you can run your crypto exchange with easy compliance requirements.
The United States
The United Kingdom
Japan
Singapore
Malta
Switzerland
Also Read:  Three Reasons Why Developing Countries Are Moving Toward Cryptocurrency Development
Adherence to Jurisdictional Requirements of the Country
After the location selection, the next step is to evaluate that country's regulatory requirement to launch an exchange platform. Launching crypto exchanges in the mentioned countries too require to follow their regulations. Failing to adhere to them can put you in trouble and increase overheads. So, the wise thing is to ensure regulatory compliance with the jurisdictional requirements of that country.
The Hiring of a Legal Team of counselors
Ensuring compliance with jurisdictional regulatory requirements requires a legal team to direct you in the right direction. Another solution to integrate a blockchain-based KYC module in the exchange. It requires users to validate their identity and get qualified to access the platform. Also, the AML (Anti-money laundering) module is an important integration. Both modules require users to show their proof of identity like passport, license, etc.
Features of a Cryptocurrency Exchange Platform
After finalizing the location, you need to determine the crypto exchange already operating there. Reviewing the features, reviews, and the trading process of those platforms can ensure you stand out from the crowd. We have outlined a few features that traders may expect in 2020.
Hassle-free withdrawal and deposits
Advanced dashboard
Intuitive website
Top-grade security
Sufficient liquidity
Social trading
Multiple charts in a single window
24*7 customer support
Having these features in your crypto exchange can ensure a heavy footfall of crypto traders.
Technical Aspects of a Crypto Exchange Platform
Another critical aspect is to layout the technical features you need to have in your crypto exchange platform. Here are a few features which you can integrate with the exchange platform:
Support for Android, iOS
Admin console
Matching Engine
Issuer console
Multi-language support
Multi-currency support
Crypto wallet integration
Payment gateway integration
Referral Program APIs
Atomic swaps
Trading bot
Rest API
Integrated Initial Exchange Offering (IEO) Module
Security Token Exchange (STO)
Liquidity APIs
These are some of the futuristic features a crypto trading platform must-have. So, ensure that the crypto exchange platform development provider you hire is capable of providing all these modules in the year 2020.
Security Features of a Crypto Exchange Platform
Security of the crypto exchange should be the utmost priority, whether it is a centralized, decentralized or hybrid exchange. The following are a few security mechanisms that your solution provider needs to implement to strengthen the platform's security.
HTTPS authentication
Data encryption
Anti-distributed denial of service (DDoS)
SQL injection
Jail login
Anti-denial of service (DoS)
HTTP Parameter Pollution Protection
Also Read: Cryptocurrency Exchange Platform: Architecture, Security, and Features
Hire a Cryptocurrency Exchange Development Company
To save yourself from all the hassle mentioned above in 2020, you can get in touch with a genuine cryptocurrency exchange platform development company. Having a product on production requires a team of well-versed crypto developers who already have a demonstrable record. Here are a few aspects you can consider before hiring a cryptocurrency exchange development company.
The development company must comprise of c-level Managers, crypto exchange designers and Developers, cryptocurrency marketing specialists, and financial advisors.
Crypto exchange companies like Oodles also provide options to develop a crypto exchange with different methods. They include providing a turnkey cryptocurrency exchange software as well as development from scratch to meet specific requirements.
Conclusion
Given the recent advancements in the development of cryptocurrency exchange platforms, the year 2020 seems quite promising for crypto enthusiasts and investors. We hope the steps mentioned in this blog guide you in the right direction.