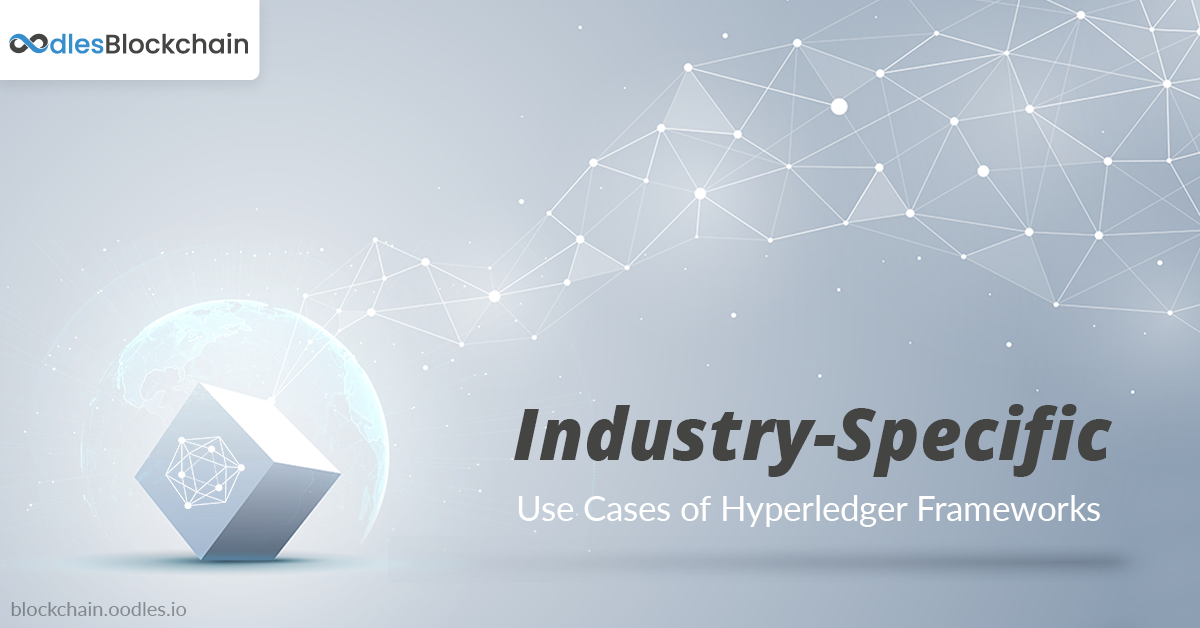 Hyperledger is an umbrella project hosted by the Linux Foundation. It provides various frameworks, tools, standards, and guidelines for blockchain application development. It comprises of frameworks like Indy, Burrow, Fabric and Sawtooth, and tools like Cello, Quilt, and Caliper. These tools and frameworks enable blockchain developers to build blockchain applications that optimize and enhance various industrial processes. Take a look at how Hyperledger frameworks use cases are all about simplifying and enhancing productivity and growth of a range of business use cases in different industries.
Hyperledger Frameworks: Use Cases
Financial Services
Insurance data compliance

Insurance companies deal with a significant amount of data that is subject to compliance requirements. They need to regularly report it to various regulatory authorities. It is a timely and costly process that also makes data vulnerable to hacks and threats.
Hyperledger Indy provides solutions to simplify and enhance the entire regulatory compliance reporting. Indy provides a platform to collect and share statistical data between insurance carriers and regulators securely. It streamlines regulatory and compliance requirements while ensuring efficiency and accuracy for both insurers and state insurance departments. Insurers contribute data directly onto the secure platform, which also satisfies state regulatory requirements. Besides, all historical and current data resides on an underlying immutable blockchain ledger. It also enables regulators with permissioned view-only access to information that they require for a compliance check.
Post-trade Processing
Post-trade processing involves several activities after a trade completion. It covers transactions that are done over-the-counter (OTC) or at an exchange. A high-level view of post-trade processing likely include these steps
Trade validation
Clearing
Settlement
Custody activities
Reporting
Today, all these steps pass through a fragmented workflow, which involves numerous departments and entities: brokers, central security depositories, clearinghouses, exchanges, settlement agents, and so on. It often results in duplication of reconciliation efforts, inefficiency, and delays in post-trade processing.
Here, blockchain efficiently streamlines post-trade processing. With blockchain solution enabling peer-to-peer transactions, one party stores transaction details onto a platform for the other party to verify. Executing these steps on the same blockchain system significantly simplifies the process. Here, the platform itself acts as a trusted third-party authenticator, powered with immutable and irrefutable transactions on the blockchain. It further reduces complexity as data from all steps and all stakeholders reside on the blockchain ledger. The platform enables data access to stakeholders on a need-to-know basis, and serve as the medium for regulatory and trade reporting. As a result, all five steps listed above—validation, clearing, settlement, and reporting—get streamlined.
Read More: Use Case: Simplifying Financial Post-Trade Processing with Blockchain
Healthcare
Doctors' credentialing is a crucial practice in the healthcare system for hospitals. The process enables any hospital to know whether the doctors working with them are trustworthy and competent, or not. However, it is time-consuming and leaves behind a tremendous amount of paper trails. Double-checking every single information from file silos takes up to a few days for both doctors and hospitals. Another concerning challenge is drug counterfeit. Drug traffickers counterfeit medicines every year, due to which the consumer suffers.
One of the Hyperledger frameworks, Indy, provides an architecture that is capable of handling the credentialing challenges of hospitals. It provides a safer network of stakeholders. On the network, medical schools upload doctors' credentials and create their verification identities. Then, any hospital requests information on a need to know basis from the network and verify whether the credentials are genuine or not. It eliminates the need to call or send someone to medical schools to verify doctors' credentials.
Also, Hyperledger Indy is capable of enabling drug tracking and quick insurance claims.
more: Blockchain in Healthcare: Tracing Counterfeit Drugs
Supply Chain Management
Supply chain management, rather than being a sophisticated model, is more complex for industries like food, real estate, and healthcare. From the beginning of the chain, it becomes difficult to trace products along their journey to customers. Manufacturers make quality products but during shipping, many products get stolen or replaced. Also, every sector of supply chain deals with transactions that need to pass through several intermediary authenticators. All these issues hamper the productivity and improvement of global supply chains.
Hyperledger Sawtooth here provide solutions that assist industries to streamline and manage their supply chains more efficiently. Sawtooth enables users to work in a network of traceable transactions, where every stage of the supply chain resides on the ledger. Further,  with IoT sensors, the ledger record products' location, temperature, and other factors. It enables supply chain managers to identify how someone is exploiting the system to make counterfeits or frauds. Additionally, with the Sawtooth smart contracts, stakeholders make payments smoothly at every stage of the chain.
Read More: Solving Supply Chain Challenges with Hyperledger Sawtooth
Final Thoughts
The use cases of Hyperledger frameworks go far beyond other blockchain platforms for both business and industrial solutions. They enable the development of high-scaling enterprise applications, efficient solutions to streamline existing processes, and new revenue models. Take a look at our Hyperledger blockchain development capabilities and explore how your business can benefit from them.