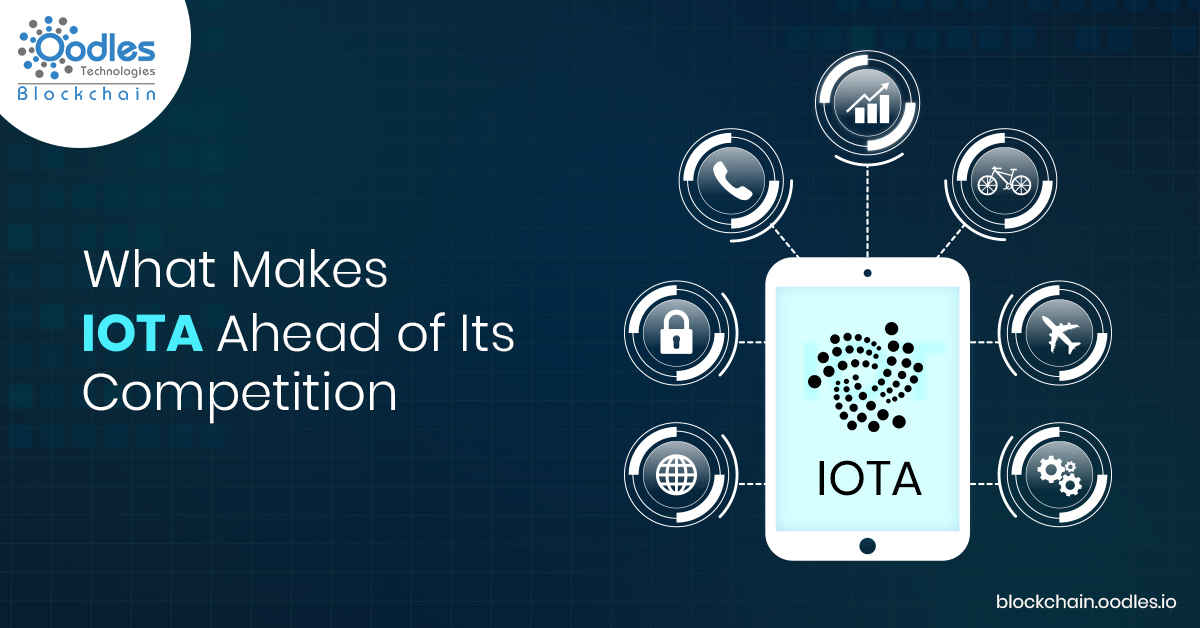 IOTA is gradually becoming the buzz in the blockchain world. The team behind IOTA is working on delivering the technology that can fix "real life" problems. That's how IOTA has launched their first IOTA Charging Station for electric vehicles, in cooperation with Elaad. Fully operational in the Netherlands, the station is open for public use. However, IOTA charging stations aren't the only invention made by IOTA team- there's a lot more to discuss.
Thus, we've listed all the reasons in this blog which make IOTA's Tangle Technology way ahead of its competition.
IOTA's Tangle:
Although IOTA is more active in the arena of blockchain-based operations, providing a scalable platform that can help increase the blockchain adoption across different industry scales, IOTA's technology called Tangle is giving stiff competition to its adversaries in the technological sense.
What differentiates the Tangle network and a standard blockchain-based network is the fact that the former can even work on large-scale projects more efficiently. And that's how IOTA identify with an increased level of innovation when it comes to bringing technological advancements in the world of Blockchain and decentralization.
IOTA, for making payments:
It has now become clear that blockchain-based transactions for tangible and intangible assets are also a good choice when making global payments, especially when compared to the traditional way of the same.
IOTA has made a protocol for Tangle that enables faster transactions. They have made Tangle act in a way that the more users are using the network, the faster the execution of transaction happens on it. That way, IOTA prevents from traffic jams and extended transaction time. In addition to this, the confirmation time on IOTA's Tangle is also hugely reduced, while other platforms process a transaction in double-digit number time.
While 20 seconds are still quite fast than waiting for 2-5 days with the traditional way of making transactions, it's still slow with regards to blockchain technology standards. Consequently, IOTA solves this double-digit processing time with Tangle technology.
IOTA, for Little to No-Fee Micro-Payments:
When it comes to flawless user-experience for micro-payments, IOTA can process small payment transactions without applying any fee. That is how IOTA's designed to "Ask" for a low charge or no-fee at all where applicable.
Most of the networks fail to process small payments the way IOTA does. So, Tangle technology wins this round as well while racing ahead of its competition.
IOTA and Scalability:
Scalability is probably the biggest problem for most of the blockchain-based platforms, while IOTA's Tangle has no problem with it.
Tangle becomes faster with the increasing numbers of users and transactions through its decentralized platform. Other blockchain platforms face this problem of jammed traffic due to their non-scalable ecosystem.
Due to the increased scalability, IOTA makes it easy to apply changes and modification to the system. Therefore, making it a highly scalable and easily modifiable platform, which is the need of the hour for facilitating future updates and technological advancements.
IOTA is not only a suitable alternative for payments and a platform for faster transactions on a global scale. IOTA, with its advanced technology that brought the Tangle into existence, has a shining future in the Internet of Things as well.
It's because the users of MIOTA can use this innovative technology for hassle-free IoT integration. They can use IOTA for flawless M2M (machine-to-machine) transactions.
IOTA's charging station for electric vehicles is a perfect example of how IOTA serves to all purposes related to the Internet of Things. Tangle aims for safety, integrity, and protection of its users' information and data. Eventually, making M2M communicate better than ever.