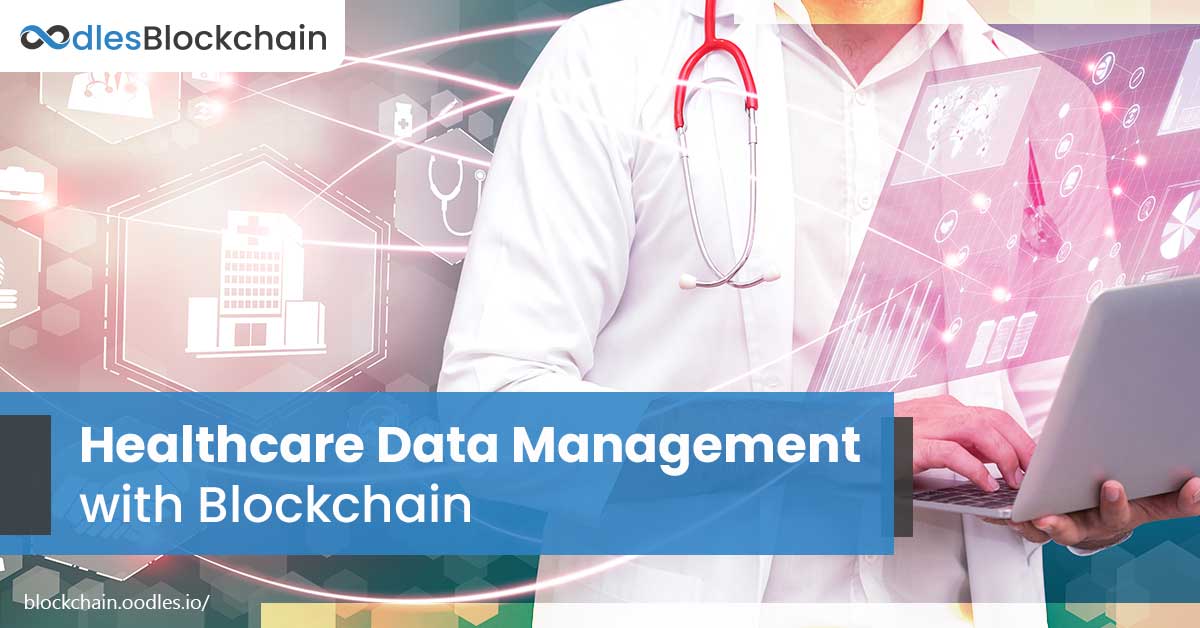 The response by healthcare organizations like WHO and governments to COVID-19 emphasizes the need of strengthening healthcare data management and infrastructure. It necessitates the need to explore blockchain healthcare solutions for secure and accurate information sharing among all participants. At Oodles, we have observed over the last three months the importance of fast, efficient, and secure sharing and reporting of scientific data. Using blockchain for healthcare data management solutions, organizations can facilitate comprehensive understanding and prevention of such global outbreaks. Concurrently, they can enable healthcare stakeholders with improved healthcare experience. Indeed, blockchain-based healthcare solutions development can drive healthcare entities toward finding the best course of action using data. 
Healthcare Data Management Limitations
In such precarious situations, the overflow of information suggests that the current healthcare technologies and infrastructures are currently not in place. They are not up to the job, with limitations in areas like full interoperability, reliability, and security of healthcare data. Sequentially, they fail to provide an accurate understanding of healthcare conditions and requirements at a local level.` Introducing blockchain solutions for healthcare data management can address these limitations. 
Workings of Blockchain 
Blockchain is a distributed, peer-to-peer ledger technology with three major components: 
Distributed network
The shared P2P system includes network user nodes where each member holds an equivalent blockchain copy and can verify and approve distributed network transactions.
Shared ledger
The shared ledger records all digital transactions accessible by all network members. They perform algorithms and test the proposed transactions. Once a majority of members validate the transaction, the shared ledger adds it into the blockchain database, 
Digital transactions
Any information or digital assets recorded on a blockchain can qualify as a digital transaction. Each 'block'  in the chain organizes each transaction and each block includes a cryptographic hash to provide a sequential, temporal order to the transactions.
Blockchain's Impact on Healthcare Data Management
Traditional healthcare systems generally have critical information scattered across multiple systems, and may not be accessible at necessary times. Essentially, the current healthcare infrastructure is inadequate to handle the exchange of information and requires some tweaks. According to the most recent Gartner Hype Cycle, Blockchain has gone beyond the "innovation trigger" and is at the "peak of inflated expectations." It can transform how we view healthcare and data together.
One of the biggest things in our opinion is making the use of blockchain in healthcare is replacing the centralized administrator. A centralized database is indeed something real- composed of bits and bytes. Anyone that has access to that device may corrupt the data inside.
There will be no need for a central administrator for blockchain— eliminated by clever cryptography. Additionally, all users are in command of both their transactions and records. Since healthcare maintains private patient information and needs easy access to details, blockchain will streamline these medical records and enable secure access to those records. Blockchain provides control of entry, scalability, and data protection in one go. 
The idea of blockchain in healthcare is completely revolutionary-but it 's not going to be an elixir to drown out the data processing problems. However, it will be an evolutionary process where we need to introduce it step-by-step.
Also, read | Three Ways Blockchain Smart Contracts Are Revolutionizing Healthcare
Benefits of Blockchain Implementation in Healthcare Data Management
Accuracy
Blockchain's integration with healthcare will include medical information through Blockchain. It can hugely improve the accuracy of the delivered treatment.
Interoperability
Any healthcare-related institution can conveniently use encrypted medical records backed by the blockchain-powered interoperability, regardless of the location of said facility.
Security
Blockchain data records are unchangeable (unchangeable after input). It reduces the chance of fraud or mishandling of data. Blockchain health data is safe from damage caused by natural disasters because there is no central point of failure.
Lower Handling Costs
Blockchain architecture safeguards data and enables easy access to relevant parties without intermediary dependence at any point in time.
Realistic Blockchain Use Case and Application in Healthcare
Prescription (Drug) Traceability
Data on the blockchain is unchangeable. It is difficult to alter until something relating to a prescription issuance or drug distribution, production, etc., is introduced. There can be strong positive results of blockchain in preventing and tracing counterfeit/misused drugs.
Secure management of Electronic Health Records (EHRs)
Blockchain facilitates secure and organized electronic exchange of healthcare data within the community through decentralized databases. These structures work to protect patient data and privacBlockchain in Healthcarey, give doctors visibility over the medical history of their patients, and empower researchers to use shared data to drive scientific advancement.
Improved patient consent management
Blockchain solutions allow for structured data ownership through layers of privacy and permission built on a blockchain platform. While patients are unable to modify or remove detailed medical information feedback from doctors into their accounts, they may monitor access by providing maximum or partial exposure to different healthcare ecosystem stakeholders. For instance, patients may share their full records with a medical specialist but may choose to share only unrecognizable data with scientific research firms or other larger healthcare organizations.
You may also read | Establishing Digital Self-Sovereign Identity System with Hyperledger Indy
Data security in clinical trials
With its consensus process and transparent nature that protects against hack or exploitation, blockchain decreases the possibility of data theft. Documents on the blockchain may be given proof of existence and verification of authenticity. A majority of nodes then reach a consensus on approving new transactions and avoiding data modification. It preserves data privacy, encourages trustworthy test findings, and fosters cooperation within the science community.
Also, read | Can Blockchain Solutions Address Challenges of Clinical Trials
Incentivization through micropayments
Blockchain's intelligent contracts allow for the introduction of micropayments to encourage specific patient behavior. Such contracts may be designed to offer patients incentives for pursuing a particular care plan or exchanging their data for scientific testing.